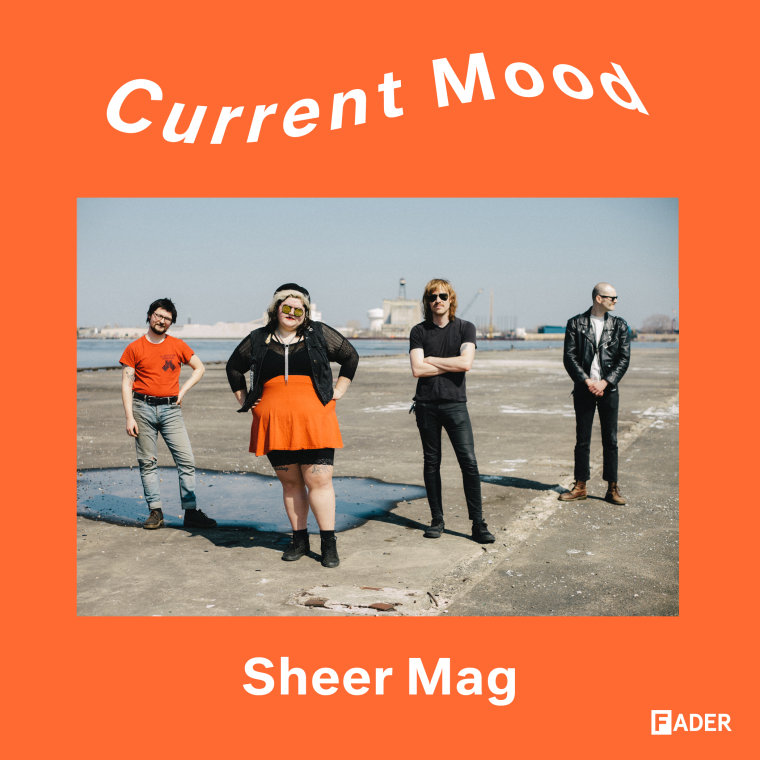 In our Current Mood series, we ask some of our favourite artists to curate a playlist according to a specific theme or mood of their choice. For Current Mood #008, Philly's pre-eminent seventies rock revivalists Sheer Mag share the hits that soundtrack their their time in the tour van. Listen to past Current Mood playlists here.

Need To Feel Your Love, the instant-classic debut from Philadelphia four piece Sheer Mag, skirted a lot of genre boundaries: touching upon disco, punk, power-pop, and hard rock, it was a record tied by the band's clear obsession with conveying as much feeling and conviction possible. If the two singles the band has released this year are anything to go by, next month's A Distant Call (out August 23rd via Wilsuns RC) is sure to be a similar stylistic mixed bag, tied together by lead singer Tina Halliday's helium howl.
Sheer Mag are going on a massive (51-date!) tour in support of A Distant Call so naturally, for their CURRENT MOOD playlist, they've put together a selection of some of the songs they've listened to in the tour van over the past couple of years. The MILITARY MADNESS/SOLITARY SADNESS playlist is as stylistically diverse (and as easily replayable) as a Sheer Mag record; across its 15 songs, you'll find Sophie B. Hawkins classic "Damn I Wish I Was Your Lover" alongside music by Cate Le Bon, Australian noise punks Enzyme, and bodybuilder-turned-70s rocker Thor.
"Every summer I make a big playlist for riding in the van on tour. Here's some of my favorite picks from recent years as well as some new songs I've been into," Sheer Mag guitarist Kyle Seely tells The FADER via email. "It starts with an amazing disco medley by a Philadelphia group called The Ritchie Family and also features stuff by friends we've made along the way." Listen to MILITARY MADNESS/SOLITARY SADNESS above, and find Sheer Mag's tour dates and album pre-order here.