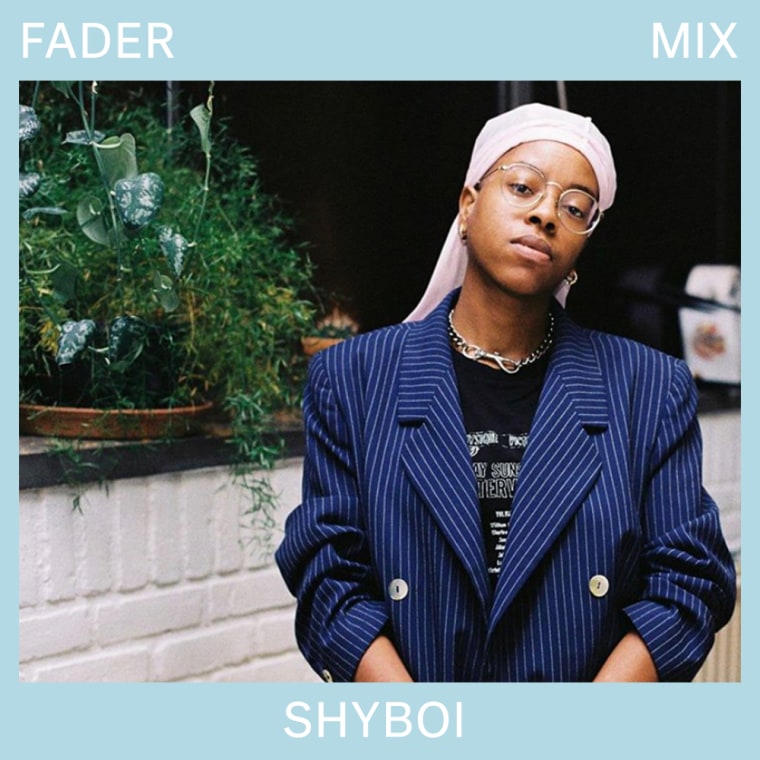 The longstanding FADER Mix series presents new, exclusive DJ mixes from our favorite artists and producers.
As SHYBOI, multi-disciplinary artist Yulan Grant contorts
a dancefloor's energy as a means of disruption. The New York-via-Jamaica DJ and Discwoman mainstay has brought her uniquely amorphous blend of dancehall, techno and acid house all across the world this summer. Today, she's debuting a special mix for The FADER, a 48-minute set that sounds just about ready to rattle off the hot concrete — even the quintessential, incessant New York City ice cream truck makes a cameo. "This mix was done in Amsterdam during the record breaking heatwave," she explained over email. "I wanted something weather appropriate, kind of summery and with a touch of my erratic behavior."
SHYBOI's mix arrives just ahead of a number of cross-continental dates this month. "I'm doing Fuchsbau Festival this weekend outside of Hanover, Germany. Then I head to London for the Unbound Day & Night party at The Cause. I'm closing out Berlin Atonal festival at the end of the month, heading back to New York a few hours after my set to do a rave, then I head to Uganda the day after to do Nyege Nyege festival." Peep her entire itinerary here, and stream her FADER Mix below.
Tracklist:
Science Lab - Flesh & Blood
Da Soul Boyz - Welcome to Durban
Acronym - Hunt
Traversable Wormhole - Exiting The Milkyway (Surgeon Remix)
Lone - Temple
Ludwig A.F. Röhrscheid - Velocity
Helix - Bring it Up/Down
NKC - Hissing
DHS - House of God (TSVI edit)
Lima - Xero
Lucid x Dj Dior - Elevator Elevator (Rizzla Edit)
OCDJ - Guess What
Jerome Hill - Rump