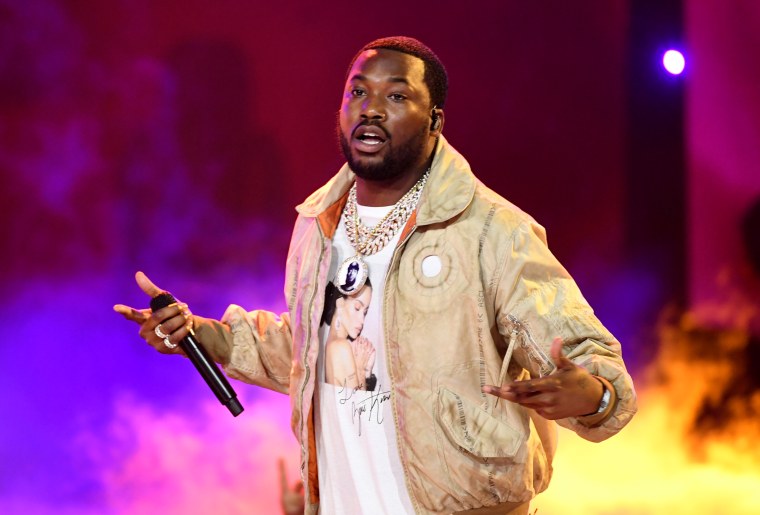 Meek Mill and Rapsody have been named "Inspire Change advocates" in a press release shared Friday by the NFL and Roc Nation. "Inspire Change" is the name of a new clothing line and "social enterprise model" launched by the football league and JAY-Z's entertainment company, which first announced a partnership in August.
Proceeds from the Inspire Change apparel line will go towards organizations supporting "education and economic empowerment, police and community relations, and criminal justice reform." Inspire Change will be available for purchase later in 2019.
Meek Mill and Rapsody will join fellow Inspire Change advocate Meghan Trainor for a free performance at the NFL's Kickoff Experience in Chicago's Grant Park on Thursday, September 5. A portion of the show will be broadcast from 7:30 pm — 8:10 pm EST on NBC.
The Roc Nation/NFL partnership will also include a "multi-tier, season-long initiative" called Songs of the Season. The program will select different musicians to create a song to be used in NFL advertisements during the football season. The song will be made available on streaming platforms, and proceeds will go towards Inspire Change.
JAY-Z's partnership with the NFL has been controversial. Once a vocal supporter of Colin Kaepernick, the former San Francisco 49ers quarterback blackballed by the NFL for kneeling during the anthem, JAY-Z's alignment with the NFL has been called "cold-blooded" by Kaepernick's attorney.