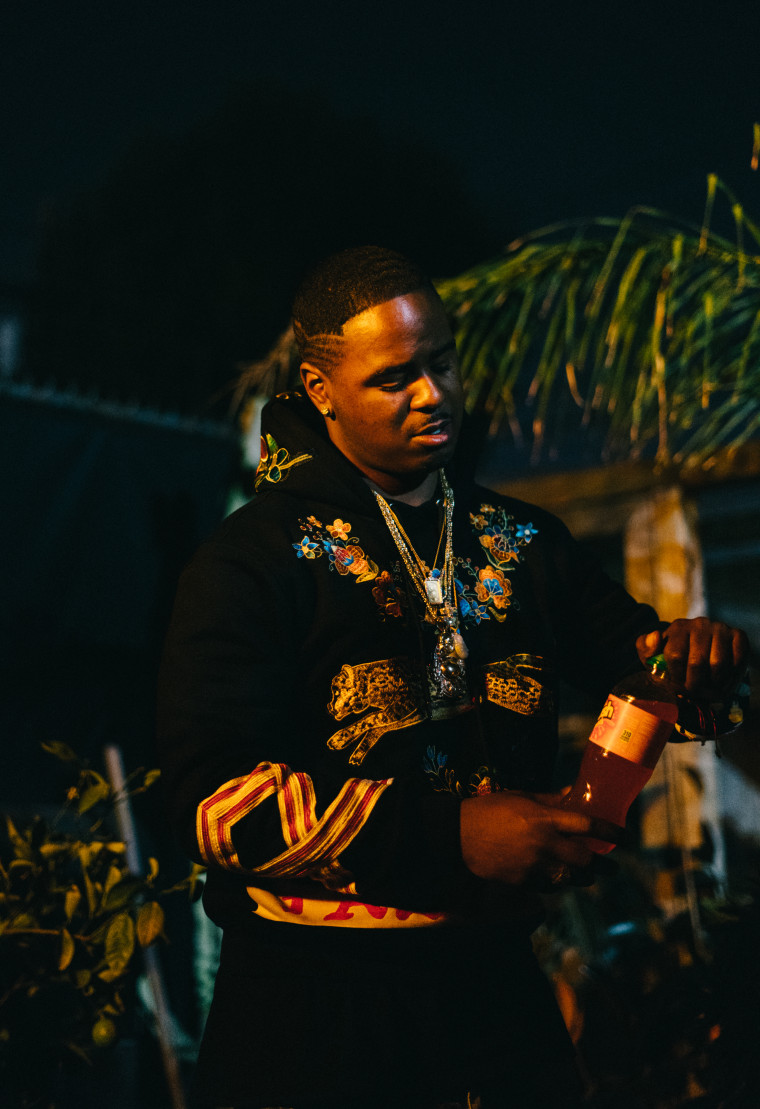 Drakeo The Ruler, the Los Angeles rapper who was last month acquitted of all murder and attempted murder charges relating to the shooting death of 24-year-old Davion Gregory, now faces the possibility of life in prison after the District Attorney refiled charges of criminal gang conspiracy and shooting from a motor vehicle. The jury was hung on those two counts when Drakeo was tried in late July. A new trial is expected in the late fall or early winter.
Drakeo The Ruler (born Darrell Caldwell) was arrested in connection with the death of Gregory in January 2017 and the rapper's trial dragged on through July. As Jeff Weiss reported for The FADER at the time, state prosecutors frequently sought to use the music and videos made by Caldwell and his Stinc Team collective as proof that Caldwell murdered Gregory and attempted to murder two other men, Travis Harvey-Broome and Kwentin Polk, who were injured by gunfire that night. The prosecution also submitted Instagram DMs, public tweets, and covertly recorded, barely audible jailhouse conversations from "informants" as evidence against Caldwell and the Stinc Team.
The case hinged on the notion that Caldwell attended the party in Carson seeking to kill the rapper RJ (born Rodney Brown) — who did not attend the event that night and was not scheduled to perform in any capacity. Prosecutors claimed that Caldwell plotted Brown's murder and that he met with two men — Jaiden Boyd and Mikell Buchanan — on the evening of December 10 to provide them with firearms to carry out the killing.
Update, September 3, 3:21 p.m.: Drakeo The Ruler has been tweeting about the case, accusing the DA of attempting to jail him on charges that had already been resolved, saying that he is dealing with "racism at its fullest," and stating that he will beat the case again when a new trial comes up.
NIGGAS BE REALLY PRAYING FOR A NIGGA DOWNFALL, THAT SHIT CRAZY

— #MrEVERYTHING (@IamMRMOSELY) September 3, 2019
182.5 IF UDK WHAT PENAL CODE THAT IS, LOOK IT UP. APPARENTLY, THIS IS A WAY THAT THEY CAN CHARGE ME WIT THE SAME CRIME I JUST GOT ACQUITTED OF LAST MONTH

— #MrEVERYTHING (@IamMRMOSELY) September 3, 2019
AT SOME POINT ENOUGH GOTTA BE ENOUGH

— #MrEVERYTHING (@IamMRMOSELY) September 3, 2019
THEY LITERALLY TRYNA CHARGE ME WIT THE SAME CRIME I JUST GOT ACQUITTED OF

— #MrEVERYTHING (@IamMRMOSELY) September 3, 2019
THEY LITERALLY TRYNA CHARGE ME WIT THE SAME CRIME I JUST GOT ACQUITTED OF

— #MrEVERYTHING (@IamMRMOSELY) September 3, 2019
I UNDERSTAND YALL TRYNA MAKE THE VICTIM FAMILY FEEL LIKE YALL DOING JUSTICE FOR EM, BUT I JUST GOT ACQUITTED OF THE CHARGES!

— #MrEVERYTHING (@IamMRMOSELY) September 3, 2019
BUT GOD GOT THE LAST SAY SO, WE KNOW THE TRUTH

— #MrEVERYTHING (@IamMRMOSELY) September 3, 2019