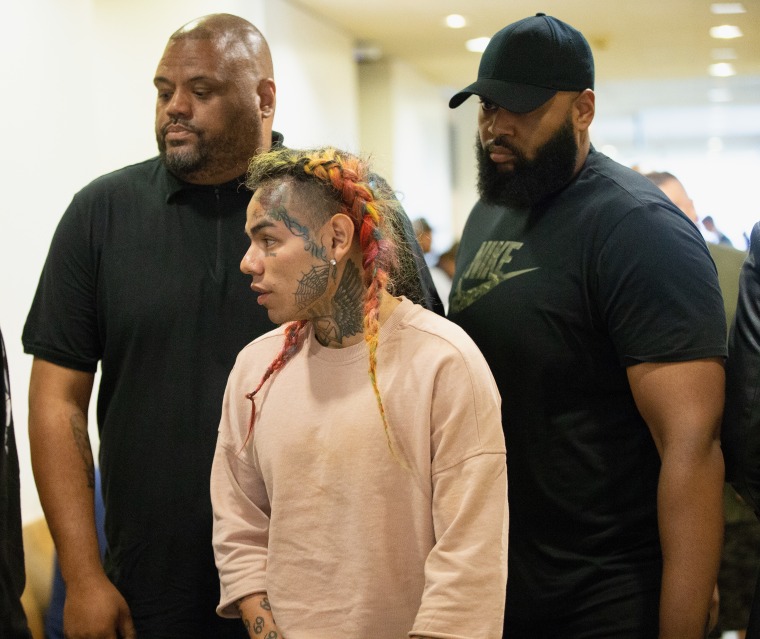 6ix9ine's former manager Kifano "Shotti" Jordan has been sentenced to 15 years in prison, Pitchfork reports. Jordan pleaded guilty earlier this year to one count of firearm possession during a crime and one count of firearm discharge during a crime — separate incidents that both involved 6ix9ine.
The firearm possession charge stems from an incident on April 3, 2018, when Jordan, 6ix9ine (real name Daniel Hernandez), and others robbed a rival gang member. The second incident occurred shortly after, on April 21, when an individual approached Hernandez and Jordan at a restaurant, shouted "derogatory comments" at the two, and then followed them when they left the restaurant in their car. Jordan pulled over and fired two shots at the individual's car.
Jordan was first arrested last November, alongside Hernandez, on firearms and racketeering charges. Jordan pleaded guilty to the two charges on March 28. Both sentences handed down today by the Southern District of New York were mandatory minimums.
6ix9ine pleaded guilty to nine federal counts earlier this year and agreed to testify against his co-defendents in exchange for a lenient sentence