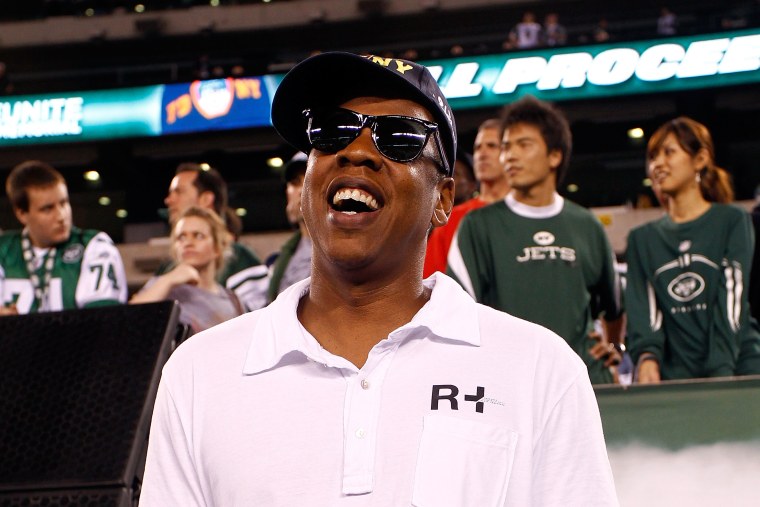 Since JAY-Z and Roc Nation announced their partnership with NFL in August, the tide of Twitter opinion seems to have quickly turned against the Brooklyn rapper. While JAY claimed the move was "the next thing" in making changes to the league, many wondered whether this move would serve the greater good or serve JAY-Z. How did the mogul go from wearing a Kaepernick jersey to sitting at a conference room table with Roger Goodell? Below is a brief history of the rapper's relationship to the league and the protests.
September 2017: JAY-Z reportedly turns down Super Bowl halftime show
With tensions between players and ownership at a high, reports surfaced claiming JAY-Z had turned down an offer to perform at the 2018 Super Bowl halftime show.
In response, a spokesperson for the NFL told BBC that they had made "no decision" regarding performers for the event. "No decisions have been made on the performer(s) and we are not going to speculate on particular artists," the NFL's statement read. "Along with Pepsi, we know that we will put on a spectacular show. When it is time to announce her name we will do it. Or his name. Or their names."

November 2017: JAY-Z addresses NFL protests during 4:44 tour
With the 2017 NFL season underway, and Kaepernick still unsigned, JAY-Z addressed the ongoing NFL protests at large during a stop in Miami on his 4:44 tour.
"I want yall to understand, when people are kneeling and putting their firsts up, and doing what they're doing, it's not about a flag," he told the crowd. "It's about justice, it's about injustice. And that's not a black or white thing — it's a human issue."
August 2019: NFL partnership announced
On August 13, the NFL announced its partnership with JAY-Z and Roc Nation, as The New York Times reported. The partnership was said to include consulting on who the league booked for live music performances, including the Super Bowl, as well as the social justice initiative Inspire Change.
In a press conference with NFL commissioner Roger Goodell the next day, JAY-Z said he had spoken to Colin Kaepernick about the deal but wouldn't divulge what exactly was discussed.
"I think that we forget that Colin's whole thing was to bring attention to social injustice, correct?" JAY-Z said at the press conference, according to Rolling Stone. "So in that case this is a success; this is the next thing. 'Cause there's two parts of protesting. You go outside and you protest, and then the company or the individual says, 'I hear you. What do we do next?' So for me it was like, action, actionable item, what are we going to do with it? Everyone heard and we hear what you're saying, and everybody knows I agree with what you're saying. So what are we going to do? So we should, millions of millions of people, and all we get stuck on [is] Colin not having a job."