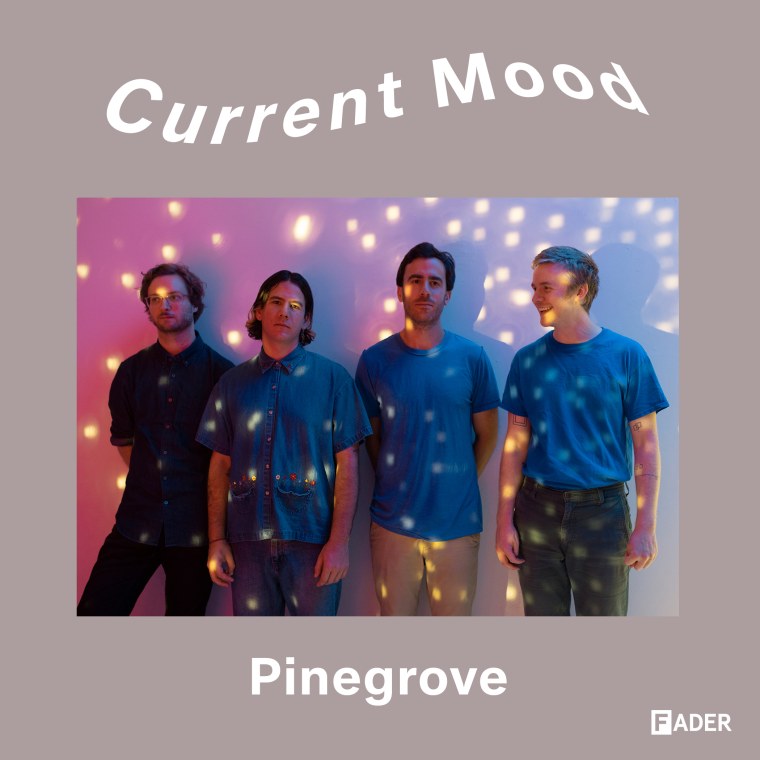 In our Current Mood series, we ask some of our favourite artists to curate a playlist according to a specific theme or mood of their choice. For Current Mood #033, Montclair, New Jersey band Pinegrove shares its playlist of songs with colors in the title, arranged by tempo. Listen to past Current Mood playlists here.
Montclair, New Jersey band Pinegrove have been on a roll lately: since releasing their album Skylight last year, the four-piece led by guitarist and vocalist Evan Stephens Hall has gone on to play increasingly huge shows, culminating in sold out nights at New York's Webster Hall, Brooklyn Steel and Los Angeles' Fonda Theatre. In August the band released new single "Moment" on Rough Trade Records and their recent string of shows have included new songs in the set, stoking speculation that a new album is incoming. But until then, we've got the band's CURRENT MOOD playlist, a heady mix of songs featuring colors in their titles, organized by tempo. Read what the band had to say about the playlist and see each song's tempo below; listen to the playlist above.
Pinegrove on their CURRENT MOOD playlist:
This playlist is an anthropological document of our inquiry into the slowest songs that refer to a color in the title of all time. Through our extensive search through music we've recently listened to, we uncovered a vast range of songs: some tunes that were quite colorful but not all that slow; plenty of songs that were extremely slow but betrayed no particular emphasis toward one color over another; but then a slim few of that golden category: songs that truly embody one or more notch in the chromatic spectrum and are also not fast. Thus we present, with great pleasure, & many thanks to our corporate & academic sponsors at The Fader Institute, our playlist: Songs Which Refer to One or More Color in the Title Arranged According to Tempo.
Tracklist, by tempo:
212 - "Blue Days, Black Nights," Buddy Holly
130 - "Green Light," Lorde
122 - "Orange," Big Thief
121 - "Orange Crush," REM
116 - "Sixteen Blue," The Replacements
114 - "Red Rain," Peter Gabriel
100 - "White Freightliner Blues (Live,)" Gillian Welch
85 - "Yellow," Coldplay
83 - "Brown Sugar," D'Angelo
82 - "Pink Moon," Nick Drake
80 - "Pink & White," Frank Ocean
65 - "Rainbow," Kacey Musgraves
63 - "Behind Blue Eyes," The Who
62 - Behind Blue Eyes," Limp Bizkit
60 - "Pink Matter," Frank Ocean
57 - "Purple Rain," Prince
56 - "Blue In Green," Miles Davis
56 - "White Ferrari," Frank Ocean
52 - "Black Hole Sun," Soundgarden
48.5 - "Orange Moon," Erykah Badu
0 - "Black Green Water, Dark Black Tongue," Ben Seretan
Listen to The FADER's weekly playlist of songs you need in your life