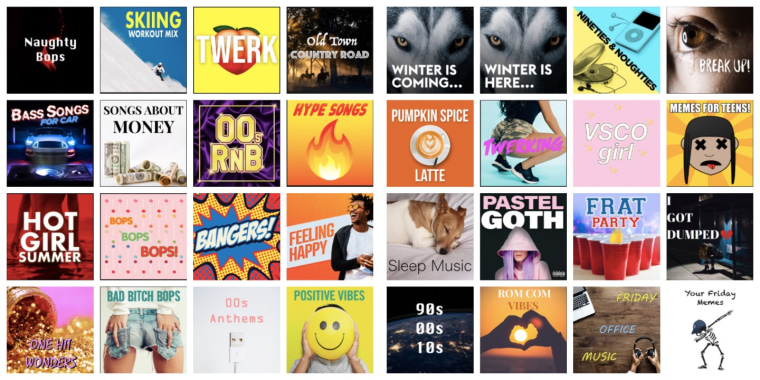 It's no secret that digital streaming platforms are currently dominating the music industry. Last month, the RIAA's semi-annual Music Revenues Report revealed that 80 percent of total industry revenue ($4.3 billion) is generated through DSPs, and playlists constitute a major stake in that game — particularly on Spotify. As Liz Pelly has reported extensively for The Baffler, playlists (specifically those curated in-house, such as RapCaviar) hold precedence for listeners hoping to tap right into a certain mood. Most of the biggest playlists on Spotify are static as opposed to fixed, which means that they continually cycle out old songs in favor of newer tracks.
In an effort to boost streams for older songs in their catalog, Universal Music Group is now attempting to circumvent streaming's grip on the playlist game by releasing hundreds of label-exclusive playlists that are classified on Spotify as compilation albums. These albums can be found in the "Appears On" section of the Spotify landing page of any major artist who has been on UMG's roster at some point in their career. Scroll down far enough on artists such as Lady Gaga, Vince Staples, J Balvin, Justin Bieber, Rae Sremmurd, or Florence and the Machine, and you'll find their presence on plenty of compilation albums with interfaces similar to those of Spotify playlists.
While most of these albums pertain to broad moods or events, many of them are impressively specific in their titles. There's a VSCO Girl album packed with songs from Tove Lo and LANY. There's a Memes For Teens album highlighting Owl City and Soulja Boy. There's Pastel Goth, there's Bass Songs For Car, there's Shush Up And Dance. There's even a Mental Health Awareness Month album, with songs from Papa Roach, Demi Lovato, and Avicii.
Many of these "albums" appear to be haphazardly cobbled together with extremely loose parameters in terms of curation. One titled 2019 Mix, for example, does not include any songs released in the year 2019, instead opting for a seemingly arbitrary mix of tracks from artists such as Imagine Dragons, Bob Marley, Massive Attack, Lorde, and Hanson. Still, it's the first album that pops up when Spotify users search "2019 mix," and for an undiscerning ear, "You're The One That I Want" by John Travolta and Olivia Newton-John can pass for 2019... right?
Others appear to be blatant attempts at capitalizing on artists who aren't on Universal's roster — Old Town Country Road and Hot Girl Summer, for example, are clear attempts at netting listeners searching for music from Lil Nas X (signed to Columbia) and Megan Thee Stallion (signed to 300), respectively. Neither of the artists appear on these "albums," and for what it's worth, Megan officially trademarked "Hot Girl Summer" last month. The FADER has reached out to representatives of both artists for further comment.
When approached for comment, representatives of Universal Music Group declined to comment on which department of the label was responsible for the compilations, but confirmed that they were curated by a team rather than algorithmically.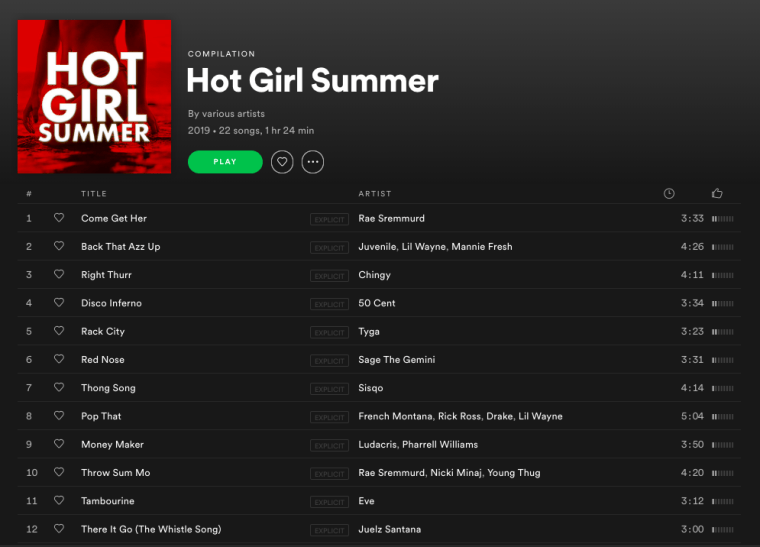 Universal's venture into rapid-fire compilation creation appears to be in response to a similar strategy first brought forth by X5 Music Group, a Stockholm-based company that has been "creating albums optimized for the digital market" since 2005. In 2013, Universal teamed with X5 to launch U5, an initiative to "create and release more than 50 digital albums per month." X5 was purchased by Warner Music Group in 2016, and representatives at Universal confirm the compilations released since the acquisition have not been associated with X5.
Both Spotify and UMG declined to comment on how many of the "albums" exist (The FADER can confirm that there are at least 200 of them, dating back to 2017), as well as how many streams they net (each album lists the original song's play count, like a playlist might). They each appear to be exclusive to Spotify, though listings can be found on Amazon with a release date of January 1, 2040.
UMG's strategy to release label-specific playlists as albums is not entirely unprecedented — in 2016, Epic Records famously cracked the US Top 10 by compiling charting tracks by the likes of Travis Scott, Young Thug, and Drake into an album called Epic AF that never saw a physical release. Yet the sheer quantity and specific thematic approaches to UMG's compilation albums raise questions on the impact of the industry compartmentalizing music as moods, as well as the ethics of utilizing artist-set trends (such as Hot Girl Summer) for profit-by-association.
Update: Old Town Country Road has been removed from Spotify.