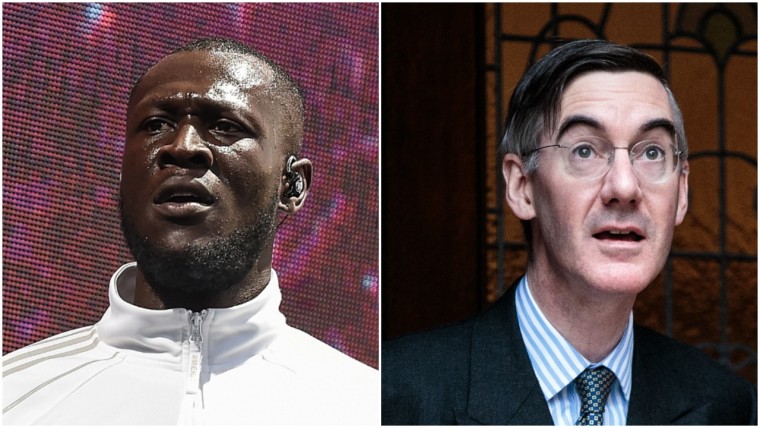 Stormzy is demanding the resignation of Jacob Rees-Mogg after the British Conservative MP made disparaging comments about the victims of the Grenfell Tower fire, a 2017 disaster in which 72 people died.
Rees-Mogg made the remarks Tuesday morning on LBC Radio as he spoke on the Grenfell first responders, who had instructed residents to stay inside the building while they targeted the fire. "I think if either of us were in a fire," Mogg told the radio host Nick Ferrari, "whatever the fire brigade said, we would leave the burning building. It just seems the common sense thing to do and it's such a tragedy that that didn't happen, but I don't think it's anything to do with race or class."
Rees-Mogg issued an apology to The Evening Standard soon after, but Stormzy didn't accept it. "[Y]ou need to resign," the rapper wrote on Twitter, "you're an actual piece of shit." See his tweet below:
Oi @Jacob_Rees_Mogg you need to resign you're an actual piece of shit I beg everyone watch this - MP Jacob Rees Mogg in a nutshell saying Grenfell Victims should of had the common sense to escape. I can't believe the cheek fucking hell these politicians are actual aliens pic.twitter.com/aQ4NxwdBCG

— #MERKY (@stormzy) November 5, 2019
Stormzy broke down his criticisms in a subsequent Twitter thread. "The government are to blame for Grenfell, not the fire brigade," he wrote. "I'm sure the fire fighters made some errors, to what extent I don't know, but nah we ain't gonna act like the brave men and women who went in there are the main reason this happened."