Arca emerges with 62-minute single "@@@@@"
Her first new material since 2017's Arca.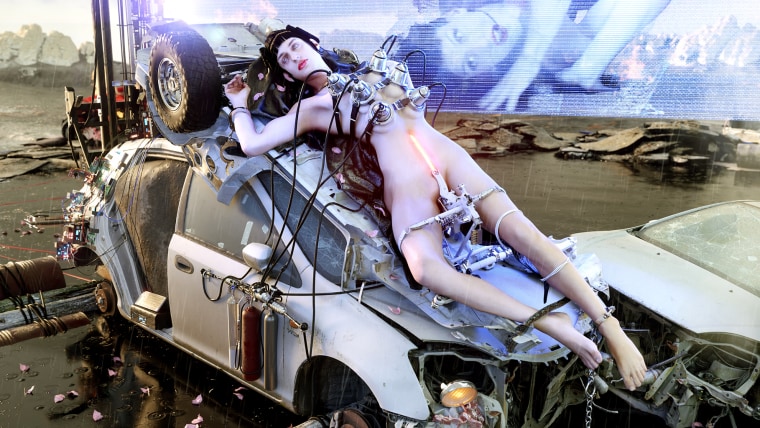 It's officially Arca season. Today, the producer emerged with her first official solo material since releasing her self-titled album back in 2017. It's an amorphous, 62-minute single called "@@@@@," which finds her channeling a post-apocalyptic radio host named DIVA EXPERIMENTAL. In a statement, Arca further elaborated on the track:
"'@@@@@' is a transmission broadcasted into this world from a speculative fictional universe in which the fundamentally analogue format of FM pirate radio remains one of few means to escape authoritarian surveillance powered by a hostage sentience gestated by a post-singularity AI. The host of the show, known as DIVA EXPERIMENTAL lives across multiple bodies in space in virtue of her persecution- in order to kill her, one would first have to find all of her bodies. The bodies that host her carry fetishes for paralinguistics, breaking the fourth wall and nurturing a mutant faith in love in the face of fear."
Arca on tour
April 3 - The Hague, Netherlands @ Rewire Festival **
April 25 - New York, NY, USA @ Brooklyn Steel
April 27 - Washington, DC, USA @ 9:3 Club
April 28 - Boston, MA, USA @ Royale
May 1 - Toronto, ON, CA @ The Phoenix Concert Theatre
May 2 - Philadelphia, PA, USA @ The Ave
May 7 - Minneapolis, MN, USA @ First Avenue
May 8 - Chicago, IL, USA @ Metro
May 1 - Vancouver, BC, CA @ Vogue Theatre
May 12 - Seattle, WA, USA @ The Neptune Theatre
May 14 - San Francisco, CA, USA @ The Regency Ballroom
May 15 - Los Angeles, CA, USA @ The Belasco
June 18 - Barcelona, Spain @ Sonar By Night **