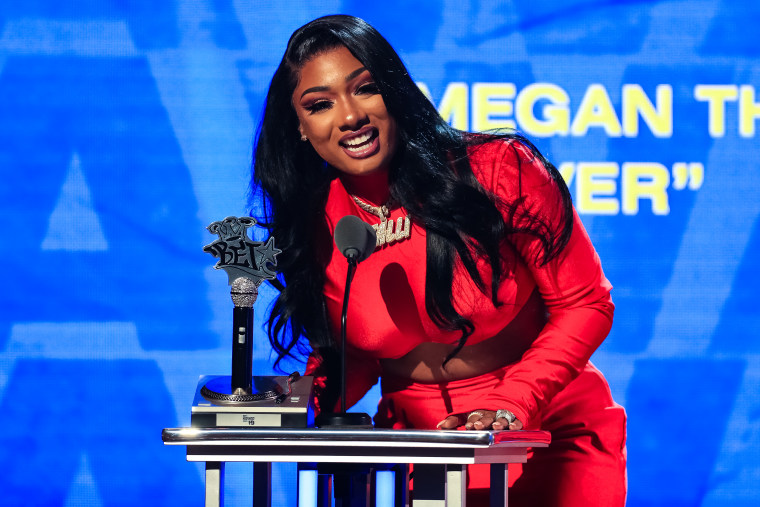 The release of Megan Thee Stallion's new album Suga will go ahead this Friday as planned after the rapper's label 1501 Certified Entertainment failed to block the project from dropping, according to a new report in Complex.
Label owner Carl Crawford reportedly filed an emergency motion on Tuesday to end the temporary restraining order Megan successfully filed against 1501 last week — Megan accused 1501 and Crawford of blocking her from releasing new music and threatening her, which Crawford denied.
Judge Beau A. Miller denied the motion on Wednesday, allowing for Suga's release on March 6. The motion addresses the statements to the media that both Megan and Crawford's camps have given to the media and on social media — Miller has banned both "from communicating with the media concerning the underlying issues in this case without court approval."
Miller's motion specifically names J. Prince, founder of Rap-A-Lot Records, who Megan's attorneys accused of making threatening remarks on social media: "Mr. Prince shall refrain from threatening or posting threatening or retaliatory social media posts or threats against [Megan], her agents, or her representatives."
On Thursday afternoon, Megan shared a statement celebrating the court's decision to allow the release of Suga. "I will stand up for myself and won't allow two men to bully me," she said of Crawford and J. Prince. "This has nothing to do with anyone else including JAY-Z, stop deflecting and trying to make this a publicity stunt." Read her statement below:
A representative for Megan Thee Stallion declined to comment on the matter. The FADER has reached out to 1501 Certified Entertainment, and we'll update this piece if we hear back.
This post was updated on Thursday, March 5 at 1:36 pm to include Megan Thee Stallion's Instagram statement