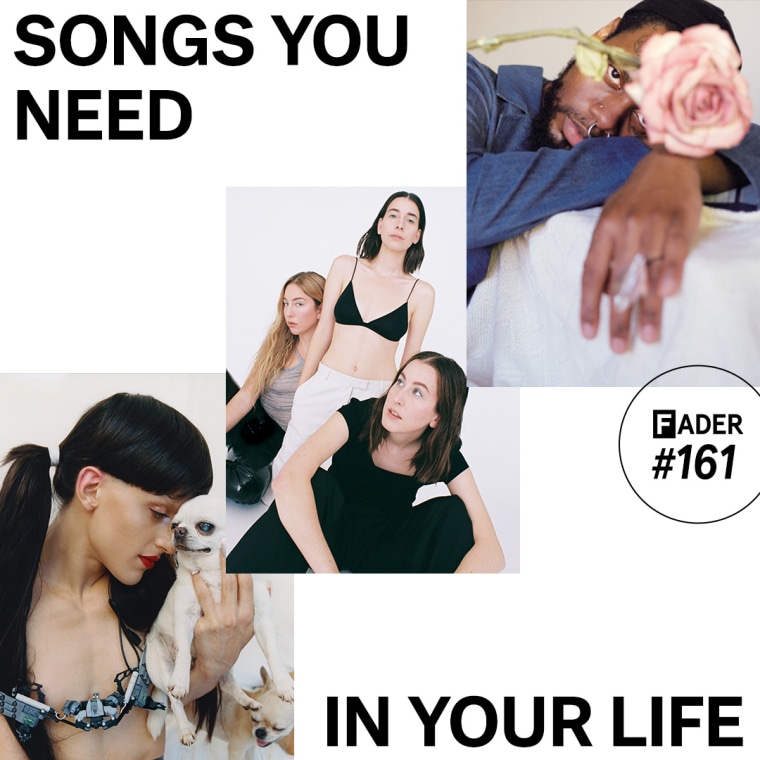 Each week, The FADER staff rounds up the songs we can't get enough of. Here they are, in no particular order.
"I Know Alone" — HAIM
Linearity is out the window on HAIM's latest — nights turn into days, city blocks blur together, and that knockout chorus sputters into a pseudo-garage breakdown. It might be their weirdest track to date, which turns out to be a very good thing, and that choreo might have just convinced me to finally download TikTok.
"Dare AM" — Namasenda
"Dare" has Namasenda and A. G. Cook channeling old-school Cassie through a hyper-glossed lens. We're partial to the chaotic nightcore version, but Namasenda's ultimatum hits different in the daylight.
"Pikachu" — Yung Lean
Leandoer season is upon us. On the latest Starz offering, he dials up the charm over some tasty whitearmor production, warping "Red Bottom Sky" into a Cardi B reference, and rhyming the titular Pokemon with Peruvian cocaine. What more could you ask for?
"Nonbinary" — Arca
Just when you think Arca has fully committed to her realm of esotericism — her last single was 62 minutes long — she goes and drops this heat, a boundary-annihilating rap banger. And Doña's got bars, alright?
"Say Goodbye" — Lil Muk
Philadelphia's own Lil Muk uses his latest track as a chance to express proper gratitude to the ones he lost to gun violence. Expectedly, it soars.
"Savage Remix" — Megan Thee Stallion and Beyoncé
Was there any doubt that this would be here? Something in that Houston water is just too powerful.
"PS2" — Elison 404
Eliot and Sonny of 404 Guild are now Elison 404. "PS2," off their debut project Pebbledash, is a jumbled and gorgeous exhibition of repurposed nostalgia.
"Psychic" — serpentwithfeet
serpentwithfeet is operating at a whole new frequency. On his new EP Apparition, the Baltimore artist packs an entire emotional journey into a three-song arc. "Psychic" wraps the project up with renewed mysticism and crystal ball clarity. Words don't do it justice.
"Hired Gun" — Pecas
Brooklyn producer-songwriter Sandy Davis's newest single as Pecas is a languid and hazy soundtrack to an "imperfect human trying to love and be loved by a robotic counterpart."
"Cutie" — Hodge
This staggering cut off Bristol producer Hodge's new album Shadows In Blue commands all of your attention, not relinquishing one bit of it for its entire 5:20 run time.