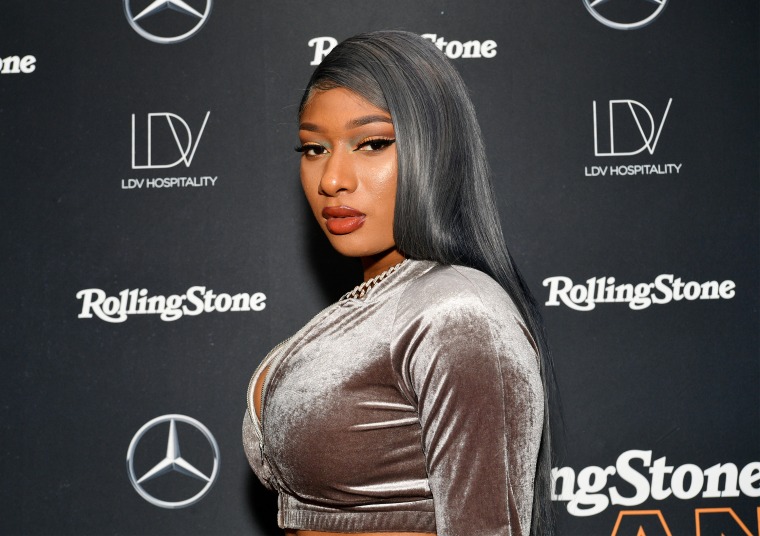 Megan Thee Stallion has appeared in public for the first time since July 12, when the rapper was shot after a house party. In a 10-minute Instagram Live session, Megan said she was shot in both feet, and underwent surgery to remove the bullets, which did not hit bones or tendons; it was "the worst experience of my life," Megan said.
For the second time since the shooting, Megan denounced rumors about the incident (her initial statement called the incident's narrative "inaccurate" after reports that she was arrested alongside Tory Lanez). "I see a lot of people painting fake-ass narratives and making up stories," she said before thanking her fans for supporting her. "I didn't put my hands on nobody, I didn't deserve to get shot. I didn't do shit."
Megan suggested that she had found herself around toxic people since the death of her mother. "You kinda try to fill the space with a bunch of people you think is making you happy," she said. "I was moving too fast. I wasn't taking enough time for myself... I thought I was ready to give good energy to people and other people weren't ready to give good energy to me."
The stream concluded with Megan once again thanking fans and letting them know she is doing better. "A bitch is alive and well and strong as fuck," she said, "and I'm ready to get back to regular programming with my own hot girl shit."
Watch the video below. The FADER has reached out to Megan Thee Stallion's representative for comment.