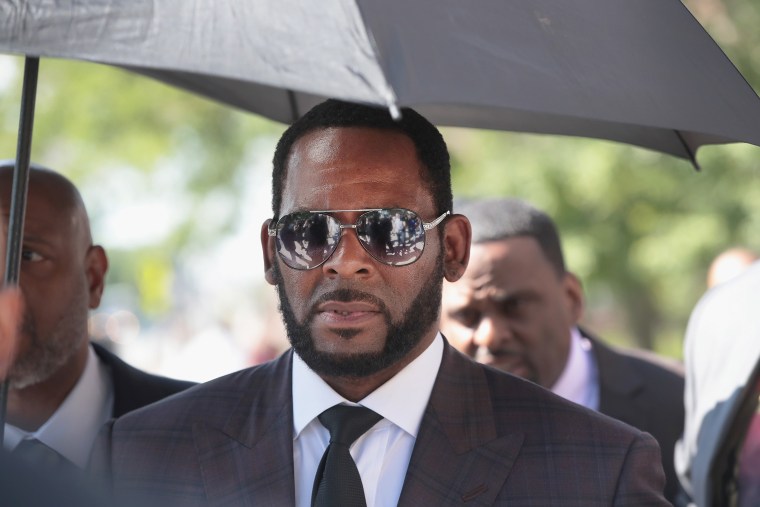 On Wednesday, the United States Attorney's Office for the Eastern District of New York announced charges against three associates of R. Kelly, as Pitchfork points out. The men are accused of intimidating woman accusing Kelly of sexual misconduct.
The first man, Richard Arline, Jr, is accused of attempting to bribe one of Kelly's accusers with $500,000 to prevent her from cooperating with the government. According to the States Attorney's press release, Arline Jr. was recorded on phone calls discussing the payment with Kelly's accuser, known as "Jane Doe." Arline Jr. reportedly said during one of the calls that he had communicated with Kelly, who is currently incarcerated and awaiting trial, though it is unclear if the proposed payoff was the subject of discussion.
The second criminal complaint was filed against Donnell Russell, who is "a self-described manager, advisor and friend of Kelly" according to the press release. Russell is accused of "[using] the mail, telephones and the internet to harass and intimidate Jane Doe" and her mother. In this pattern of alleged harassment, Russell "threatened to reveal sexually explicit photographs of Jane Doe and to publicly reveal her sexual history if she did not withdraw her lawsuit against Kelly and 'cease her participation and association with the organizers' of a 'negative campaign' against Kelly." Russell is also alleged to have created "Surviving Lies," a Facebook page established to discredit survivors interviewed for Lifetime's docuseries Surviving R. Kelly.
Michael Williams, the third individual facing criminal charges, is alleged to have "set fire to an SUV parked outside a residence in Florida where an alleged victim in the Kelly case and others were staying."
Kelly is accused of five federal sex crimes in New York State, and has pled not guilty.