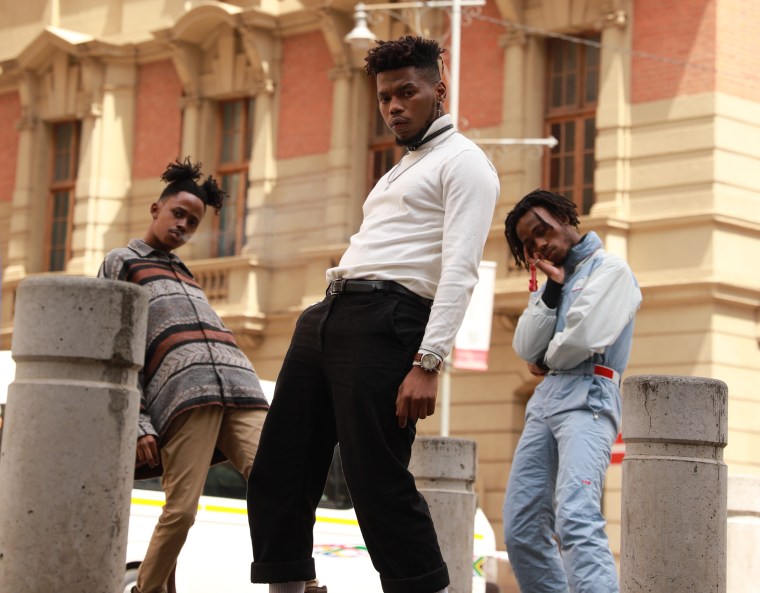 With Dolby On, artists don't need professional equipment to record richer, studio-quality performances. Last month, we challenged FADER readers to use the mobile app to perform an original song from home. We were floored by the talent exhibited in each submission, but we kept going back to the magic conjured up in Art Bishups in their performance of "Jar" off their 2019 debut project, Mix'd Feelings.
Art Bishups — the project of Monde "Halo" Ngcobo, Andile "Dan" Ngema and Luyolo "Maverick" Dzingwa — have been riding out quarantine like the rest of us, at their home studio in Johannesburg. But make no mistake, they're ready to go global. "There are people bumping the album in Germany, the U.K., California… it's beautiful to see," they say. "Just imagine if we scaled it up a bit,"
Though the band was founded in 2018, with a mission of speaking truth to each members' own experiences — "bishops give out orders… they spread the gospel" — its core brotherhood dates back to Ngcobo and Fischer's high school days. "Funny enough, we weren't even friends then. We met again after we graduated, during the first year of varsity, and I couldn't stay in school after meeting this guy. We just gelled," Ngcobo recalls. Alongside a few other friends in Durban, they started a collective called Definition. "We were never home."
Things kicked into high gear once Ngcobo and Ngema moved to Johannesburg, as well as band mate Dzingwa. "When Halo came through, Dan and I were already making songs, recording in our room," Dzingwa remembers. "I came to see them at their new apartment, and I never left," Ngcobo adds. "We didn't know we'd end up making a full project together."
Those initial sessions eventually manifested last year's Mix'd Feelings, a diverse compilation of their work together thus far. Eschewing rigidity, the project warps cues from neo-soul and hip-hop stalwarts such as Mos Def with South African tradition. The result is a distinct and impressive debut, packed with hypnotic grooves that beckon to be replayed. "We coined the phrase for it already. We call it mad jig," Ngcobo explains. "Basically, we're off-beat, on time."
That mission is best exemplified on lead single, "Jar." "This particular song is very dear to me," Ngcobo says. "This was one of the rare instances where I had the lyrics before the instrumental. It never happens like that. I had these words. I was feeling bad for letting someone go. They were very instrumental in my growth… you left with a pot of Jah, meaning God. But also, you left with a pot of jar, meaning weed. You left with the good stuff, with the high. My bros were like, 'we understand this frequency.'
Watch their winning performance of "Jar," and stream their latest project Mix'd Feelings in its entirety, below.