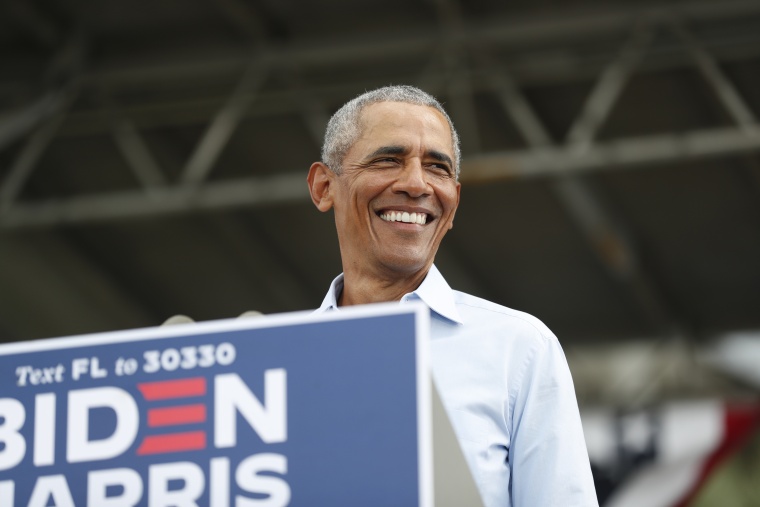 Former president Barack Obama has given an in-depth interview to The Atlantic about the state of American politics, the recent presidential election, and more. Conducted by Atlantic writer Jeffery Goldberg, the story, titled "Why Obama Fears for Our Democracy," is one of the more in-depth interviews Obama has done in recent years, and is pinned to the release of his new memoir, A Promised Land.
The interview contains various noteworthy tidbits, but one moment in particular stands out: At one point, while discussing populism in American politics, Obama seems to suggest that rap music is responsible for Trump's purported increase in support among Black male voters. "People are writing about the fact that Trump increased his support among Black men [in the 2020 presidential election], and the occasional rapper who supported Trump," Obama tells Goldberg. "I have to remind myself that if you listen to rap music, it's all about the bling, the women, the money. A lot of rap videos are using the same measures of what it means to be successful as Donald Trump is. Everything is gold-plated. That insinuates itself and seeps into the culture."
Later, he notes that he's "not just a materialist" in a modern sense, and that he sees hope in his daughters' generation in the fact that they're "less likely to have a need to be on Wall Street by such-and-such date." Read the entire Atlantic interview here.
Obama's reference to Trump's increased support among Black male voters refers to election day polls that suggest around 20% of Black men voted for Trump. This is a slight increase from 2016, when 18% of Black men supported Trump, and speaks to what appeared to be a general increase in support for Trump among minorities this year, according to exit polls.
Obama has previously expressed some level of appreciation for rap music, with many rappers including Megan Thee Stallion, Cardi B, DaBaby, Drake, Mac Miller, Goldlink, Young Thug, J. Cole, Wale, and Jay-Z all appearing in his various playlists over the past few years. (His daughter Malia Obama is also a noted fan of Pro Era and Joey Bada$$.) Earlier today, Obama shared a playlist of his favorite songs, which included Eminem and Jay-Z. View the playlist below.