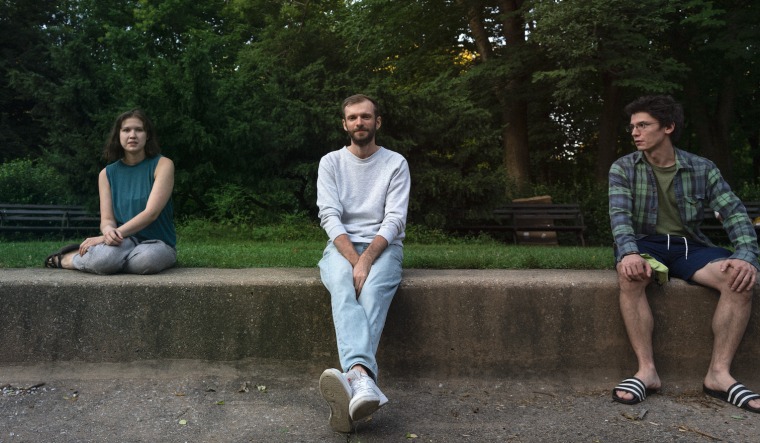 There are moments on Good Guess, Winston Cook-Wilson's second album of original songs, when, like a sudden engine shudder on an otherwise placid flight, a shock of anguish jolts through the mix. The first is on "Business," the record's second song, where Wilson is left with nothing but a steady piano and a humming upright bass to reinforce his loneliness. "After the morning broke like an ugly grin / I couldn't feel anything but grief," he sings before things drift to an uneasy conclusion. No matter how impressive the scenery is beyond the airplane windows, no matter how reputable the airline or how favorable the weather conditions, the passenger here is still keenly aware that they're hurtling forwards at an improbable pace in a gargantuan metal box. And no matter how calm the pilot might sound when he says they lost power in one of the four engines, it's hard not to consider the possibility that there are only so many engines one can lose before the whole thing goes down.
This is Cook-Wilson's third solo effort in all, after 2017's Thirty and this past spring's astute mostly-covers album Without A Sail. But it's best considered alongside the two albums he's released as part of the Brooklyn-based soft-rock group Office Culture, whose last album, A Life of Crime, was, I wrote at the time, the mark of "the most vital lounge-pop act of all time." Now Cook-Wilson seems to have sharpened his songwriting to an even finer point, a deft lyricist and sharp-witted composer nearing the peak of his powers.
The record is the product of a weekend spent recording in Brooklyn with upright bassist Carmen Rothwell and electric guitarist Ryan Beckley, and, as Andy Cush writes in the notes for the record, the space that Cook-Wilson often leaves in his songs allows for plenty of improvisation. That sense of spontaneity brings about some of the album's most affecting moments, in particular on the ever-crescendoing title track where, through a stunningly controlled chaos, Cook-Wilson sings about "A joyous day but a sad affair," his studious voice rising to the paradox and loosening up in a way that even Harry Nilsson might pause to admire. Often he sifts through minutiae and routine — the numbness and guilt of day-to-day depression, most often — before shifting his gaze to one side in search of a metaphor. Elsewhere he looks for meaning elsewhere in the universe in the hopes that something will stick, though there's always something pithy to tie things together. "Hey baby, everyone should dare to dream," he offers. "I've got no regrets and there's no defending me."
There is still the sense here that Cook-Wilson is living on a different timeline. These are ballads that sometimes recall the Windham Hill catalog, other times American popular standards that are almost a century old. It's hardly built from references that recur on, say, this website. But it is increasingly clear that Cook-Wilson is wrapping these old threads around something genuinely idiosyncratic.
Listen to Good Guess — out December 4 via Ruination Record Co. and Whatever's Clever — in full below and pre-order the record via Bandcamp.