Toronto's Obuxum creates her own sonic past and future
The producer shares her earliest influences and how Afro-futurism informs her work.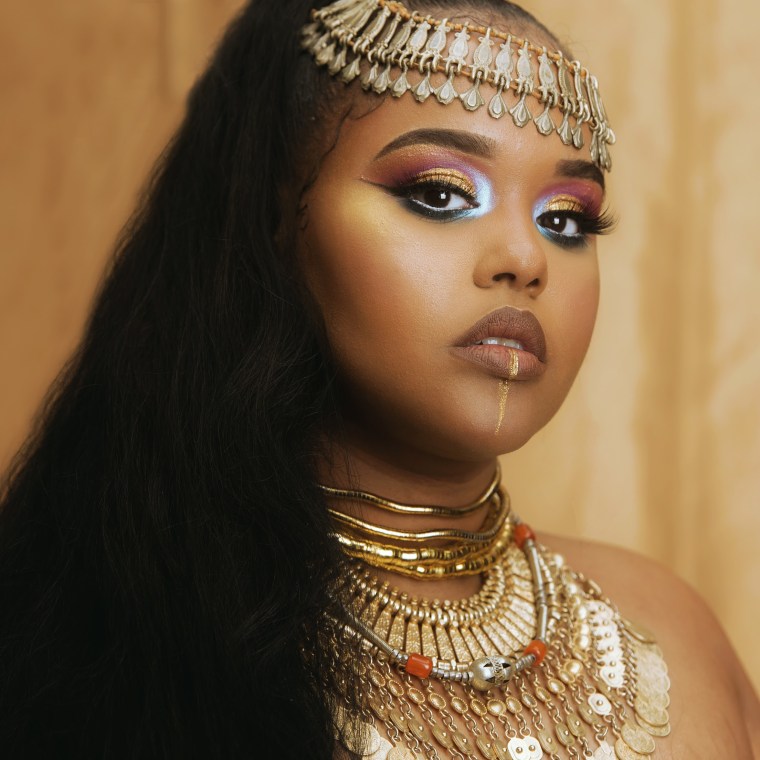 If you've never heard the work of Toronto-based OBUXUM before, the Somali-Canadian producer herself would describe it as a narrative journey that requires active listening. Part industrial synths and part smoothed-out electro R&B, her genre-defying music is as diverse as it is richly political. Her mostly-instrumental projects use vocal samples like Viola Davis' acceptance speech at the 2015 Golden Globes and a woman reporting on gender-based violence in Somalia as its lyrical backbone atop fluttering production, giving her music its pulsing, ugent core. "There's so much that I pack within a song: there's a lot of details, texture, space, and colors," she explained.
Before releasing her first two projects, H.E.R. and the 2020 Polaris Prize long-listed Re-Birth, OBUXUM knew she wanted to make music once she learned about the notion of sampling. "I really loved that idea - and ultimately I wanted to explore it," she said, counting J Dilla, Fela Kuti, Tokimonsta, and her mother among her earliest influences. "[My mother] told me: 'If God gave you a gift, use it'...I wasn't raised in a musical household where I saw folks making music - I later learned that the gift was a privilege that I have, which is access to a laptop, and musical gear, and I try to make the best of it."
With airplay on shows like CBC's The Block, the producer spent much of 2020 sharing Re-Birth with a virtual audience, playing a set for the live streamed version of MUTEK electronic music festival last fall. Most recently, the producer's original music and sound design landed in a new video game, Bravery Network Online, after the game's creators reached out to her to take the lead. "I was very shocked and nervous, but I said yes because they placed heavy emphasis on the music being lead by me and that my voice is crucial. It was a beautiful challenge that I am proud of," she said.
The FADER spoke to the producer about Afro-futurism, connecting with her audience and telling her own stories.
The FADER: When you released Re-Birth in 2019, you shared a caption on Instagram about the album and said you were creating "deliberate little worlds that tell numerous stories" as opposed to a regular beat tape. With that in mind, how do you think your approach to production is different?
OBUXUM: I don't box my work within a particular genre and I make sure that whenever I release a body of work, it shows my own experimentation but also how music is limitless. Each track on that particular album tells its own stories, and they have their own feel and their own pace.
Why has it been so important for you to incorporate parts of your identity into your work?
OBUXUM: It allows me to unpack experiences and investigate myself more. It's a form of documentation in a way, where I'm really able to sit with and express myself honestly.
I feel like you explore a lot of Afro-futurist themes in your work. How has that had an impact on how you create?
OBUXUM: It gave me the freedom to imagine limitlessly while using music as a medium. I also thought about how I want to exist as OBUXUM - and having Afro-futurism in mind, I use it as a tool to place emphasis on my existence as a black woman telling my ancestral stories, and how I exist within the universe. I never imagined seeing someone like me, who is Somali, in music. Afro-futurism gave me that lens that I can imagine and ultimately exist unapologetically.
There's also a heavy political element to your music. How closely connected do you see your own art to revolutionary ideas, figures, and moments?
OBUXUM: One of the reasons why I feel that my art is connected is because I am breaking boundaries and norms just by existing as a music producer who is Somali and a woman. You do not see many women that are producers and engineers because there's a constant erasure of that within the music industry. I make it known through the intention of the output of my work that you cannot erase me and you will see me, whether or not you like it. by the boldness of my covers, how I resist being categorized as making one kind of music. I really do give thanks to the Black and Brown women for giving me this inspiration.
Obviously, we're all missing shows and festivals, and you've played at places like MUTEK Montreal, Wavelength Festival, Toronto PRIDE, and Venus Fest. What does that audience connection feel like?
OBUXUM: It fuels me. Just being able to be on a stage, where I am actually sharing with folks in real life, outside of the internet is an incredible feeling. There's nothing like it, to be honest, I am able to translate everything that I felt while creating those songs with people.
Last question! What's your dream collaboration?
OBUXUM: Whew! One of my dream collaborations is to have a song with FKA Twigs and Kelela.
Be sure to tune into The Block, Monday to Friday nights at 7 p.m. across Canada / 7:30 p.m. in Newfoundland on CBC Music. Episodes can also be streamed anytime on CBC Listen .