J Balvin on battling COVID and mental health issues to create his most personal work so far
Read the full transcript for the first episode of The FADER Uncovered Season 2.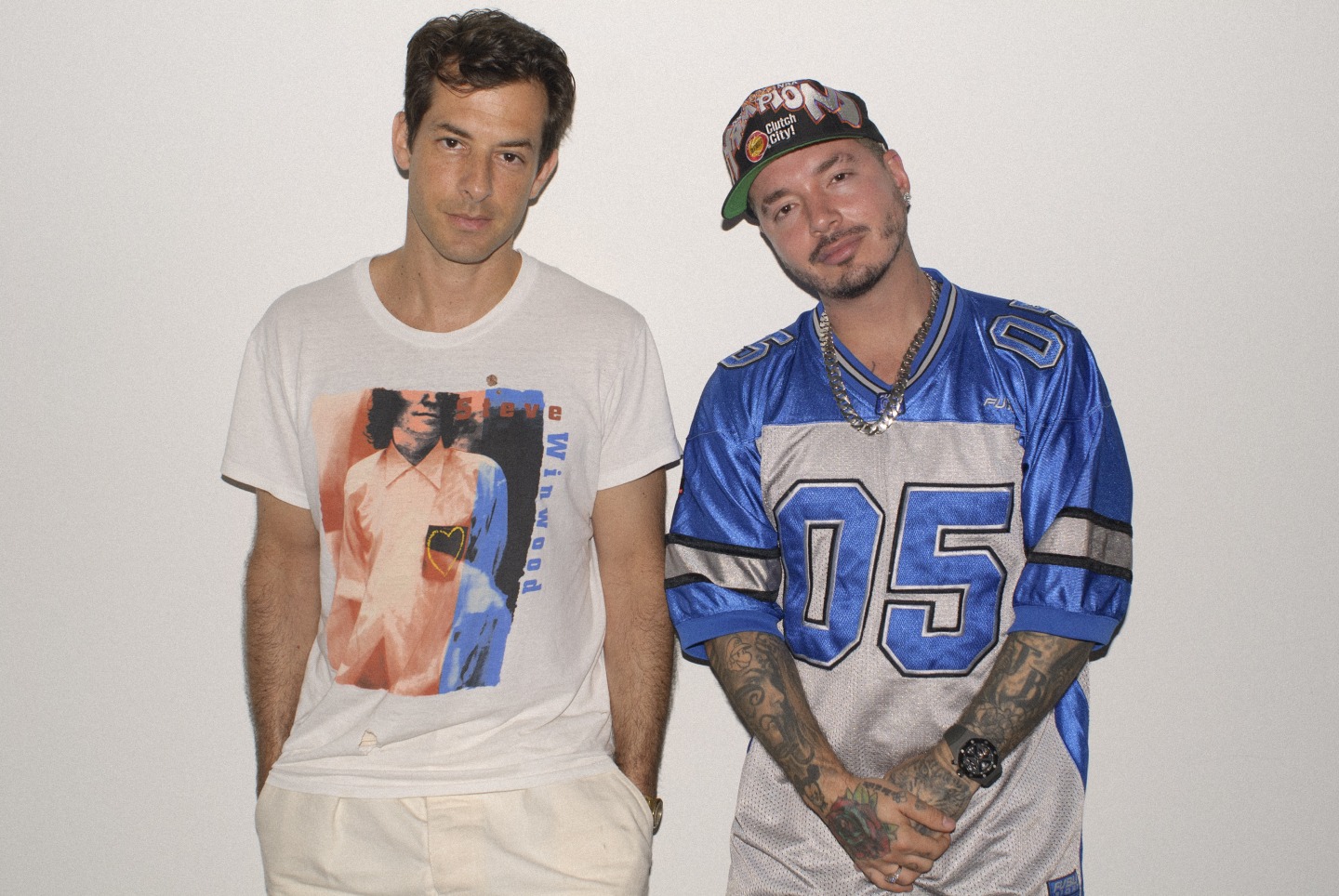 For those who might not know, let's get the Wikipedia out of the way. J Balvin is one of the biggest artists on the planet, quite literally. He's currently the number eight most listened to artist on Spotify in the world. He's been number one, and he never leaves the top 10. From his humble roots in Medellín as a fearless kid making reggaetón mixtapes, he's majorly responsible for changing the sound of pop music. Starting out in Colombia, slowly finding success through South America and the Spanish-speaking world, and finally cracking the U.S. in the most epic of ways.

When he graced the cover of FADER issue 102 in the issue of 2016, he was in the middle of this journey somewhere, already playing arenas all over South America but hadn't quite broken the U.S. That FADER interview takes place during a tour stop in Argentina, and he speaks wistfully of one day collabing with Bieber, a time when he might be played on American radio in his own tongue, Anglo artists maybe having to sing in Spanish, and the world's leading designers sending him their entire collections, like they do Kanye.

Well five years later, it's uncanny. All of those things have come true to a letter. Due mainly to his influence and maybe his sometimes partner in crime Bad Bunny, who also hero-worshiped Balvin while coming up. Drake, the Weeknd, Bieber, Billie Eilish, they've all cut huge records singing in Spanish. When Beyoncé jumped on the remix of Balvin's smash "Mi Gente," she even had Luis Fonsi's cousin fly out to cut her vocals with her, because Queen B wanted to make sure her pronunciation was legit, and it was. She smashed it, obviously. Plus to cap it off, Beyoncé brought Balvin on stage with her at her legendary Coachella headline show.

As for American radio, well we've all sung along in Spanish, some of us worse than others, to Balvin's guest verse on Cardi B's beyond iconic number one "I Like It." And as for his once seemingly out-of-reach aspirations of designers sending clothes, well now he has his own wildly successful collaborations with Guess and his own line of Jordans. Not bad. And like any giant global figure with a conscience, he soon found himself in the spotlight on issues beyond music and has made it a point of pride to lift up other Latinos and put them in rooms they've never been in before, as he puts it.

He famously pulled out of performing at the 2016 Miss USA Pageant in the wake of Trump's horrid comments about Latinos and Mexicans, and he had a beautiful quote about it. "Dignity is not negotiable." And even recently, he found himself amid a political hailstorm during the Latin American spring when it hit his home country of Colombia, taking a very soulful stand at his giant stadium gig there. His extremely open chronicling of bouts with depression and anxiety have empowered millions of his younger fans, making them feel okay to talk about such vulnerable issues.

And on his excellent new album, José, made during the pandemic and amid a nasty bout of COVID that struck Balvin himself, he grapples with the divide between J Balvin the superstar who's achieved beyond his goals, and José, the recent father who is realizing that the rest of his life's goals might be more spiritual in nature. There's beauty on the record, plus it sounds expensive as hell, which I personally appreciate.

When we met for the first time, he walked in and instantly lit up when he spotted his old FADER cover from five years back, saying to his boy from what I could make out in my limited Spanish, "How cold it was in Argentina at that time of year," and all of these other details from the photo shoot. He walked into our chat in full New York garb, a vintage baby blue FUBU jersey, which took me right back to my days working at a hip-hop clothing store on the Upper West Side, called Slam. So unexpectedly, our convo starts square in the middle of '90s streetwear. Here it goes.
Mark Ronson: I used to work in this hip-hop clothing store, because I'm a little older, in the uptown, when FUBU first brought their shit. They would come, Daymond would bring it personally in a box and be like...
J Balvin: Daymond was the owner?
Yeah. This was mid-90s, like '94. And then it was Cross Colors, Karl Kani, FUBU...
Yes, of course. Karl Kani, bro.
Yeah. And I sold my mixtapes in this store and I worked behind the counter, up on 90th Street.
You mixed it?
I used to sell my DJ mixed tapes and then I would buy...
That's fly.
... but I was so skinny, I looked really stupid as a white kid in the FUBU. I loved it, but it just... It didn't look good on me. So because this interview is for The FADER, I thought what's great is if we use this, we start with this.
That was when? Six years ago?
Yeah. 2016. And even the way that you came in and you just said, "Oh, shit. I remember that photo shoot." You said you remembered this was in Argentina. It's super interesting to me. They talk about the show there and how the Argentinian fans are so different than the Colombian fans and you're bringing reggaetón essentially sometimes for the first time. Argentina was still listening to rock music.
I thought it was interesting, because a lot of fans in the U.S. probably just think, "Oh. South America. It's all this thing. Everybody listens to the same music," but people don't realize Argentina is fucking freezing, and it's close to Patagonia and it's close to the thing, and I was just wondering what you could remember about those first shows when you started to really blow up down there.
I mean, the first time we started in Argentina, it was in the hood, and every hood from Argentina. We didn't do what we're doing right now, of course. It's been a process. But I remember the first day, reggaetón was just really underrated. It was of course a movement from the streets. That's where it belongs. It's the same story as hip-hop.
And the fact that I'm Colombian, because we have to be clear that reggaetón, it started in Puerto Rico. Before that, it was the Raggamuffin, which is from Panama. But before that, it was Jamaica with dancehall, and way before it's Africa. But me being Colombian, it was even harder because the perception of the people was if you're not Puerto Rican, you're not going to make it in this. It's probably the Drake effect. I don't consider myself Drake, but what I'm saying is he had been from Canada, and then he's conquered the whole U.S. being the outsider, so that's basically what I had to do. Put in a flag in every place, small places. The struggle was real.
And the cover The FADER, that was way after, and at that time, we're already an established genre. It took us a couple of years to be there. And when I say it took us, I'm including of course Puerto Ricans and Dominicans and all of the guys who started it, Panama and everything. And then I see that cover, it's really fire, because even in the fashion I was supporting already a lot of people that are super big now, like Fear of God and Jerry Lorenzo.
You actually say in the article, "I want to make it so people are actually singing and rapping in Spanish, and I want all of the designers sending the top collections." You list off this whole list of...
That's crazy. That's manifesting, bro.
It's literally kind of like it couldn't be any more... And it's only five years later, and you're saying it like you think it could happen, but it's not definite. But the way that in the next three, four years, obviously with the records and with your influence on it, it happened.
It's crazy. I was with Mr. Shawn Carter, Hov, Jay-Z. I was with him. Last Thursday, we were talking about life for two hours and a half, which is a blessing to have his time. We were just talking about the mindset. You know, if you think you can't, you can't. You know?
Yeah.
And if someone tell you that you can't, you both are right, because you just think that you can't. We were like, "Everything's a mindset, and you got to be fearless." I'm always being fearless when it comes to my profession. Let's say that I was so focused on my career that I was fearless, and I knew since I started that I was going to make it. I still feel that I'm up-and-coming artist. I have a lot of things to do. But I was fearless at that time, still fearless, and I knew it. I manifested.
I knew it. I always asked myself, "Why we're not in Paris at the front row? Why we don't have our own Jordans? Why we don't have our own BAPE collab?" We don't do all those things that are being done by African Americans and people that I always admire. And I took it so personal as Latino. Yo, we deserve to be in those places. I just had that mindset. I knew it. I really felt it inside of me. And I'm still feeling that I can take it way higher and not just about music. Really as an entrepreneur.
I love in the documentary when you're like the old footage of you, and you're on the way to the gig. You're like, "We're on the way to our gig. It's going to be crazy." And then it cuts to you in this place, and it's six people around. And you're like, "Don't worry. Next year we'll be back. It's going to be crazy." I love seeing that drive. And it's like you said, you always had that idea and that ambition. I also thought a little bit on the way here, because you talk about being here in 2003 when you were young, living in New York for a short time, and you were a dog walker in SoHo.
So I'm going through SoHo on the way here. I'm thinking, "God, what streets did J Balvin... Did I ever walk by young J Balvin walking his dogs and stuff?" What are your memories other than just the hustle and struggle? What were your memories of New York in that time?
There are blessings, because if it wasn't for that, we all are the result from our past. If it wasn't for our past, we wouldn't have the superpowers that we all have. Maybe we don't know we have it but we do. Just make you stronger and more wise, even though I still do other stupid things. But you live and you learn. I just see it with love, and just grateful that it was worth it, that I knew it was going to take me time, even to take the dogs out and being around SoHo, and watching all those stores and being, "Oh, I want to buy this, but I just can't afford it now."
Yeah. It's a nice FUBU shirt you're wearing right now. That kind of 2000s...
I couldn't buy it. It's not like, "I can't afford it and I will never." No. Not right now, but I will get it. So it's a blessing, man. It's a blessing that we took the risk and we were fearless, and we're still fearless about make a statement.
You talk about walking around New York at that time and seeing Puffy and Jay on the billboards. So I'm guessing it's the Sean John and the Rocawear ads.
That's crazy, because look what I just told you. I was talking with Jay-Z for a couple of hours at his office. If it wasn't for music, I wouldn't be in those places and talking about projects and the dreams that I have as a Latino. Now I talk with the people that inspire me. I can call them. Or I'm a text away. At that time I was like, "One day, they're going to be my friends." I just knew that it's going to take me time and sacrifice.
And also, Jay's no dummy. So he's sitting with you because he's getting something from you, and he's getting your worldview. It's probably not just one side.
It is beautiful because his impact in his culture has just been amazing. We're all from the same world, okay, but in the Latino side, it wasn't a guy that wanted... They were doing music, but they wanted to take it beyond music, like to culture. That's why I have mentors, or people like Pharrell Williams. I haven't talked to P for a while, but he taught me a lot. All the people that inspire me, they guide me. They'd be like, "Go this way. You should do this." And now, it's reality. It's a blessing.
So when we're talking about that, it's like I feel that Latinos need to be in places that we weren't before. So it's the same mentality that they all has, African American people, is to be in these levels, and in these places, and in these meetings where we're not supposed to be. That's what we're talking about. This is what I feel. I want to elevate my culture. This is not just about me. Every step that I do, if it's right, it's going to elevate my people and we're going to keep inspiring another one, and another, and another one.
Years ago, nobody would think that I would have my own Jordan 1s, or being a skin on Fortnite. Being the first urban Latino to be at the Superbowl with my boy Bad Bunny. There's been a lot of first moments. The headliner of Lollapalooza for the first time in Spanish. The main artist was a Latino guy in 30 years, something like that. Also Coachella, and then with Beyoncé. All those things were a statement, are still statements. We're looking what's next. We're not looking just right now. We're looking in 10 years. What are we going to do? Where are we heading? What's our point of view? But I definitely think that we need more space, and I'm working for that. We're going to make too.
You say in the documentary too, early on you say you're talking about actually the fact that you're about to play in a stadium in your hometown, a dream that you never thought you'd be able to realize. And you're like, "99% of my dreams have come true." So it sounds like you have more than 1%, though. It sounds like it's always...
Yes, because all my dreams at that time were just professional. But we cannot forget about the human being. I was just so caught up in my career. So that 1% it was personal things that I just couldn't get it, because I was just so caught up. So that's hwy you see the name of my album is José, because it's just I'm looking to see what makes me happy. Billboard number ones and most streamed artist, we achieved that too also, being the most streamed artist in the planet four years ago. But we're still top 10. It's not a lucky thing.
Yeah. So most of the professional goals... So the other goals, they're spiritual, personal.
Yeah. And now I'm focused in that with José. What makes me happy? There's going to be a moment, maybe you're not connecting with the youth no more, which is normal in the process. So I'm always thinking 10 years ahead. What am I going to do when I have to just be like, "All right. I'm going to retire on a high level"? And I don't want people to scream at me like, "Retire." If I'm not finding what makes me happy, when the career is done, I'm done, because I don't know what makes me happy. So that's what I'm looking right now, having time for me. At least three, four hours just for me by myself.
Listen to a podcast. Reading something that I like. Learning something new. Having a good coffee, having a great conversation with someone. I learned how to skydive. I've been learning a lot of new stuff, like snowboarding.
Yeah.
Just looking for what makes me happy as a person.
You talk a lot about that, and I'm someone who very much believes... I only discovered therapy and meditation, these kind of things, later in life. But I had moments where we won the Grammy for Record of the Year for "Uptown Funk," and the next day I'm reading how we won in the paper, and I think like, "I got nothing left. Now they're going to understand I'm a fraud. I'm going to go to the studio tomorrow. No good ideas will come out. I'm fucked." Literally at the peak of my highest accomplishment or whatever and...
Congrats, by the way.
Thank you. But what I look for, I look for the little explanations. I don't think anyone has all the answers. But one thing that I thought about a lot reading what you say and watching your documentary, because I wanted to know what you think of this, one of the thoughts is for hundreds of thousands of years humans were in the middle of the food chain. We'd get eaten by lions. We get thrown out, whatever. We'd be lucky to live to the age 30. So only for 10,000 years we have houses and roofs, and food, and we know what to do.
But all this anxiety that's built into our DNA needs a place to go. So even though we don't have the same worries that we have for hundreds of thousands of years, we have to find it. So that's why what you say you can have all the money in the world, you won't find happiness because your brain actually has to find somewhere to place all this anxiety. And I wonder what you thought of that, because that explains why no matter what accolades you get and all these goals that you've achieved... It's healthy to have a level of drive and ambition, but there's still... Sometimes it can be unhealthy to be like, "I haven't done what I need to do."
Yeah. Part of my journey and my mission is talk about mental health. Because I never thought I was going to suffer from mental health. People that go to the psychiatric, they're crazy.
Yeah. How old were you when it started?
I was 25.
Once you started a music career. Once you started, okay.
I started my music career when I was 19. Yeah, a professional, but I don't even feel famous. I just started really young, looking the way to find myself as an artist. But then what I told you, I never thought I was going to have mental health issues. Anxiety and depression. But people think that being depressed is being sad, and it's not. And anxiety, both of them are sickness. Some people has it like self-anxiety and self-depression, so you can have a treatment, like therapies, or meditation, or looking to make sports or eating healthier. But some of us have more heavier, and that's when there's a chemical disbalance. Because it's funny, the first time I talked about mental health, people were like, "He's so ungrateful."
Right.
"Oh, he's weak."
Yeah.
"Oh, he don't have gut in his heart." You guys don't know what you're talking about. Please read. There's a chemical disbalance, and I didn't even know that. I was like, "Come on, man," when I was talking to a doctor, like, "You're really telling me that with a pill I'm going to be better, and I'm going to be fine. I'm going to stop crying, and I'm going to stop feeling this emptiness here, and to think that I'm not going to make it tomorrow, or that I want to die, or even that I want to kill myself. There's a pill that's going to help me with that?" Yes. There's chemicals to balance your chemicals. I'm like, "Okay, give me that."
And for the people that are listening to me right now, it takes time. I heard a lot of people that commit suicide because they think they're going to be okay at the other day when they take a pill. And it's not. You got to be patient. My last episode of anxiety and depression was a year and a half after I had COVID. It just triggered it. And it's been a year and a half trying to get back to normal. I still got some flashbacks and things, but look. It took me a year and a half to be back. I'm at 90%. And it's thanks to the meds, but also you need a professional to guide you. It's not like you go into any pharmacy, which I don't think it works here. But there's some people that get some illegal way, and they just medicate themself and that's not the way. It's a chemical thing.
Also with long COVID, I mean not to get too heavy, but there's the brain fog. There's all these things. I can't imagine combining that with what you're already having. It must be pretty crazy.
And the biggest mistake was that I was feeling so good during quarantine, that I started taking out slowly my pills. I mean, my doctor said that I never told him. I did told him, but he said that I didn't.
The doctor from the movie?
Yeah. Yeah.
I like him. Is he a good guy?
Yeah.
He looks like a good guy.
I didn't leave them, but I was starting taking it slow by slow. And then I remember that I went to Miami and I had a panic attack on a bed, and it was like, I'm not going to sleep in this bed. I have to sleep on the couch. So I sleep on the couch for the whole two weeks in Miami, and that was when I was recording part of my new album. And then I got COVID. So I had COVID and I was under anxiety and depression.
That's a hell of a combo.
Exactly. If you have anxiety, depression, plus COVID, you feel like you're really dead. So that's what it took me a year. So yeah, that's why I talk about mental health, because I think we have to let the people know that we're not perfect, that we're not living those life that people think on Instagram. You can trick people, but I'm just the way I am. I just stay real. That doesn't mean that I'm a good person, I'm a bad person. I'm just...
A human.
Yeah. Exactly.
Okay. Please forgive my shitty rehash of Yuval Harari's book Sapiens, which is where I get most of my theories on anxiety and the human condition. But I am continually fascinated by why pop stars reach unimaginable heights only to find themselves even more depressed. I've seen so many go through it. I've gone through it. I think it has something to do with the fact that you think recognition and fame will deliver you from these feelings. So when that doesn't happen, because that's not how it works, you feel even worse, because now you're like, "Whoa, I've achieved all this stuff and I'm still messed up. I guess something must really be wrong with me."
Of course, I carry no degree in psychology. I barely even know Balvin, but for some reason it makes me so happy to hear him talk of looking to alternate ways to find peace of mind, and the candid way with which he discusses not just mental health but even his medication habits. Well, that's knocking down some doors. And that's what José, this album is all about.
I would say also, because in the movie you talk about, and obviously José being the name of the new album, there's this struggle. Who's José and who's J Balvin? And when to be who, and when do you feel comfortable being who, and what do people want to see? Now hearing you say it, all the good work and the confessional work you did about your own mental health for people that made people feel better, like all these millions of fans, that was probably José the whole time actually. You being José which is...
Yeah. Absolutely. People have been like, "How many days did it take you to talk about mental health?" I was like, "Not even a second. I just feel that I had to do it." I'm not a puppet from a record label. I don't have to ask for nothing. I'm free on every creative aspect. It's not about egos. There's people in the label that some of them know what's going on in the streets and know they're outside. But an executive guy is not going to tell me, "You should go this way and do that." There's a lot of parties that allows that. I don't, and I will never. It's the art. I'm fearless about that, and I follow my instincts. And if we win, we all win. If it was a flop, well, that was my fault.
Yeah. You have people like Camilla Cabello and stuff even say, "I didn't know it was okay." Even this generation of new pop stars are going to see this and realize it's okay. Because when I think about it, there's a lot of artists that we know that have mental health issues. They have very public episodes, but very few people talk about it actually. There's very few Anglo artists that are out there saying... And then the people that do, unfortunately, maybe Lil Peep, Juice WRLD, people that's actually no longer with us. I wish more people actually felt comfortable talking about it.
Yeah. I'm really grateful and not happy about what happened in the Olympics, but it makes me feel more relaxed that people are really talking about what happened with the tennis player and with...
Oh, with Naomi Osaka.
Yeah. Naomi Osaka saying about, "I'm gone. I just can't. I'm suffering from anxiety. I'm suffering from depression. Yeah, I could be the best, but I can't right now." And I was like, oof. There's another X-Men. I see there's all the X-Men are going on now. They're getting out of the closet, like, "Yes, I'm an X-Men, and what?" Creative people and amazing people. We're all the same anyway. You see Elon Musk. He has kind of like Asperger's. There's a lot of big and creative people around the world, famous people that are suffering from mental health sickness.
Like Kanye. And it's a sickness. As long as you're humble to admit that you need to be guide by someone. Because I think mental health is like HIV in the '90s or '80s that people were scared to talk about because they were going to feel neglect. So that's the same thing that happen with mental health. People feel that the society is going to take them out. They're going to be like, "No, we don't vibe with you." Every time I have a conversation about mental health, people be like, "Man, bro, I suffer from the same. I just don't have someone to talk about it."
Yeah. Yeah.
Bro. Well, at least you're in the right place. It's okay not to be okay. And I receive a lot of calls and messages in my Instagram, and when I'm on tour. "Yo, man, I'm so grateful, because if it wasn't for you, I was about to kill myself. I thought I was crazy. Everybody thought I was going crazy." And yes, it feels like you're going crazy, but there's a chemical disbalance. And also there's people that are like, "Oh, so you have all the money. You're famous and you have access to anything. How you got mental health issues?" So it's like telling Elon Musk cannot get cancer or suffer from a heart attack? Mental health doesn't discriminate. And I have a lot of projects about mental health, big projects about how to help the world.
I heard somewhere too that teen suicide and people in their early 20s suicide has definitely gone up since the pandemic. I guess because there's so much isolation. I imagine online culture contributes to that somewhat, because you're looking at other people. It looks like everyone's having the best life and you're not. I mean, I guess these things.
Yeah. That's why you got to be really careful with social media.
Yeah.
Because I remember when I was really bad, checking social media was like, "They're having a blast, man, and while I'm in this hell." And I was kind of envy and jealous.
Of course.
I'd even just text my best friend. I'd be like, "Don't you see I'm feeling like shit?"
Right. Why are you doing this to me?
Why are you partying on a boat? It's not their fault.
Of course not.
But I was like, "Why I have to suffer from this? Everybody just having a blast." But also a lot of those people that are having a blast, they stop taking the video or the picture, and then they might be more depressed than I was.
Of course. Of course. I used to look at in those moments where you're having a confidence crisis and these things, I would be looking through Instagram. People that I genuinely like and have a lot of respect for, Diplo, A-Trak. They're at the festivals. 100,000 people. They're jumping into the crowds. The last song. Everyone's passing out. I'm like, "Man, fuck these dudes. Fuck these dudes just passing out."
I was just talking with Chris Martin on my way here. Coldplay, which I love. The way we met was through mental health. He watched my documentary. He looked for my phone number. I received a video like, "Yo, it's me, Chris Martin." And the video was in Spanish.
Yeah. Oh, really?
Yeah. He's learning Spanish. He knows how to speak Spanish. So we were talking about mental health too. We've been there, because he's been there too. You're looking at biggest bands in the planet. The problem is that all the people that we have lost, they have a lot of yes-men around. So as long as they get what they want from him, yeah, keep sniffing more coke, keep drinking, because we're good. As long as you're just messing around and we can get things from you. So yeah, you're floating.
When you see all these artists, which I don't judge them, but you see them on Instagram doing a lot of drugs, living the rockstar life, I'm like, "You're hiding something that you haven't fixed."
Yeah.
You're hiding a lot of pain, because I've been there. If you find peace when you sniff cocaine at that moment, that's going to be forever your medicine because it makes you feel great. And I understand. That's why I was like, nah. Let me go this way. Because this one can make you feel better for a second, but after you're going to be even more down.
The crash is bad.
And that's why they die, because they just like, "Another pill. Keep sniffing more cocaine. Keep doing this. Let's go more. More, more, more, more." And they do it more and more, not because they want to go crazy. Because they want to feel peace.
Of course.
So they find peace in that, and then they finally get the peace. They die. So that's why when I watch all these artists in Instagram, I'm like, "Man, I don't... How can I tell them?" But if you don't want to wake up, you're never going to wake up. If you don't want to live in your conscience, you're never going to live it. And if you don't pick the right people around you to tell you, "You know what? You could be the biggest pop star in the world, whatever. I don't care. You're my brother. You're doing the wrong thing. Go and get this, bro."
I don't know if you heard the new Kanye West album.
No, I haven't heard it yet.
I haven't. But Jay-Z said in the quote, "Tell your mom that I took the red cap out of you." You know when he was supporting Trump and all these things.
Yeah.
That's a real brother. I can respect any political thing, but to me it was a bad mood for culture, because he was supporting a racist guy who talks about Mexicans, immigration, Black people, Asians, and he was supporting that. And Jay-Z on the verse he said, "Tell your mom that I took the red cap out of you." That's a real friend.
You have a great quote, actually. The name of the article, the first headline is "Dignity is not negotiable," which you said because it was 2016 when Trump was running on this horrible racist campaign and saying that they had to close the borders because it was bad people coming. And you pulled out.
Yeah, he also said that we were rapists and we were...
I don't even want to say it. It's horrible.
... drug dealers. Yeah. And that's when I pulled out from Miss USA, Miss Universe. I don't know. That was my first chance to be on a mainstream.
You were the first person to pull out of those things, and then everybody started.
It was like a domino effect. So that's what I want to make with my culture. I want to empower my people. Everyone that vibe with what we're doing is more than invited to our Latino gang. You vibe with us, you have respect for us, we have respect for you. And even the people that doesn't respect us, I still... I don't hate them. But I'm just like, I'm just going to keep doing my thing.
It's such an interesting part of the movie. Obviously, the whole... and so unplanned, the political uprising that was going on at the same time before the huge concert that you're doing. Because the movie ends at the end of the concert, I was curious actually now, what was the reaction then to the statements that you made at the concert? Was it embraced? Did you get shit from the other side?
There's always going to be good and bad. You're never going to have everyone happy at you, because if I say something about this, about the right, and the people from the left is going to hate me if it's something from the left, people on the right. Whatever you say is going to be hated. But I'm the type of people that I don't think the world is bad. I'm not the type of person that always like, "Nah, human beings are the worst." Nah. I don't think that.
I've been reading a lot lately because I just want to elevate myself as a person and have something to talk, not just about music or stupid things. Really some deep shit, or I consider that is deep, and it's just like the media, for example, they just show us the worst. Why don't you tell me that there's a farmer doing an amazing job right now? Why are you showing me 2,000 times that a white girl was killed, and that way maybe the National Rifle Association is going to get more sales. Because they show once and more and more. He got killed, she got killed, she got killed. It's white person. They can control you to fear.
Of course, and they provoke your outrage, your anger...
Exactly. You got to go and buy a rifle. You got to buy guns. But they don't know they play with you. They got you, because once you fear, they're controlling you. So I have a lot of things to say.
Yeah. It's also really tough because while this is happening you're like, there could be a hundred thousand people that support you and like what you say, but all that you can fixate is that one person who just said some hate, like, "Oh, yeah. Now he says something." It's like you can't really win, so you have to learn to filter it really.
Never. Never. You just can't.
Like many of my fellow hip-hop club DJs in the 2000s, the first reggaetón song I remember that you had to play was "Gasolina" by Daddy Yankee. I mean, that song ruled New York for well over a year and still goes off. The rhythm was familiar to me because reggaetón had so much of its DNA from Jamaican dancehall, and we all played plenty of that. But the major difference obviously was that the lyrics were fully in Spanish, and the overall energy of the thing was way more turnt and furious. The sonics were more digital and nasty. That rhythm, the signature kick snare pattern... is called the dembow rhythm, and it is the backbeat of all reggaetón.
The tempo varies, the drum sounds change, but it's always essentially the same beat. And that's something I'm so fascinated by. The beat is everything to me when producing a song. The way different syncopations help boost up any kind of tune from an uptempo straight ahead jam, like "Uptown Funk," to a beautiful ballad like "Love Is A Losing Game." I spent a great deal of my life agonizing over drum patterns. So the idea of being tied to one pattern is anathema to me, sort of terrifying even.
But continually, pioneers of the genre find ways to keep it fresh. Producers like Tainy and the brilliant artists who ride the beat. There is a great scene in The Boy from Medellín where Balvin performs a very emotional part of "La Canción" where the drums drop out and you imagine what an entire ballad might sound like from him. Just his lovely voice, the melody, the music. I asked him if he could ever imagine going full Celine and delivering a contemporary torch song.
I'd love to talk about the new album for a second anyway.
Yeah. Of course.
I was thinking what's a word... What is it about this record? What does it feel like? I was like, "Expensive." There's something about the sound. It sounds beautiful. All your records have great tunes, melodies, vocals. They got bangers. But this one feels in the way when people listen to Coldplay, Daft Punk. It's got that thing that just sounds expensive.
Yeah. Yeah.
Was that an intention when you were making this record?
100%. Chris Martin just told me, "Send me one song." I'm like, "I know which one I'm going to send him."
"Vestido"?
Yeah.
Did you really?
Yeah, because that has a Coldplay vibe.
I was just thinking, when I listen to "Vestido" I was like, the chords... It's got that.
Yeah, of course.
Beautiful.
He just told me, "Send me one song of the album. I want to check." I'm like, "I know which one I want to send you and you're going to check." Because I just want to elevate my sound and elevate the genre. We need everything in our genre. We need the ratchet thing, which I love. I can't deny it. We need crazy guy in the industry. We need the guy that is like have more common sense. You need the guy that is balanced, that can go straight and pop, kind of like Drake. And that's what I was looking in this album.
My own perspective of how I would love to listen, myself. This might be the first album that I'm really going to listen in my car, because I don't like to listen to myself. But the concept of this album is José. It's my name. And what I like as a fan. I'm going to add things that I always wanted to do and I never had the chance. So this album is called José. It's not J Balvin. It's like a playlist curated by me, and rapping and singing by me, but also what I think people are going to vibe because it's a little bit of everything.
Yeah. How did making it during lockdown, how did that change the process? Did you still manage to just have your studio in Colombia on lock and people coming in? Or did you have to do more stuff sending vocals back and forth?
It was really hard at first to elevate the energy because we were just so sad and bored. So when we started it was like, turn off that. Turn it off. You feel good? No, I don't feel good. You feel? No, I don't feel good. It took us a while to start. Everything was so down. When I called, the producer like, "Yo, what you at?" I'm like, "Bro, I don't have no ideas. I'm not in the mood." Took us couple of months to start, okay, now...
And you had COVID as well, so that's not...
But that was after.
Okay.
And then we start feeling that music was saving our time. And we're like, "Oh, let's do another song. Boom, another one." We did 60 songs for this album and we chose 24. It was a moment that every song was sounding the same because we were just the same guys working together. And they were like, "We heard this before." I don't know. Where? And then we start going back in the studio. Ah. That's where it is.
A lyric or a chord, a melody. Any of it. Right.
The whole thing. Even the lyric and the melody exactly. We're like, "Nah. Okay, let's see each other in a week." And then we came fresher. And then, okay, let's do this again. Boom, boom. And then I did the last takes in Miami. That's when I got COVID. So I took time, and then I came to New York, and we record more songs, and we close the album.
And how long has that album been finished for?
It took us a year.
So the producers that you work with on this record, because I listened to the record but I didn't have the credit, is it a lot of the same people?
It's Tainy and Sky [Rompiendo] basically. Sky, executive producer. They're just curating everything. But I have a lot of different...
Skrillex.
Yeah, there's Skrillex. Diplo is in the album. We have an up-and-coming producer like Masis, which is Tainy's brother.
Can you tell me about... Because I didn't know about him and he might already be big, but is it Myke Towers. How do you pronounce his name?
Yeah, Myke Towers. Myke Towers is one of the...
He's crazy. That track is crazy.
Oh, yeah. I love it. Myke Towers, it's basically one of the best MCs, period.
He's been around for a while.
He's been around for a while, yes. But he just blew up the last two years. He's so far one of the best rappers.
Yeah. You sound great. I mean, I like hearing you over those beats too. It's just a nice...
That's because that's what I listen to. I listen to that type of music, so that's why my last album was Colores. And it as an audiovisual concept. So me and Colin Tilley were just like, "Okay, I have this song. Let's do this concept." But it was a concept album which was really hard for us to... It was just only eight songs, nine songs. And people were used to have 16 songs on my albums, 18. So then I was like, "I want to give them what they want, but I'm giving myself what I want." So I was like, "Oh, the name of this album is José because I'm doing what I really want to do. The concept is myself." So that's what happened with this album.
You know what I like in the film too? There's like a footage and I've never seen you like that or heard you where it's just you and the piano. So I think that's like a old demo when you're maybe writing "Mi Monalisa."
Yes, yes, yes.
And there's some other showing at you're at the piano with your boy. I was like, damn. Would you ever make an album that was that stripped down? I know you say ballads, but ballads to you and ballad to Chris Martin is two different things.
Mm-hmm.
Could you imagine making a record without the dembow? Could you make stripped down ballads?
There's songs there. There's one called "Querido Rio," which is a ballad song. It's just a guitar and I'm just talking about my best friend, which is my son.
Oh, congratulations. Of course.
Thank you.
When was he born?
Two months ago.
Wow.
When you have a best friend, you just want him to be good. And you always want to help him. "Yo, don't go this way. Let's do this way. Oh, you want to try this. Tell me. I'll be with you. I like this. Okay. I mean, this is what's going to happen if you want to try or not, but I'll be with you." I want to be that. That is like, you can, you can, you can, you can, because that's I want to, I want to, I want to, I want to. You know? So "Querido Rio" is one song. It's another one called "Ganas De Verte," which is kind of like it's an R&B song.
Yeah. I think that's what I like about the thing with just you and the piano because I love singers, like those singers I work with like Lady Gaga, Amy Winehouse, yeah, but true voices. And when I hear your tone on that, I'm like, "Oh, I want to hear more of that." Maybe that's just because that's my taste, and it's not stylistically interesting to you or whatever, but I really... You have a wonderful voice, and I think because there's a lot of production, not everybody knows how great the actual just voice is naturally.
The voices you just said there is just out of this world.
But voice is about tone I think you have.
That's what I'm saying, because you have to have a color. You know?
Yeah.
That's how people connect with you. That raspiness or something. When you think about Kurt Cobain, that's Kurt Cobain.
Of course.
You know? But yeah, I think it's not about who sings the best. It's who knows how to play with the tone and connect. Every time I'm recording, my sound engineer, which is as important as anybody else in my project, he's like, "Give me a second. I don't believe you. Let me see the sentence. I don't believe what you're saying. Let's go back." So emotion. I was talking once again with Hov, with Jay-Z, and it was like, "Tell me if you know what Sean Paul said." I'm like, "No, but you feel the vibe." You feel that he's taking you on a wave. It's about feeling. And I was like, "You're so right." I had songs with Sean Paul and I definitely don't know what he said.
No.
But he sounds right. It flows. You don't know what he's saying. He's a OG, big legend, and I would love to do 2000 songs with him because he just flows.
Sean Paul or Hov?
Sean Paul. I already have songs with him, but I would love to do a lot of songs with him.
It's amazing too actually when I think of Sean Paul. A, he doesn't age, so that helps a lot. But I'm like, this dude was making huge records. "Infiltrate" was 1999.
I remember.
And he's still on massive pop records.
Exactly. That's what I'm saying. Every year there's a global Sean Paul song.
It's crazy. I produced a song on his first album, and he came to the studio...
No!
Yeah. This song called "International Affair." And he came to my studio. It was when he was killing "Give me The Light." So he was like, "Hey. You want me to make you some dubplates?" I didn't realize. We just met. It was very generous of him. I was like, "Yeah, if that's cool." And so he did. I still play them. I still put them over new instrumentals because it's just him saying my name, and I don't know what the fuck else he's saying. But it sounds so cool.
It sounds right. You're like, "Bro, whatever you're saying is fire." It sounds fire to me. That's why when I do my music, when we do our music, I try to make some melodies and make melodies and make beats that even if you don't know any word of Spanish, you just vibe with it. That's what happened with me with hip-hop and rock. I started listening to bands when I was a kid, like Bayside and Judas Priest and Nirvana and Metallica and Kriss Kross and Vanilla Ice and Tupac, Biggie, and I didn't know what they were saying.
I was just mumbling. But I was like, I feel this vibe. So that's why they keep doing my music in Spanish, because I'm like, if they did it, why I can not do that? And I still do it in Spanish. It doesn't mean that I'm never going to do an English song. But if I do it it's because I want to, not because I need it. Not because like, oh, you want to get to this place. Oh, you want to conquer this, so you have to do it in this way. We got to think out of the box. I want to keep it real 100% with me. I don't want to go to bed and be like, "Oh, I'm a sellout. I just did what they wanted me to do, and I just didn't feel it."
Which happened. I did a camp with a lot of big producers and songwriters from here, and then I listened to everything and was like, this is not me. "Oh, but you have the best songwriters, and you have the best producers." Yes, I have. And I have a lot of respect for them, but I don't feel real. It doesn't feel real to me, so what's the point?
Yeah, you need to bring those people into your world.
Exactly.
I love, even as a DJ personally when I'm playing "I Like It" or one of your records, when I'm DJing it I know the lyrics, I know when the next verse is about to come or the chorus come, because with your songs I have to count the bars, because I can't speak Spanish for shit. So I'm counting the bars. I know the chorus is coming now. Three, and then drop it. But no, you make everybody in the club... I mean, the crazy thing is not only are they singing in Spanish, but you've got Luis Fonsi. What did you say? Her brother taught Beyoncé how to sing exactly perfectly. Drake working for 10 hours his pronunciation. Not only are they singing in Spanish now, they're like, "But we got to sound like the real deal," like the authenticity. Since what you say in the beginning of that article, "I hope that Rihanna takes my call, and people really start coming to our world."
That's crazy.
It fucking happened. It happened.
It's crazy. Wow. Yes, you're right. Now definitely I talk almost with all of them.
Oh, you know one thing I'd love to talk about? Because you talk about Héctor Lavoe all the time, and I think if there's one moment to just give him a little shine in this.
Of course. Héctor Lavoe was one of the biggest Latin singers.
"Che Che Colé" is how I know him. It's one of my favorites.
"Che Che Colé." Yeah, of course. Of course.
You talk about him being your favorite.
Yeah. My favorite Latin artist when it comes to the one who paved the way for us. Because he had a song called "El Cantante," the singer. And he's saying, "Nobody asked me if I suffer or if I cry, and I go to the stage and I'm dying inside." I was like, "He's just saying facts. That's how I feel." So many times I've been on stage with anxiety and depression and be just smiling and everyone. I actually say the day I die just have a party for me and blast that song to have good times and that's it.
Do you think that eventually with... Not to get too fucking deep. But would happiness for you mean merging one day José and J Balvin, or does it mean just understanding why both of them are important and letting them both get their shine?
If José is great, J Balvin's going to be way great. I got to be selfish now about me. Now when it comes to talk about business with my manager, I'm like, you have one hour to talk about everything you want to talk. Or when I was on the plane on my way back to New York, my manager said, "We need to talk. Give me 20 minutes."
Set the timer.
We always make jokes all the time, so I gave it to one of my friends. And he was counting like, "One minute. Two minutes. Two thirty-five." And he was like...
Talk faster.
"Wait, wait, wait. Give me more, five minutes." No, you said 20. Next time say you need an hour and we might negotiate that. I already did this album. I think I'm going to have time for myself after this, more time for myself. After I did this when I came here, I already record 40 new songs.
40 since you got here in New York.
Yeah. So I have another album ready anytime I want to drop. So I planned this without knowing that I want to just focus in myself.
Do you like recording in New York? Do you like bringing the energy?
Yeah, the vibe here is real special because this is the city that makes me dream. It was the first city in the United States that opened the door for me. And this is the city that inspire me, and that's the reason why I live between New York and Medellín. Medellín I go and just get my vibe of my roots and the mountain and the air. But when I'm here I'm like oof. And also I live here in a slow way. I'm not following the New York way.
People are like, "But the city is so hectic. Everybody is just running around." I'm like, "You guys are running." I'm walking and people are like, on those doors the ones that are like... I stop them, and I'm like I'll walk slow. I'll walk slow.
Can you be a little bit more anonymous in New York? I imagine you get stopped everywhere.
I used to be like, I live in New York because no one will recognize me. Now...
Now it's not the same.
It's not the same. But I know the places where to be, or at what time. The bad thing about being an artist and get some popularity is that you create your own jail. I want to get out of that jail. I don't want to be slave of myself. And everywhere I go, I'm just like J Balvin. I'm like, no. José.
I mean, in the documentary you go out into the streets all the time. You have to take a picture with everybody. You're like, "Well, it's not a jail if I turn it into my own utopia." Right? The way you've reversed it. So what to some people it's like, oh no, there's too many people. There's fans out there. You're just like, "I'm just go in and give them..."
Yeah, no. I give the love. But I'm looking for my balance. In New York I have more balance. But there's always love. Say if you're walking in the streets and nobody's showing you love. That's different. But you're walking, like, "Yo J. We all love you. JB." Or when, it's funny, the last time I was walking around Chinatown, there was a Chinese guy that started talking to me in Spanish.
Wow.
I was like, "How you learn Spanish?" He was like, "Because I wanted to know what you were saying in your songs." I'm like...
He learned Spanish because he loved your music.
So we're going beyond. That's beautiful.
That's crazy. That's crazy.
But that's the reason why I learned English, because I wanted to talk with my favorite artists one day and tell them how I feel about them. So I think it makes sense that people would be like, "Okay, I want to learn because one day I might meet him or be somewhere I want to talk to him."
Have you ever, since you learned English, and now you speak it obviously extremely well, do you ever listen to one of those hip-hop songs you used to listen? 'Oh, that's what they're saying.'
Of course. I don't even... That's what I've been doing lately. I was listening to The Blueprint yesterday, and I was listening to Dr. Dre Chronic, 2001 and all those songs. I was like, "They said that?" I was checking Tupac and Biggie song, like, oh shit. And I was checking Nas when he was on and Jay-Z. Oh, my God. They went hard. They say this. Let me go back. Oh, shit. Damn. Yeah. Too many songs are like, oh man, that was so wild.
Cool. Thank you so much.
Nah, thank you.
It was great. It was really a wonderful conversation.
Thank you, thank you.
The Prisoner Wine Company is an official sponsor of UNCOVERED. For a limited time, take 20% off & get Shipping Included on the star-studded Prisoner lineup by using code: UNCOVERED at theprisonerwinecompany.com/uncovered.
Offer valid on first time online orders only for U.S. residents of legal drinking age through 12/31/2021. Rebate requests from alcoholic beverage retailers, wholesalers, or anyone suspected of submitting fraudulent requests, will not be honored or returned. Limit 1 offer per household, name, or address. For more information, contact customerservice@theprisonerwinecompany.com. Other exclusions may apply. Please enjoy our wines responsibly.