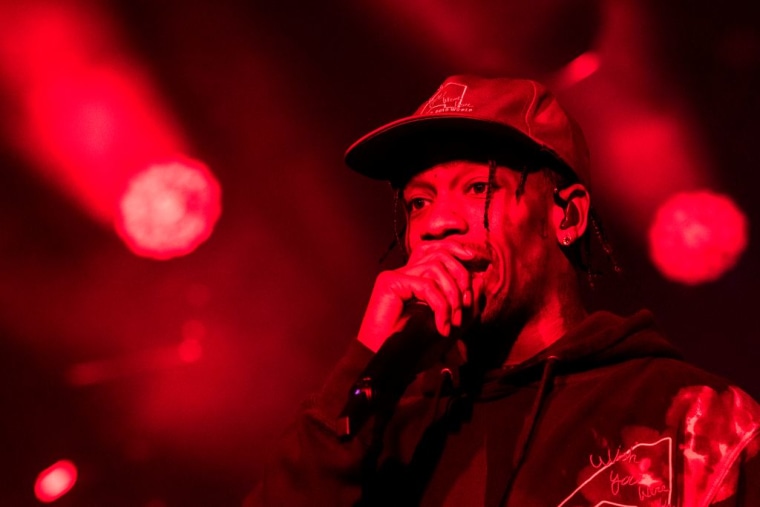 Travis Scott is facing legal action following the deaths of at least eight people at his Astroworld festival over the weekend. Billboard reports that Scott, alongside promoters Live Nation and ScoreMore, are named in a complaint from one attendee, who is seeking at least $1M in damages.
In addition to the eight confirmed deaths, there were also reports of multiple injuries and scores of cardiac arrests at the festival, which took place on November 5 at Houston's NRG Park. Scott headlined the event, which was eventually called off during his performance. A second day, scheduled for November 6, was subsequently canceled. Houston Fire Chief Samuel Peña has suggested that crowd surging was the cause of the crowd trouble that led to the injuries and deaths.
The fallout for Scott and his business assosciates has already begun with the rapper named in a suit filed on Saturday by Manuel Souza in Harris County District Court. Billboard reports that Souza describes the events of the day as a "predictable and preventable tragedy" and that he points to a number of signs that organizers had lost control of the festival, including when "concertgoers breached a security gate around the park, stampeded into the premises, and trampled over one another."
Souza's complaint echoes the sentiment of many on social media that Scott's performance should not have continued when it became clear that many audience members had "suffered serious obvious injury."
A second lawsuit was filed on Sunday, November 7 by Texas attorney Thomas J. Henry against Scott, Drake (a surprise guest during Scott's set), Live Nation, and NRG Stadium on behalf of "one of the victims."
Scott has responded twice since Friday night, first in a public statement in which he stated was "absolutely devastated by what took place." He added: "My prayers go out to the families and all those impacted by what happened at Astroworld Festival. Houston PD has my total support as they continue to look into the tragic loss of life. I am committed to working together with the Houston community to heal and support the families in need." He also shared an Instagram video in which he addressed the losses via Instagram.
The FADER has reached out to representatives for Scott, Live Nation, and ScoreMore for comment.