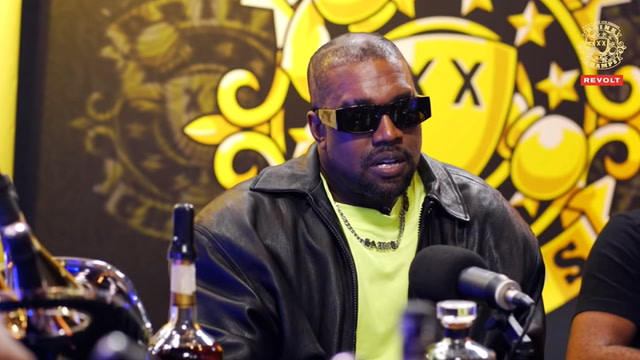 The second part of Kanye West's appearance on Drink Champs hit podcast feeds on Thursday with the rapper adding to the list of red-button issues he discussed with hosts N.O.R.E. and DJ EFN when the first half of his conversation was published last week. Among the subjects that came up during part two were Taylor Swift, Larry Hoover, A$AP Rocky's prison stint, Trump, and the fall-out from Dave Chappelle's latest Netflix special.
On the subject of Chappelle, West maintained his stance of defending those he deems to have been "canceled" by the media and members of the public. Chappelle came under considered criticism for continuing to joke about trans people in The Closer. The issue was internal, as well as external, with a staff walk-out led by LGBTQ+ Netflix employees staged in protest of the company's decision to house the special.
Talking about this with N.O.R.E. and EFN, West said: "Man, if they don't get the fuck up outta here, bro. Cancel what? What we cancelin' out here? Man, enough of this shit already, boy! Y'all just wait until someone ain't affecting the stock and you just take them out one by one to impose fear on anybody with freedom of thought. I smack the shit out you when I see—don't tell me what the fuck to do ever in your life, boy. This our culture now. It's up. You can't cancel none of us."
Elsewhere in part two of the Drink Champs episode, Ye discussed his 2018 meeting with Donald Trump and claimed that the then-President told him "my Black approval rating went up 40% when you came to the White House." West later compared himself to Russian leader Vladimir Putin before Larry Hoover Jr. joined the chat to discuss his father and and the ongoing efforts to free him from prison.
West has become a big part of the Larry Hoover story in recent months and featured Larry Jr. on new album Donda. Earlier this week he offered to end his beef with Drake in the name of helping to ensure the former Chicago gang leader is released from his life sentence.