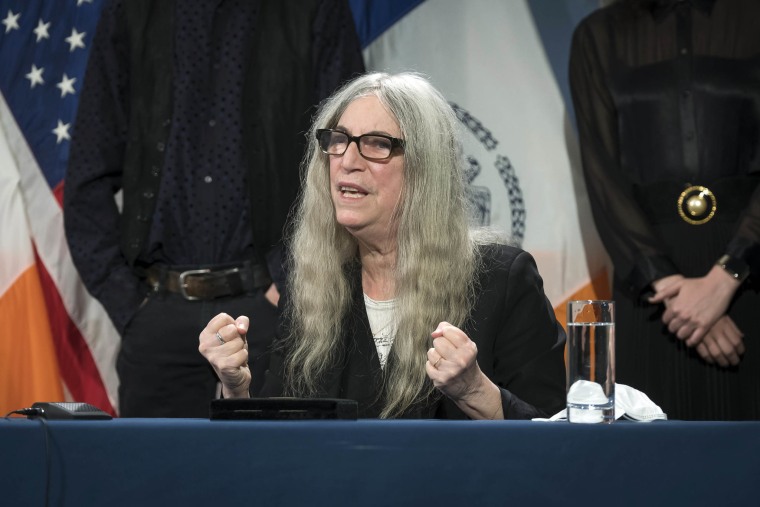 Patti Smith received a key to New York City Monday afternoon during outgoing mayor Bill de Blasio's daily press conference. De Blasio presented Smith with the honor, detailing her importance to the city as an artist and public figure.
"For any of us who came of age in the 1970s and 1980s, there were many, many voices out there, many artists out there, many musicians out there, but there was only one Patti Smith," the Mayor said, referring to Smith as "the godmother of punk" later in his speech. "[She] has an authenticity that you just didn't find, in my view, that many other places — an ability to cut through all the swirl around us and speak some more profound truths."
Smith accepted the key and reflected on her life as a New Yorker.
"I came here in 1967 from a rural area of South Jersey," she remembered. "I had just a few dollars in my pocket, nowhere to stay, no real prospects. But I came here to get a job and to see what I was made of."
She recalled the 12 years she spent there and the friends she made — Robert Mapplethorpe, Sam Shepard, et al. — before moving to Detroit and marrying Fred "Sonic" Smith. When Smith died in 1994, she returned to New York with their two children.
"It was...probably the hardest time in my life, [but] the city embraced me again, gave me another chance to rebuild my life and continue to evolve as an artist," she said. "So I wish I could give New York City the key to me."
After her speech and a conversation with the mayor, she performed "Ghost Dance" with Lenny Kaye, the guitarist and composer with whom she wrote the song in 1978. Watch it all below.