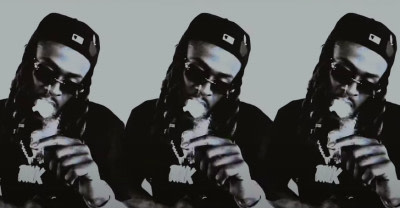 RXK Nephew has uploaded 437 videos to YouTube this year. Dropping a 30-minute EP on Wednesday, December 29 would be a definitive end-of-year statement for most any other artist. But Nephew has posted six more tracks — one with a music video — in the two days since. And there are still nine hours left in 2021, Rochester time.
Nevertheless, Welcome 2 The Quiet Storm has a sense of finality to it. The tracks feel no less free-flowing and spontaneous than anything else Nephew has released this year. But the slow-jam samples — including Jagged Edge's "Goodbye," Avant's "Separated," and Ginuwine's "Differences," all of which embody the "professions of love" Paul Schrader feels are missing from today's R&B — give the tape a continuity that's rare in the RXK catalog.
W2TQS is not the most memorable of the 25 multi-track projects (11 albums and 14 EPs) Nephew released this year — Slitherman Activated takes that honor. But he does enter an unprecedented emotional register on the new tape, showing the world his sentimental side. I Just Wanna Be Myself With You, Baby is etched at the top of the project's cover art in lieu of its title, and the message comes through in the music — especially on track two, in which the upstate iconoclast describes a heartfelt text exchange over a snippet of Anthony Hamilton's evergreen "Charlene":
I'm like "Baby, what I did? I got love for you
I'll do what I can to show you that I love you"
She like "Daddy, you know I ain't materialistic"
She like "I really fuck with you, let's be realistic"
I'm like "I really fuck with you, girl, you need to listen
Out of all of my exes, baby girl, you different
You the type that a n**** use to want for Christmas"
Baby short, gotta crouch down just to kiss her
"No matter what we go through, I would never dis you
I be out of town, stressin' 'bout how I miss you"
She like "I know how sometimes you be needin' distance"
I'm like "Hell nah, I love it when you ridin' with me"
No matter what we doin', girl, I'm happy with you.
Stream Welcome 2 The Quiet Storm below.