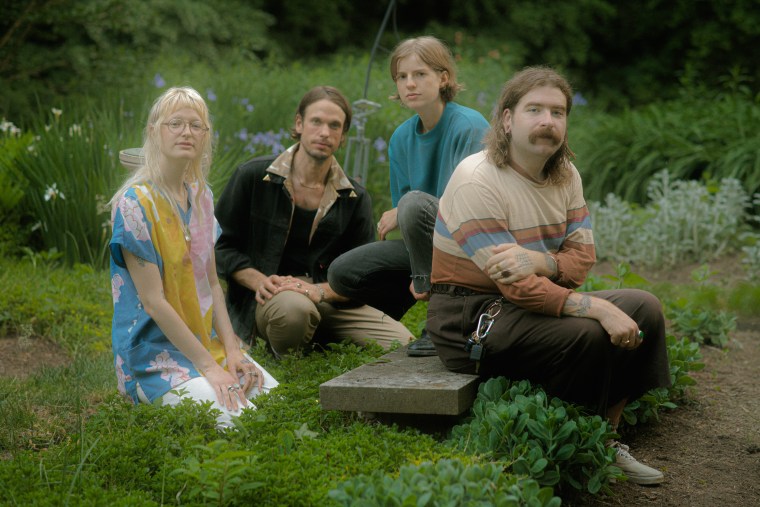 Empath have shared "Passing Stranger," the third single from their sophomore album, Visitor, out February 11 on Fat Possum. The new song follows September's "Born 100 Times" and October's "Diamond Eyelids" on both the forthcoming record's release schedule and its tracklist. It comes with a video shot by Halle Ballard, who worked on the visuals for Visitor's previous two singles as well.
"Passing Stranger" is a slow, meandering song based around an open, two-chord cadence. In another band's hands, it would be sweet and forgettable, but the static hiss that seems to follow Empath wherever they go seethes below the song's surface, giving it an unnerving edge.
"The beat was inspired by druggy Velvet Underground drums, on top of which Randall began improvising a heavy tremolo on his synth. One of the slowest songs we've ever written without an abrasive moment. We finally got to do a fade out," says Catherine Elicson, the Philadelphia band's lead singer and guitarist. "This song was written in a similar way to 'Diamond Eyelids' i.e. collaging together memories. This time I pieced together different memories from my childhood, some idyllic, some difficult, but as if it were a story about someone else returning to their hometown."
Much like the song itself, the video treatment for "Passing Stranger" is unassumingly scary. In it, the band sits in a circle, laughing and passing a phone around, but the grainy presentation of the shots, the orange glow of well-placed candles, and a late scene shot in a dark, gloomy basement lend the short an unshakeable eeriness. Watch the video, view Visitor's tracklist, and check out Empath's upcoming tour dates with Fucked Up below.
Visitor tracklist
1. Genius of Evil
2. Born 100 Times
3. Diamond Eyelids
4. Passing Stranger
5. Corner of Surprise
6. House + Universe
7. Elvis Comeback Special
8. 80s
9. V
10. Bell
11. Paradise
Empath January 2021 tour dates with Fucked Up
1/19 - Ottawa, CA - Club SAW
1/20 - Montreal, QC - Bar Le Ritz
1/21 - Boston, MA - The Sinclair
1/22 - New York, NY - Brooklyn Made
1/23 - Philadelphia, PA - Underground Arts
1/24 - Washington, DC - Union Stage
1/25 - Pittsburgh, PA - Mr. Smalls
1/26 - Columbus, OH - Ace of Cups
1/28 - Detroit, MI - Shelter