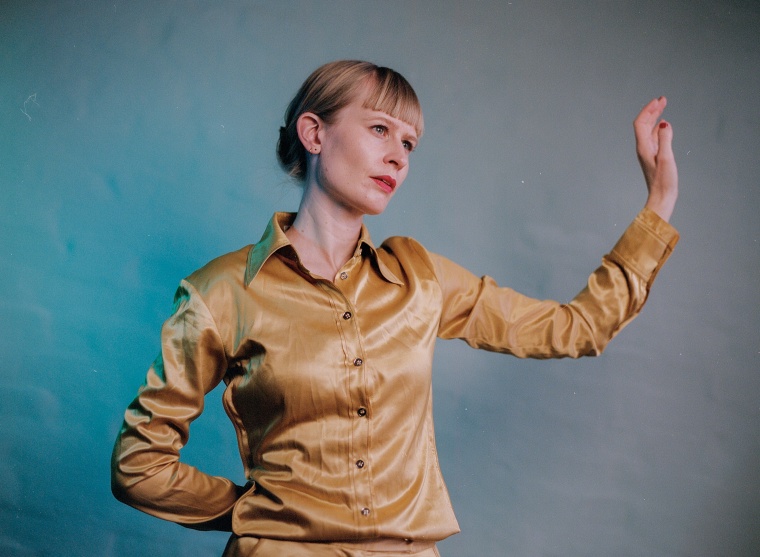 Jenny Hval is a notoriously complex, cryptic songwriter, but she says her forthcoming album, Classic Objects, is an attempt to "write simple stories." Announced today and due out March 11, the record will be her 10th solo studio album (including her first two, which she made under the name Rockettothesky) and her first with 4AD. Along with the news, she shared the album's second single, "Year of Love," which comes with a trippy video treatment.
Doubling down on her claim of straightforwardness, Hval is calling Classic Objects a pop album, pledging that each track will have a verse-chorus structure. So far, she's made good on that promise: Both "Year of Love" and the November 2021 single "Jupiter" are unmistakably hers, but where her previous albums generally followed meandering yet through-composed trains of thought, she's molded her peculiar style into discrete sound packages here, each with its own function.
Based on a marriage proposal that unfolded in front of Hval while she performed, "Year of Love" deals with the confusion and ambivalence she felt in that moment.
"For me, this experience was very troubling," she says. "It confronted me with the fact that I am also married. What does that detail from my private life say about me as an artist? ...Do my private actions betray my work and voice?"
Instrumentally, Hval channels Paul Simon's percussive acuity, giving her airy vocals a tunnel to blow through, rather than letting them dissipate into space as she so often does. With the benefit of a more familiar setting, her voice snaps into focus, reminding her long-time listeners what an astonishingly beautiful instrument it is.
The song's visual accompaniment — directed by Hval along with Jenny Berger Myhre and Annie Bielskis — is a 3D animated landscape where Hval appears frozen in various positions: squatting with her hands supporting her chin, FaceTiming, speaking into a mic, working on her laptop, lying on her back, staring into space, et cetera. Watch the video, and check out all Hval's upcoming tour dates, below.
Jenny Hval spring 2022 tour
3/11 - Oslo, NO - Munchmuseet
3/17 - Bergen, NO - Kulturhuset | Bergen
3/18 - Stavanger, NO - Tou Scene
3/26 - Trondheim, NO - Dokkhuset
4/5 - Stockholm, SE - Fasching
4/6 - Copenhagen, DK - Bremen Teater
4/7 - Berlin, DE - Columbia Theater
4/9 - Den Haag, NL - Rewire Festival
4/10 - Brussels, BE - BRDCST Festival
4/11 - London, UK - EartH
4/13 - Paris, FR - La Gaîté Lyrique
5/9 - Boston, MA - Arts at the Armory
5/10 - Brooklyn, NY - Elsewhere
5/11 - Philadelphia, PA - PhilaMOCA
5/13 - Washington, DC - Miracle Theatre
5/14 - Columbus, OH - Skully's
5/15 - Chicago, IL - Constellation
5/16 - Chicago, IL - Constellation
5/17 - Toronto, ON - Lee's Palace
5/20 - Seattle, WA - Neumos
5/21 - Portland, OR - Holocene
5/24 - Oakland, CA - Starline Social Club
5/25 - Los Angeles, CA - Lodge Room
6/4 - Barcelona, ES - Primavera