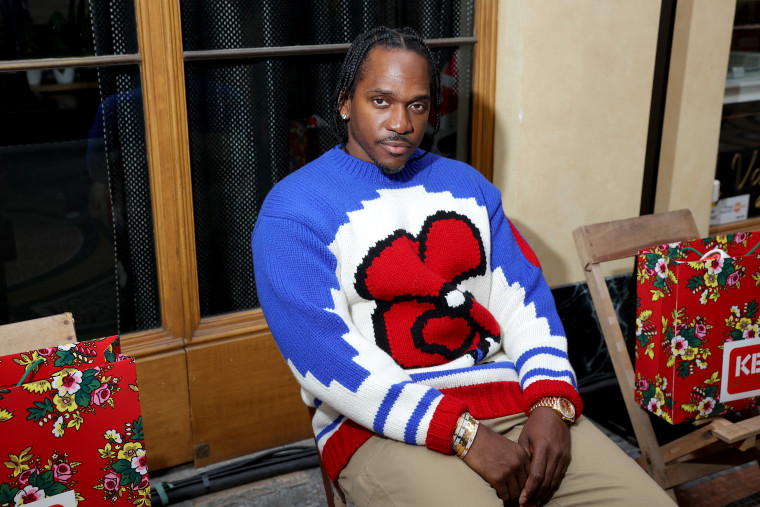 A Thursday Instagram post from Pusha T showed the final page of a contract between the rapper and Def Jam Recordings, a division of UMG Recordings, Inc., accompanied by a crytpic caption: "Some people call you their brother, other people show you you're BROTHERS," Push wrote. "Thanx 'Yezos…' @kanyewest."
The post led to speculation that Push had been amicably released from Ye's label, G.O.O.D. Music, where he's served as president since 2015. He started his own label, Heir Wave Music Group, in February 2020, but stayed on as G.O.O.D.'s rapper-in-chief.
But in a report published by Complex this afternoon, Push's manager — and G.O.O.D.'s COO — Steve Victor denied the rumors and said the post had been misconstrued.
According to Victor, the photo of the contract was merely a confirmation that Push's forthcoming album will fulfill his obligation to Def Jam and Universal Music Group, and the thank-you note to Ye is for giving Push full ownership of his masters.
"[He's still with] G.O.O.D. Music, he's just not signed to Def Jam anymore," Victor said. Def Jam and UMG are parent companies of G.O.O.D.
The FADER has reached out to representatives of Pusha T, G.O.O.D. Music, and Def Jam/UMG for further comment on the situation.
Pusha T was recently featured on "Dancing With The Devil," the lead single from Babyface Ray's new album, FACE, out today. And a snippet of a new Push song, presumably a feature on Nigo's forthcoming record, I know NIGO, was played at the Japanese producer/designer's show at Paris Fashion Week Sunday.
Watch below.