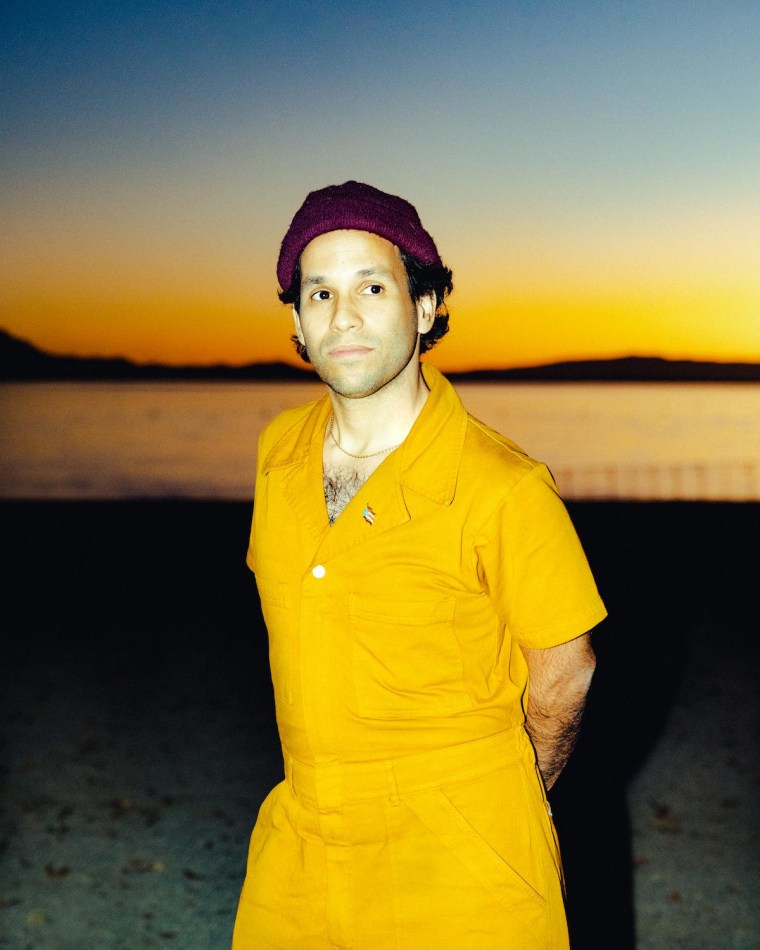 Pachyman's music lives at the inersection of Jamaican dub, the traditional rhythms of his native Puerto Rico, and the collagic sounds of his adopted home town, Los Angeles. For "All Night Long" — his first new song since the release of his third album, The Return of Pachyman, last summer — he teamed up with Brazilian-American singer Winter, who adds her dreamy, R&B-tinged pop vocals to Pach's already prodigious sonic tool kit.
The new track is an instant dub classic in the vein of Alton and Hortense Ellis' "I'm Still In Love With You" (re-popularized in 2002 by a Sean Paul and Sasha cover). Pach's throughly relaxed instrumental is a perfect frame for Winter's sublime vocals, which move fluidly between English and Portuguese, emphasizing the track's transnationalist ethos.
"Lately I have been inspired by a lot of lovers-rock tracks," Pach writes. "There is some sort of modern feel to this subgenre of reggae, maybe because of its immediate influence from disco and soul that spoke to me in a different way than roots or rub a dub. The fusion of electric pianos or synthesizers on acoustic reggae always struck me as futuristic and something that needed further explorations and lovers-rock did it right. The combination of those worlds with a female vocal is magical. I wrote the whole tune inspired by the likes of Jennifer Lara & Sonia Ferguson."
Listen to "All Night Long," and check out Pachyman's upcoming tour dates, below.
Pachyman 2022 international tour dates
2/10 - Leuven, BE - Het Depot
2/11 - Maastricht, NL - Muziekgieterij
2/12 - Utrecht, NL - Footprints Festival
2/13 - Nijmegen, NL - Merleyn
2/15 - Antwerpen, BE - Trix
2/16 - Angers, FR - Joker's Pub
2/17 - Beauvais, FR - L'ouvre-Boîte
2/18 - La Rochelle, FR - La Sirène
2/22 - London, UK - Oslo Hackney
2/23 - Bristol, UK - The Crofter`s Rights
2/24 - Leffinge, BE - De Zwerver
2/25 - Lille, FR - L'Aeronef
3/2–3/5 - Riviera Cancun, MX - My Morning Jacket's One Big Holiday
3/30 - Brooklyn, NY - Baby's All Right
3/31 - Philadelphia, PA - Underground Arts*
4/2 - New York, NY - Bowery Ballroom*
4/3 - Boston, MA - The Sinclair*
4/4 - Montreal, QE - Le National
4/5 - Toronto, ON - Axis Club (f.k.a. Mod Club)
4/7 - Chicago, IL - Thalia Hall
4/8 - Minneapolis, MN - Varsity
4/9 - Madison, WI - Majestic
4/12 - Vancouver, BC - Rickshaw Theatre
4/13 - Seattle, WA - Crocodile
4/14 - Portland, OR - Revolution Hall
8/27–828 - Los Angeles, CA - This Ain't No Picnic Festival
* = w/ Genesis Owusu
^ = supporting Altin Gün