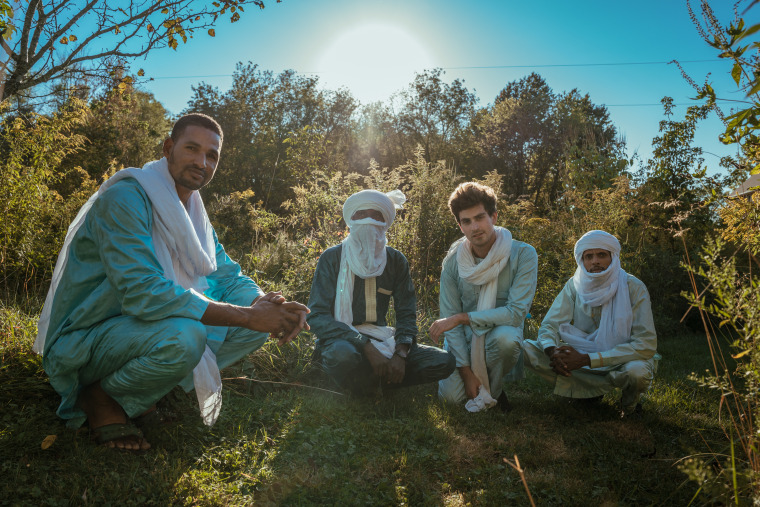 This Thursday, Matador will release a deluxe edition of Mdou Moctar's fifth studio album, May 2021's Afrique Victime, featuring nine bonus tracks. Today, Moctar is sharing "Nakanegh Dich," the only completely new release on the record's extended edition. (The other eight bonus tracks are all demos or live versions of songs from the original LP.
The new single is a classically Moctarian desert blues jam, with one important difference: the wah pedal.
"This is Mdou's very first time using a wah pedal," Mikey Coltun, Moctar's bassist and one of Afrique Victime's producers, explains. "At some point, Mdou called [co-producer] Rob [Schnapf] into the studio and asked him to control the wah with his foot while Mdou shredded a solo."
"Nakanegh Dich" arrives as Moctar and his band embark on the North American leg of a massive, international tour, starting Thursday night in Providence, Rhode Island. Listen to the new song and view all Moctar's upcoming tour dates below.
Mdou Moctar 2022 international tour
2/24 – Providence, RI – Columbus Theatre
2/26 – Charlottesville, VA – Jefferson Theatre
2/27 – Asheville, NC – The Orange Peel %
2/28 – Athens, GA – Georgia Theatre %
3/2 ­– Atlanta, GA – Variety Playhouse %
3/3 – Birmingham, AL – Saturn %
3.4 ­– Nashville, TN – Cannery Ballroom %
3/5 – St. Louis, MO – The Pageant %
3/7 – Lawrence, KS – Liberty Hall %
3/8 – Omaha, NE – The Waiting Room %
3/10 – Minneapolis, MN – First Avenue %
3/11 – Milwaukee, WI – Turner Hall Ballroom %
3/12 – Chicago, IL – The Riviera Theatre %
3/13 – Detroit, MI – MOCAD %
3/15 – Millvale, PA – Mr. Smalls Theatre %
3/16 – Cleveland, OH – Agora Theatre
3/17 – Toronto, ON – Queen Elizabeth Theatre %
3/18 – Montreal, QC – Corona Theatre %
3/19 – Lyndon, VT – Northern VT State
3/20 – Burlington, VT – Higher Ground
3/21 – Woodstock, NY – Colony
3/22 – Washington, DC – 9:30 Club
3/24 – Winston-Salem, NC – The Ramkat
3/25 – Knoxville, TN – Big Ears Festival
4/1 – Antwerp, BE – Het Bos
4/2 – Brussels, BE – AB-club SOLD OUT
4/3 – Köln, DE – Bumann
4/4 – Amsterdam, NL – Paradiso Noord
4/5 – Eindhoven, NL – Effenaar
4/6 – Brighton, UK – Komedia
4/7 – Birmingham, UK – Hare & Hounds
4/8 – Dublin, IE – The Sugar Club
4/9 – Belfast, UK – Ulster Sports Club
4/10 – Glasgow, UK – Drygate
4/11 – Leeds, UK – Brudenell Social Club
4/12 – Manchester, UK – YES
4/14 – London, UK – Earth Theatre
4/15 – Roubaix/Lille, FR – La cave aux Poètes
4/16 – Paris, FR – Le Hasard Ludique
4/17 – Nijmegen, NL – Doornroosje SOLD OUT
4/18 – Hamburg, DE – Molotow
4/19 – Copenhagen, DK – Alice SOLD OUT
4/20 – Gothenburg, SE – Nefertiti
4/21 – Oslo, NO – Blaa
4/22 – Stockholm, SE – Fasching
4/23 – Malmö, SE – Plan B
4/24 – Berlin, DE – Frannz Club
4/25 – Leipzig, DE – UT Connewitz
4/26 – Prague, CZ – Meetfactory
4/27 – Linz, AU – Kapu
4/28 – Zurich, CH – Fabrik
4/29 – Mannheim, DE – Feuerwache
5/1 – Oostende, BE – De Post
8/6 – Mysłowice, PL – Off Festival
8/27–28 – Pasadena, CA - This Ain't No Picnic Festival
% w/ Parquet Courts