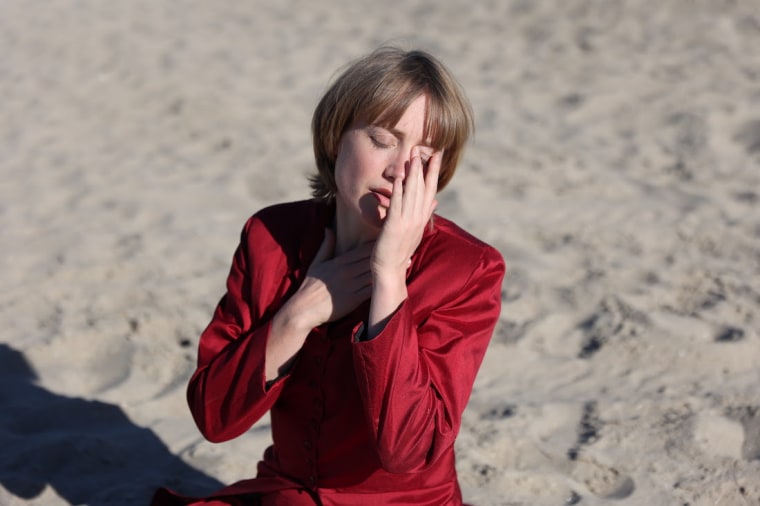 Tamara Lindeman has traditionally released music at a slow and steady pace, dropping four studio LPs in her first decade as The Weather Station. Her February 2021 opus, Ignorance, followed four years after her previous full-length release. But this Friday, she'll break that pattern with the release of How Is It That I Should Look At The Stars, a 10-track companion LP due out just a year after Ignorance dropped.
Today, Lindeman shared "To Talk About," her second and final single from the forthcoming project, following January's "Endless Time." The new single presents her deeply emotive alto singing voice in harmony with Ryan Driver's tenor over a simple piano line. Together, they sing about giving themselves over to passion.
The new track comes with a visual treatment directed by Lindeman herself along with Danielle Rubi and featuring the expressive hands of Bart Donovan.
"I wanted the video to capture the feeling of surrender the song has; a feeling of surrendering to emotion at the expense of everything else, within a world that is not necessarily conducive to that softness," Lindeman says. "I wanted the video to be overtly emotional and sensual, and so I turned to the stereotypical signifiers of these things; beaches, sunsets, the color red, a sort of operatic performance of emotion. I think the video is an evocation of the feeling of being in love; obsessed with someone or something regardless of your surroundings, where you are, what is happening. Reaching towards softness and touch, even from within aloneness."
Watch the short film and view The Weather Station's upcoming tour dates below.
The Weather Station 2022 tour
3/13 - London, UK - Rough Trade East (SOLO)
3/15 - Brighton, UK - Komedia +
3/16 - Bristol, UK - Thekla +
3/17 - Manchester, UK - Gorilla +
3/18 - Dublin, IE - Workmans Club +
3/19 - Belfast, UK - Black Box +
3/21 - Glasgow, UK - Mono +
3/22 - Leeds, UK - Brudenell Social Club +
3/23 - London, UK - Scala +
3/25 - Brussels, BE - Botanique ~
3/26 - Paris, FR - La Boule Noire ~
3/27 - Amsterdam, NL - Paradiso Noord ~
3/28 - Berlin, DE - Frannz Club ~
3/30 - Copenhagen, DK - Loppen ~
3/31 - Oslo, NO - Bla ~
4/1 - Stockholm, SE - Debaser / Bar Brooklyn ~
4/2 - Gothenburg, SE - Oceanen ~
4/4 - Hamburg, DE - Nochtwache ~
4/5 - Cologne, DE - Blue Shell ~
4/6 - Munich, DE - Milla ~
4/7 - Zurich, CH - Bogen F ~
4/24 - Philadelphia, PA - World Cafe Live *
4/25 - Washington, DC - Union Stage *
4/26 - New York, NY - Music Hall of Williamsburg *
4/28 - Boston, MA - Crystal Ballroom *
5/31 - Lisbon, PT - Aula Magna (SOLO)
6/1 - Braga, PT - Theatro Circo (SOLO)
6/2 - Porto, PT - Mou.Co (SOLO)
6/4 - Setubal, PT - Casa da Cultura (SOLO)
6/5 - Faro, PT - Teatro das Figuras (SOLO)
6/7 - Milan, IT - Santeria (SOLO)
6/8 - Florence, IT - Sala Vanni (SOLO)
6/9 - Padua, IT - Anfiteatro Del Venda (SOLO)
6/11 - Barcelona, ES - Primavera
6/16 - Manchester, TN - Bonnaroo
6/19 - Dallas, TX - Club Dada
6/20 - Austin, TX - 3TEN

*= w/ Sam Amidon
+= Ami Dang
~= Aoife Nessa Frances