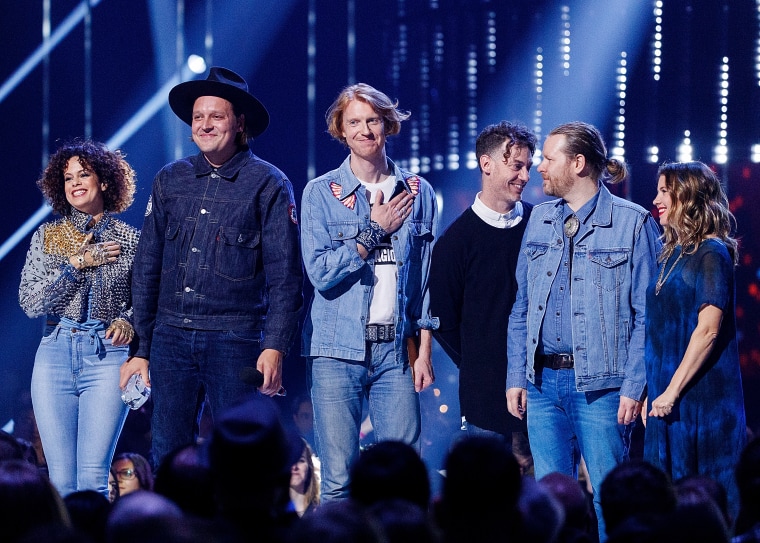 Arcade Fire have been largely quiet at the national level since their fifth studio album, 2017's Everything Now, received mixed reviews and their subsequent arena tour sold disastrously few tickets. They've released no new music since then, aside from a cover of "Baby Mine" for Tim Burton's 2019 Dumbo remake and a 45-minute meditation track for the Headspace app. In their adopted hometown of New Orleans, however, bandleaders Win Butler and Regine Chassagnes have become prominent figures; their Krewe du Kanaval, based on Hiatian cultural traditions, has gained popularity for its Mardi Gras ball and second line parades, but also notoriety for what some locals claim is cultural appropriation, though Chassagnes is the daughter of Haitian immigrants.
Last night, close to midnight CDT, the band announced a surprise concert taking place tonight at New Orleans' Toulouse Theatre (fka One Eyed Jacks), with wristbands available now for in-person pickup at the venue. All proceeds from the show will go to Plus1's Ukraine Relief Fund.
Hours later, the band shared that they'll be dropping a new song titled "The Lightning I, II" on Thursday, their first original single since the Everything Now debacle. It could be a sign of the imminent album Butler and Co. have been teasing for two years, potentially joining "Generation A" — a still-unreleased song they premiered on Stephen Colbert's 2020 election night special — on the to-be-announced album's to-be-manifested tracklist.
View both of today's full announcements below.