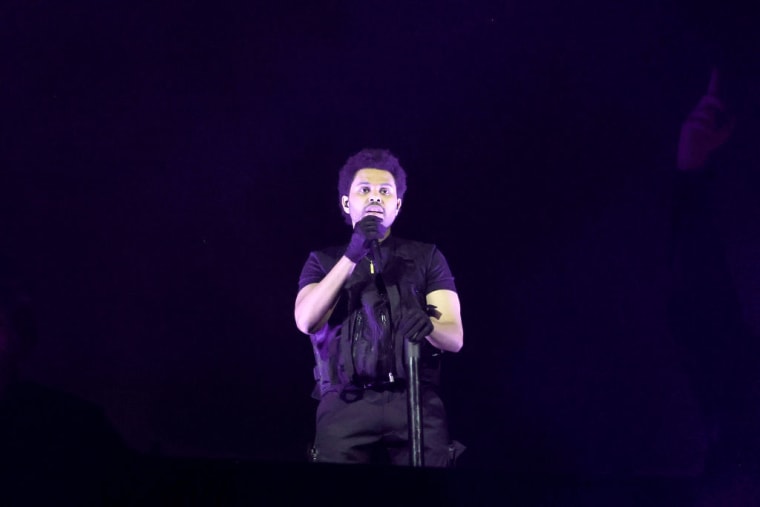 This post is sponsored by Unshackled Wines, official wine of VIP at Coachella. Create your own Coachella VIP experience at home by purchasing the Unshackled Coachella Bundle. The first 100 purchases will be gifted a FADER poster.
The Weeknd closed out the final day of weekend one of Coachella on Sunday, performing a headline set he wasn't even booked for until earlier this month. Abel Tesfaye stepped in when Kanye West pulled out of the slot at the last minute. He joined the bill alongside Swedish House Mafia, who played for an hour before The Weeknd arrived on stage on Sunday. The transition between the two sets was made via their collaborative singles "How Do I Make You Love Me?" and set opener "Sacrifice."
There was a nod to the absent Kanye during The Weeknd's set when he performed "Hurricane," the Donda track he appeared on in 2021. The Weeknd tapped into his reserve of guest spots elsewhere, playing "Low Life" (a Future collaboration), "Or Nah" (Ty Dolla $ign), and Drake track "Crew Love." Drake, watching on from home, shared his approval.
Drake watching Coachella via his IG story. pic.twitter.com/6S6adOEV3W

— Word On Road (@WordOnRd) April 18, 2022
Never thought The Weeknd would performance Hurricane on Coachella, he kill me with this show OMG 💀💗
pic.twitter.com/IBSZVo1R7i

— ًً (@goodingreen08) April 18, 2022
Much of The Weeknd's set pulled from his two most recent albums, Dawn FM and After Hours. "Out Of Time" and "Sacrifice" made the cut from Dawn FM while After Hours songs "Blinding Lights," "Save Your Tears," and "Heartless" also featured. The show ended with The Weeknd and Swedish House Mafia linking up one last time to close on "Moth To A Flame."
The Weeknd is set to tour North America alongside Doja Cat, another artist who performed at Coachella on Sunday, later this year. Check out highlights of his set below.
Save Your Tears. What a performance by The Weeknd at Coachella 🔥👏🏻 pic.twitter.com/oR51SpYrKH

— pinks 💗 (@fourdepinks) April 18, 2022
The Weeknd performing 'Crew Love' at Coachella pic.twitter.com/JyPzo5vamS

— 😮‍💨 (@hxsvx7) April 18, 2022
The Weeknd is performing the classics right now pic.twitter.com/h2dS8QOufU

— W0RLD メ𝟶 (@XoW0rld) April 18, 2022
The Weeknd really made an outro on "Save Your Tears" with a Bella Hadid apology voicemail at Coachella pic.twitter.com/NFORB6KKqi

— 😮‍💨 (@hxsvx7) April 18, 2022
Out Of Time - The Weeknd #Coachella pic.twitter.com/7g3ODqVPaf

— best of the weeknd (@bpicstheweeknd) April 18, 2022