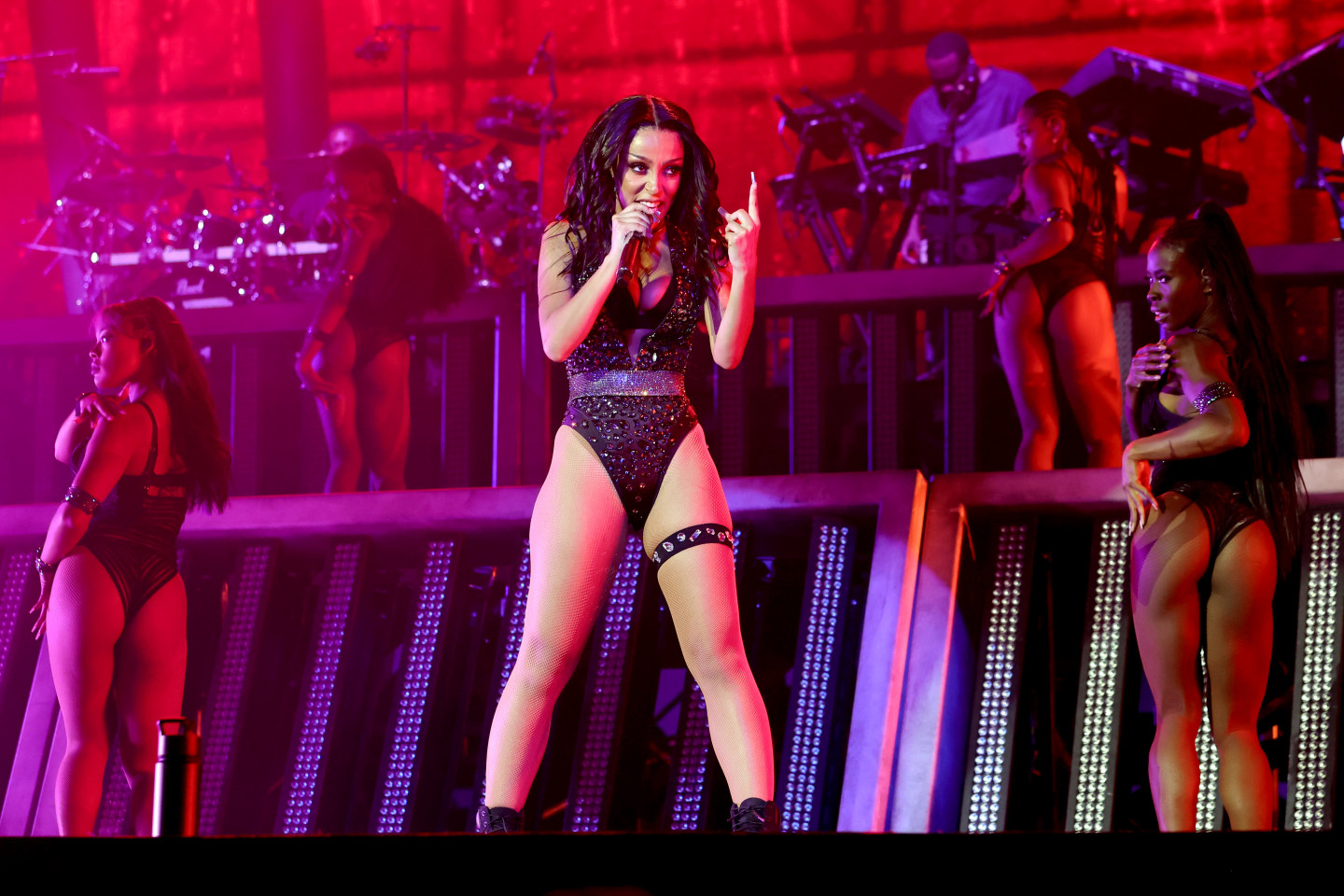 When Kanye West dropped out of his headlining slot at the 2022 Coachella Valley Music and Arts Festival less than two weeks before its grand return, Doja Cat seemed to be the most obvious replacement. It would be so easy to just slide her name up one slot from where it appeared right after Ye – a huge jump from her spot at the very end of the fourth line of the Sunday schedule for the 2020 lineup-that-never-happened, or her guest appearance during Rico Nasty's 2019 set. And the qualifications were there. The artist born Amala Dlamini has spent the better part of the past two years redefining the standards of post-pandemic live performances.
In February 2020, Doja Cat locked into a creative partnership with choreographer Cortland Brown, whose immediate strategy was to allow the stage-dominating performer in her to emerge naturally. A potentially career-defining stage like Coachella was off the table for the foreseeable future at the time, but Brown, music director Darion Ja'Von, and creative director and stylist Brett Alan Nelson saw the restraints of the pandemic as an opportunity to polish the shine of a star. Through elaborately-themed awards show appearances and roaring festival sets, the singer and rapper's name has since become synonymous with grand, genre-bending productions — the kind fit for a headliner in a post-Beychella industry.
Ultimately, organizers went with a double-headlining set from Swedish House Mafia and the Weeknd, with whom Doja Cat will embark on a stadium tour with this summer. "We're definitely ready for a headlining slot," Brown tells The FADER. "Our setlist was long enough to headline initially and we had to pull so many songs out." Regardless, her team understood the magnitude of her official debut at the festival. "For the festival industry, Coachella is the pinnacle," Eboni Gentry, tour manager and founder of Gentry Touring, says. "It's in some ways like our Super Bowl." Headlining or not, come weekend one, Doja Cat would be throwing the hottest on-stage party in the Coachella Valley.
"We knew that Coachella was going to show what she would then carry on through the rest of the touring season," Gentry adds. "For us, it was more about finally being able to take all the ideas, all the talent that the entire team had, and put it in one place in one 60-minute-long arena-style show." For Nelson, that task was to design a show steeped in theatrics with the singer's core thematic elements at its center, a performance both industrial and brutalist in nature.
"We knew she wanted to live in this world that felt rough – elevated but still rough – and then they came up with the concept of this concrete world," Brown says. "But we just wanted to have different elements that felt grand but hard at the same time." In a tangible way, this included factory-like fog tubes and glasses with LED lights at the center to convey the look of a red-eyed creature. But it was essential to anchor components of Doja Cat's personality at the root of the production, which was ultimately executed by structuring the performance as a multi-level, multi-world video game. The sound of a PlayStation starting up opens the performance as the massive stage screens set the scene of an intergalactic battle, signifying the start of level one.
"We fly though a meteor shower and we see these huge concrete, feminine bodies that are exploding while the dancers are banging on our star lifts, basically summoning Doja to the stage to save them," Nelson illustrates, citing inspiration from the dystopian 1927 German silent film Metropolis. As she emerges from beneath the stage, dressed in custom Caroline Reznik and surrounded by 22 dancers enamored by their newly-arrived savior, Doja Cat launches straight into the afrobeat-inspired Planet Her single "Woman." Ja'Von explains: "It's very powerful and speaks to what it means to be an incredible woman — the power that comes behind the womanhood. So our intro had to be even more epic than the song."
Joining the singer on stage is the towering structure of an incomplete, robotic figure, known within their camp as The Woman. A close look at her physique reveals callbacks to earlier aesthetic moments in Doja Cat's Planet Her era. "When David LaChapelle shot our images for the Planet Her album, I used this Gaultier bra — the very Madonna cone bra that was made of metal — and then we had these arm pieces made for the 'Kiss Me More' video that we ended up making into the robot," Nelson explains. It was a given that Doja Cat's Coachella performance would be expensive and elaborately grand, but there was narrative purpose to the aesthetic set pieces as well.
Parker Genoway, who served as show designer through production company Silent House, says: "This woman is of large scale, but the woman is also not complete — she's under construction. Half of her is concrete, half of her is structural, skeletal, in-progress construction. I think there's story to that." From the peak of The Woman, the singer could see the complete expanse of her audience for a moment of connection as she charged through a setlist packed with over two dozen full and partial songs spanning her evolution across three distinct album eras, viral favorites, and unreleased material.
"In the show, you have your moments where she feels regal, and she feels like this pop star," Brown says. "And then you have these moments where it feels like she's just rocking out with her friends and it's just like a fucking massive party on stage." Figuring out a way to bring these various components to the surface of the performance — without being predictable, or too contemporary, or boring — while also raising the bar from where Doja Cat had last set it for herself required a balance that hinged on the introduction of new, unsuspected elements.
In the first video game level, the rapper plunges through "Talk Dirty," "Rules," "Juicy" with Tyga, and "Get Into It (Yuh)." The latter hosted a choreographed nod to Nicki Minaj's "Stupid Hoe" and the appearance of the slightly unsettling TikTok phenomenon Spirit Walker, which she choreographed herself. "We like to put those little moments in there because we do want to pay respect to someone that deserves it," Nelson says. "A lot of people will pay homage to people and not give it the respect it's deserved, but Amala will always be the first person to say, 'We're doing this because of Nicki.'" Fittingly, Doja Cat's theatrics would only get more elaborate as the show continued.
"For this show, the goal was to bring the best performance that she has ever given," Ja'Von explains. "So we needed to go through the entire catalog — for people who did watch the show, they'll see a lot of the records that got overlooked are in our show now." The futuristic, four-song second level of Doja-Chella — placing the singer in a swirling, custom I Am Gia set for one of three 45-second outfit changes — shifted its focus towards sparking excitement in the audience through unexpected picks. An interlude of "Payday" blended into live debuts of Planet Her cut "Up and Down" and the Big Mama Thornton-sampling "Vegas" from Baz Luhrmann's ELVIS.
But it was the surprise inclusion of "Go To Town" from the rapper's 2018 debut album Amala that sent a roar through the OG fans in the crowd and across the timeline for those watching the livestream at home. "It's like a modified version of the two experiences," Genoway says. "If you're close you could see her on the stage; if you're far you could see her on the screens; but if you're online, you just see her in all of her beauty, talent, and epicness right there."
Beyond the inclusion of songs she had never brought to a stage before, Doja Cat was one of, if not the only, rapper to bring in a full band for their set. Ja'Von, who served as both drummer and musical director, has been slowly assembling a live band since he first began working with her, adding more members as the budget expanded and recruiting former Prince collaborators for their front-of-house team. "For me, it was about seeing how far I can go without her telling me, 'I don't like this,'" he explains of building the elaborate setlist. "As an artist, it's tricky because she can get attached to her own material, so presenting new versions of her songs to her is a risk." The more the singer factors her own vision into her performances, the further she's willing to go.
"She's not just a pop star, she's not just a rapper, she's not just a singer," Gentry says. "She's all of these things combined. She can act, she can produce her own music, she's an incredible writer, and it's important that everybody is able to see that." Few moments of the show passed without a hard-rock instrumental shift coming out of left-field – like the razor-sharp guitar solo from Sean Rosati that Doja Cat head-banged through at the close of "Rules" and a full-band blowout (with Phil Lewis on keys and Darek Cobbs on key bass) to transition out of "Shine" and into the seductive solitude of the show's third segment.
"I wanted something that felt a bit more intimate and soft, but still dark and sexy," Nelson explains of level three. "But there were also elements of things that felt like a nightmare because she has such beautiful music that feels like it's her struggle." In a bedazzled black Dolce & Gabbana bodysuit, Doja Cat crawls through "Streets," dances with shadows during "You Right," and hits every mark on "Been Like This" back to back with stellar breath control, tearing through captivating choreography she rehearsed in only three weeks. For "Alone," the dancers fall away and the lights dim, the sole spotlight on the singer's emotive performance until she retreats back under the star lift.
"There are certain things that make people intrigued with a performance and with a performer and it's not what you think it is," Brown says. "Oftentimes, people think just choreography is going to wow people and it's like, 'No, babe, it's not the choreography. It's those little special things and your delivery. That's what's going to make people get chills.'"
When Doja Cat reemerges for the longest segment of the night in a punky, rave-ready custom outfit by Roberto Cavalli's creative consultant Fausto Puglisi, the pyrotechnics and lasers are turned up to a thousand — Rock Doja is in full effect. "Now this is the level of this that is god-mode space," Ja'Von says of the party-themed fourth level. "This is not about anything else but chaos." The chaos of extracting all of the sweet disco-pop from "Say So" and replacing it with electric guitars and hefty percussion while a fire blazes on the screen behind her? Check. The ultimate rager chaos of Rico Nasty hitting the stage for "Tia Tamera" in a red latex devil costume? Double check.
"It's all coming together with the audience, with the fans, with all of the production personnel for the first time," Genoway adds. "I think there's something really special and authentic about that that you don't get in an arena show that's been able to rehearse in very defined, locked conditions."
When Doja Cat finished knocking out a high-energy set of "Ain't Shit," "Options," "Kiss Me More," and "Like That," she started to introduce a new song, but stopped and headed into "Need To Know" instead. "People were a little nervous about us doing it," Nelson says. But it had dawned on the rapper that she's been releasing music this unconventionally all along, even before she had enough hits to fill out a second-to-the-headliner Coachella performance. After taking a celebratory shot with her team on-stage, she unveiled a raging anthem fittingly titled "Shots."
"That song is not even finished yet. The whole beat is done but the lyrics that she did at the show is all that's there," Nelson mentions, thwarting any hopes of a quick release. "And that's all we needed. It was such a party moment and it was our thanks to the audience: 'Let's rage the fuck out together.'"
This was Doja Cat's party, after all, and she gets to do it all again for weekend two. "I told Parker and Blink, who did our screen content, I want everyone's retinas to bleed," he adds. "I want flashing white lights. Make a fucking rave on stage and end it there."