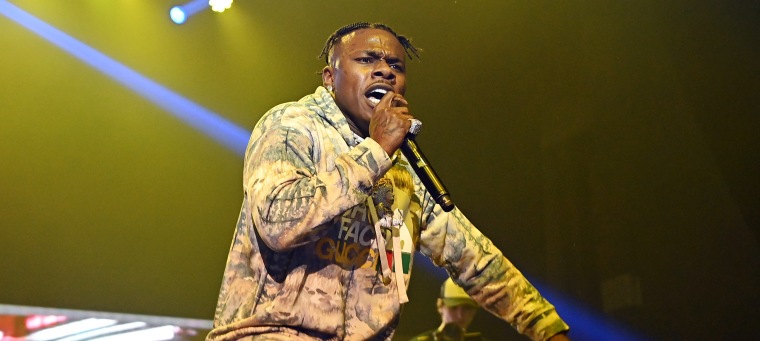 DaBaby was filmed allegedly assaulting his new artist, Wisdom.
On Friday night, the rapper was supposedly performing at a multi-artist concert in Columbia, South Carolina called Spring Jam 2022. According to TMZ, the incident occurred backstage at Colonial Life Arena after DaBaby appeared to instigate a fight with Wisdom, who he recently signed to his Billion Dollar Baby Entertainment label.
In the now-viral clip, DaBaby can be seen walking by Wisdom before turning around and punching him. The two then exchange blows and are broken up by security, though they continue to shout at each other as they're separated.

Under South Carolina law, both Wisdom and DaBaby could potentially face criminal charges over the fight. However, a representative for the stadium told the outlet that no complaint or report was filed.
It's unclear what exactly caused the fight, but Instagram user @prince_mazani, who uploaded the original footage, later returned to the platform to seemingly defend DaBaby.
"I don't condone violence I just happened to be there when it happened," he wrote. "@dababy had a solid reason. I'm not taking his side but I see why he did what he did."
@prince_mazani then added, "I got the whole video and imma tell you why @dababy did what he did. Share and Tune in."

This latest fight comes after another physical altercation involving the controversial rapper. Back in February, DaBaby was accused of attacking rapper Brandon Bill$ — the older brother of his ex DaniLeigh — after he "aggressively approached" and threatened him at LA's Corbin Bowl. Bill$ is currently suing DaBaby for assault, battery, intentional infliction of emotional distress, and negligence for an undisclosed amount.
Last week, DaBaby also reportedly shot and injured a man he believed was breaking into his North Carolina home. The rapper has claimed self-defense, though the case is still being reviewed. He also recently faced criticism after he was filmed allegedly trying to kiss an uninterested fan.
DaBaby has yet to comment on the altercation with Wisdom.