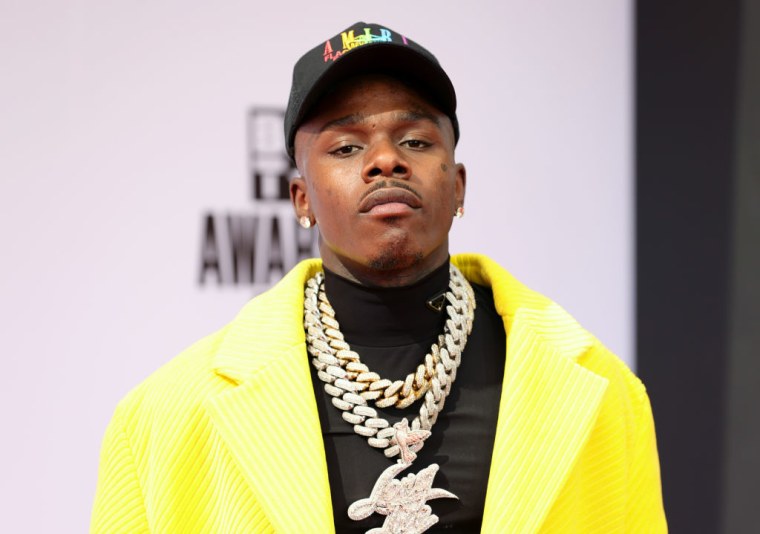 In 2018 DaBaby shot and killed Jaylin Craig in the parking lot of a Walmart in Charlotte, NC. The rapper claimed that he acted in self-defense and charges against him were dismissed in 2019 after a key witness did not show up to court. However, new video footage obtained by Rolling Stone will leave the artist with questions to answer, with the publication suggesting it shows DaBaby charging at Craig and initiating the fight that led to the teenager's death.
In the video DaBaby, real name Jonathan Kirk, is seen running at Craig and and his friend Henry Douglas, tackling Craig before striking him. Craig then appears to pull out a gun before possibly putting it away. DaBaby also pulls out his weapon and fires it multiple times. Craig was wounded during the altercation and was declared dead when paramedics arrived to provide assistance. DaBaby never faced charges of killing Craig but was convicted of carrying a concealed weapon in connection to the incident. He received 12 months probation and a suspended jail sentence.
DaBaby shot and killed 19-year-old Jaylin Craig in 2018, a shooting the rapper claims was in self-defense.

New security footage obtained by Rolling Stone shows that DaBaby appears to be the aggressor, and contradicts key aspects of his version of events. https://t.co/TGZjJ0Da6o pic.twitter.com/M7kbKur3U9

— philip lewis (@Phil_Lewis_) April 25, 2022
Rolling Stone's report includes testimony from the rapper recorded after the 2018 incident in which he said that Craig and his friend Henry Douglas were threatening the rapper and his family. "They're trying to get me to provoke them so they could pull a gun out," he told police at the time. According to Rolling Stone, DaBaby described that attack as trying to "get the jump on" the pair when quizzed by police.
The video footage is unlikely to cause any legal concerns for DaBaby with a representative for the district attorney's office noting in the Rolling Stone story that it had "reviewed the police investigative file" and agreed with the police that no further charges will be brought his way. The reason given was that "prosecutors could not prove beyond a reasonable doubt that the defendant did not act in self-defense."
This past weekend DaBaby was caught on camera assaulting fellow rapper Wisdom. He is also facing a lawsuit over an 2022 incident at a bowling alley in which the brother of his former partner claims the rapper attacked him.
The FADER has contacted DaBaby's representatives for comment.