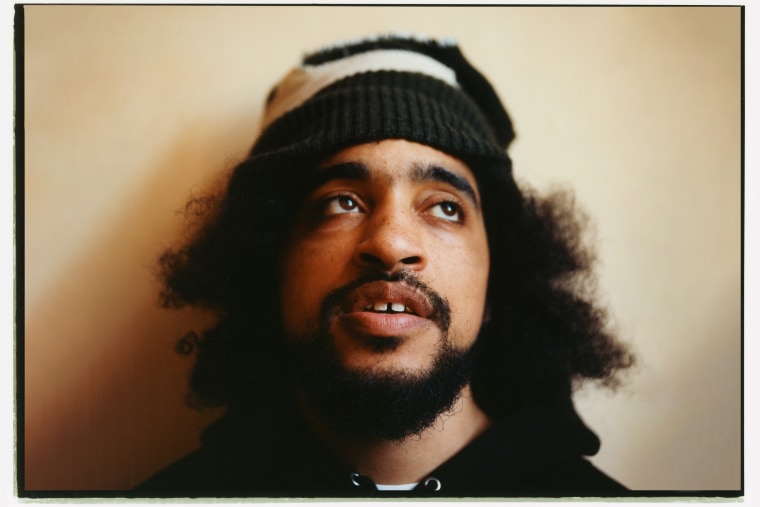 The FADER's "Songs You Need" are the tracks we can't stop playing. Check back every day for new music and follow along on our Spotify playlist.
Wu-Lu has never been one to put things mildly. His music is both bold and intensely vulnerable, sometimes abrasively so. His style is tough to pin down precisely — he raps, sings, shouts, produces, and plays multiple instruments — but he's best compared to the fearsome punk rockers he grew up listening to, sharing their compulsion to speak truth to power.
He screamed onto the South London scene in 2015 with his self-released debut album, Ginga, and has bided his time in years since, dropping two EPs, N.A.I.S. and S.U.F.O.S., in 2018 and 2019 respectively. Today, he's announced he'll strike again July 8 with LOGGERHEAD, his first studio LP, arriving via Warp Records. The announcement comes with the project's lead single, "Blame," which is actually the record's third pre-release offering, following April 2021's "Times" and December's "Broken Homes," the penultimate and ultimate entries in the tracklist.
True to form, the new song finds Wu-Lu on the attack, spitting venom even as he examines his insecurities and relationship failings. His revelations bounce off a staticky breakbeat that alternates with a soulful piano sample and then joins it for the song's chaotic chorus: "So I left / Left all the sharp objects / Put 'em in line, then I put 'em on my chest."
"'Blame' is about a breakdown in communication between my inner voice and external voice, and a situation that arose which led me to end a relationship," he explains.
Watch the track's tense, Denisha Anderson-directed video — which finds Wu-Lu freaking out in the desert and getting buried alive atop a rocky mountain, and also features a whole other mid-album single, "Tens" — and view his upcoming UK and European tour dates below.
Wu-Lu 2022 tour
May 13 - Brighton, UK - The Great Escape
May 14 - Leeds, UK - Brudenell Social Club
May 15 - Birmingham, UK - Hare & Hounds
June 9 - Mannheim, DE - Maifield Derby Festival,
June 11 - Ferropolis, DE - Melt Festival
June 17 - The Hague, NL - Grauzone Festival
June 25 - Pilton, UK - Glastonbury Festival
June 30 - Lärz, DE - Fusion Festival
July 2 - Belfort, FR - Les Eurocks Festival
July 9 - Bristol, UK - Rough Trade
July 10 - London, UK - Rough Trade East
July 15 - Leeuwarden, NL - Welcome To The Village
July 29 - Saint-Nazaire, FR - Les Escales Festival
August 6 - Tasov, CZ - Beseda U Bigbítu
August 11 - Rees-Haldern, DE - Haldern Pop Festival
August 13 - Winterthur, CH - Musikfestwochen Festival
August 17- Charleville-Mézières, FR - Le Cabaret Vert Festival
August 20 - Saint-Malo, FR - La Route du Rock Festival
August 27 - La Tour-de-Peliz, CH - Nox Orae Festival
September 2- Salisbury, UK - End Of The Road Festival
September 8 - London, UK - Village Underground
September 10 - Acquaviva, IT - Live Rock Festival