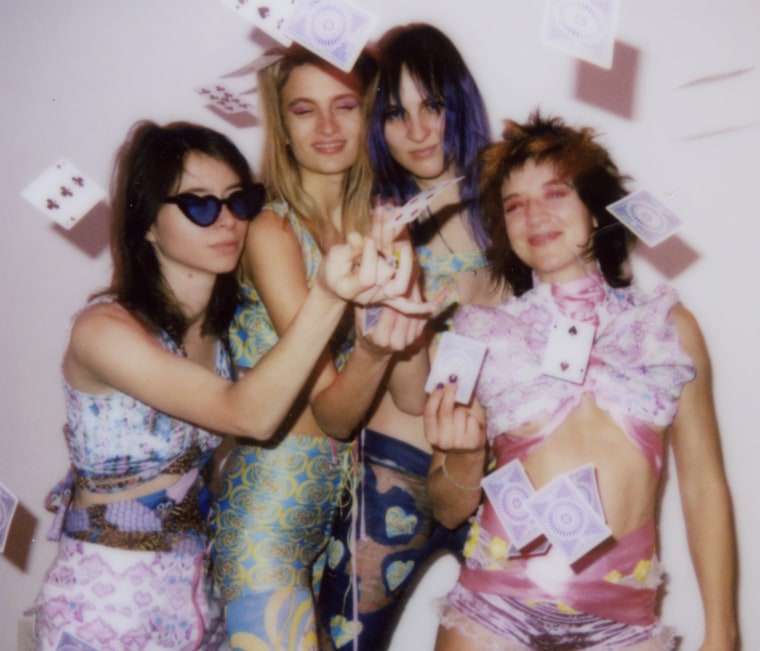 The FADER's "Songs You Need" are the tracks we can't stop playing. Check back every day for new music and follow along on our Spotify playlist.
Brooklyn quartet cumgirl8 placed themselves at odds with the powers that be the second they gave their group its salacious name. It gets them booted from social media platforms and largely precluded from the pages of music's major broadsheets, but their story doesn't end with shock value. They may be provocateurs, but they also make a fiery brand of post-punk that would sound just as good under a tamer moniker.
Today, they've shared a new track titled "dumb bitch" as part of Suicide Squeeze Records' Pinks and Purples singles series. The song is a three-minute electroclash thrill ride, pitting breathy vocals against an infectious automated rhythm, translucent synths, and a guitar that crackles with sardonic anger.
"Gender and sexual politics are the overarching points of the song," says bassist Lida Fox, "but it also gets into how these dynamics play out in a society ruled by capitalism… how the roles we're expected to play can become toxic and hypocritical to how we truly feel and so often we find ourselves stuck in patterns that hurt ourselves and those we love. It's exploring the space between romance, masochism, pleasure, narcissism, and the balance of how much we give and take in our relationships." Of course, the song would hold up even in the absence of these heady themes. Its brash, unrelenting energy is defiant in and of itself.
Listen to "dumb bitch" and view cumgirl8's upcoming tour dates below.
cumgirl8 June 2022 tour
June 3 – Washington, DC @ Black Cat ***
June 4 – Philadelphia, PA @ Fillmore***
June 5 – Brooklyn, NY @ BK STEEL***
June 6 – New Haven, CT @ CAFE NINE
June 7 – Boston, MA @ Brighton Music Hall ***
June 8 – Brooklyn, NY @ TV Eye
June 9 – Philadelphia, PA @ Kung Fu Necktie
June 10 – Baltimore, MD @ The Metro ^
June 12 – Richmond, VA @ Fuzzy Cactus
June 14 – Charlotte, NC @ Snug Harbor
June 15 – Atlanta, GA @ THE EARL
June 16 – St Augustine, FL @ Nobbys
June 17 – Savannah, GA @ El Rocko
June 18 – Athens, GA @ FLICKER THEATER
June 19 – Asheville, NC @ GREY EAGLE
June 20 – Chapel Hill, NC @ Local 506
June 21 – Charlottesville, VA @ The Southern
June 22 – Washington, DC @ THE RUNAWAY
*** w/ La Femme
^ w/ Pissed Jeans