Sudan Archives is the world's most confident introvert
Brittney Parks breaks down her newly announced album, Natural Brown Prom Queen, on the latest episode of The FADER Interview.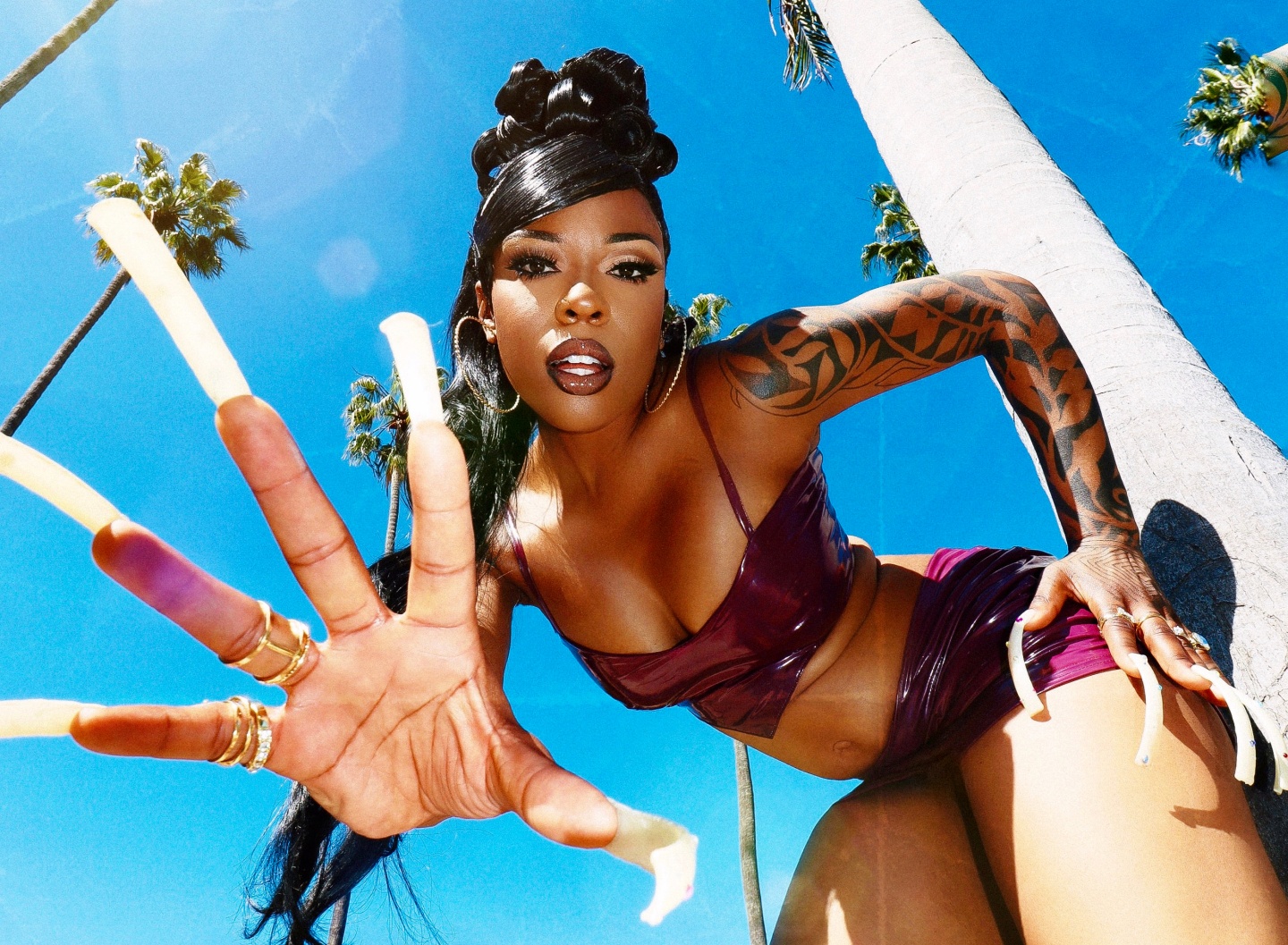 Brittney Parks — the violinist, singer, rapper, producer, and arranger better known as Sudan Archives — has a complicated relationship with pop music. As a teen, she was pressured by her stepfather — a music exec who helped launch the iconic Atlanta label LaFace Records — to form a pop duo with her twin sister. Committed to forging her own path, she rebelled, got kicked out of her family's Cincinnati home, and moved to Los Angeles, where she worked service industry jobs and played open mics before signing with Stones Throw.
Two impressive EPs and one groundbreaking full-length (2019's Athena) later, she's at the top of her game. She's released three singles so far this year, each one stronger than the last, and just announced her sophomore LP, Natural Brown Prom Queen. Due out September 9, the forthcoming album is by no means a straight-ahead pop project, but it contains some of her catchiest, lushest, most joyful songs to date — surprising, given the fact that she recorded, arranged, and edited them in her basement during deep lockdown.
Last month, I sat down with Parks to discuss her newfound acceptance of Capital-P Pop, her missing pet python, and the unorthodox process that led to the new record she can't wait for the world to hear.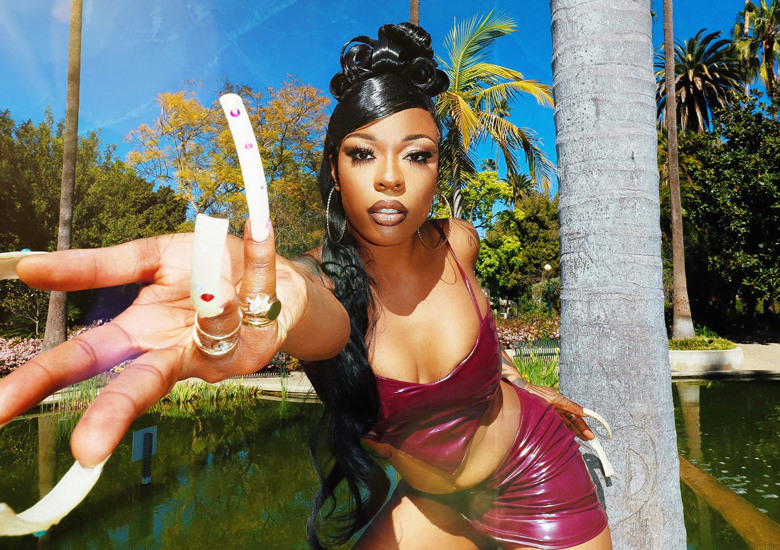 This Q&A is taken from the latest episode of The FADER Interview. To hear this week's show in full, and to access the podcast's archive, click here.
The FADER: I caught your set at Big Ears Festival in Knoxville. What was your experience there like?
Brittney Parks: It was cool. Saul Williams was right after me, and then Yves Tumor. I'm friends with the bass player of Yves Tumor, and she's super cool. And I'm friends with Saul Williams too because, whenever I'm on a European festival run, he's always playing right after me. It's weird. So I felt like the lineup made sense in that building, but overall, the festival was all types of music: world music to orchestra music to Saul Williams and Yves Tumor.
Listening to the new album, I was surprised by how many songs I recognized from that set — because you'd previewed them so early, but also because they're so catchy that I immediately remembered them. I know your intention isn't to make Capital-P Pop music, but do you think of Natural Brown Prom Queen as more of a pop project than Athena?
Not really. I think my sound is just becoming more polished, which makes it feel more pop. I used to stray away from that word when I was younger because, when I was in a group with my sister, my stepdad would always bring up pop stars and compare us to them — "Don't you wanna be like that?" He wasn't trying to manipulate me; he was trying to push me to think bigger. But I didn't like the comparisons he was making. So I was like, "No, I wanna do what I do, which is… I don't know what it is yet, but it's not that!" Now I'm not afraid of the word because I just think it means you're poppin'. And I am poppin'.
Tell me about your relationship with church music. I know that's where you started playing violin, and I don't necessarily think of the violin when I think of church music.
People in those small churches are really supportive of kids getting up and playing anything they want. If it was a rain stick, they'd be like, "Play it in the name of God!" So I felt like I could just go up there and play. My mom pressured me too, because it felt unusual to me, like, "What am I gonna do up there?" [But] she was like, "That's how real musicians do it; they just get up and play by ear." That was my first experience getting up and having to just go with the flow. The choir leader, Camille, would find church songs that had violin solos to make it even easier: "Go home and listen to that part and try to play that solo." And the drummer was my boyfriend at the time, so I was trying to sound super cool for him too.
I've heard the story of you deciding you wanted to play violin because you saw an Irish folk band when you were a kid. Do you still listen to any Irish music?
I just went to an Irish fiddle show, Gerry O'Connor. He was playing Irish jigs and talking about the stories and how he learned them. He was really good. It reminded me of the reason I play music: Irish jig music is so wild and upbeat. You don't really hear the violin sound like that in pop music. If I could influence pop music in any way, it would be dope to bring those dying traditions and sounds into modern music. That was the whole plan of me moving to L.A.: I wanted to be an ethnomusicologist for dying string instruments. In a way, I guess I'm still doing that.
And from there, you got into Sudanese and other African music, particularly single-string fiddle players, right?
I was just looking for representation, I guess, because I knew I didn't wanna be in an orchestra. And I liked fiddle club, but I moved to a different school where they didn't have a fiddle after school program. I was looking for ways to be inspired, so when I realized that there was this whole violin culture in Sudan and Ghana and Eastern Europe — and the Irish stuff that I was already aware of — it felt like they were all connected. Since Sudan was a nickname my mom gave me, I started to look up the music of Sudan, and I realized they mess with the violin heavy; it's part of their culture. That really made me feel like it was preordained for me to have that nickname so I could explore the way they make music. It changed the way I made my songs because I realized you don't have to have violin tucked in the background. It doesn't have to be this legato, pretty moment. It can be wild and crazy and piercing and aggressive. It reminded me of Prince and Jimi Hendrix, how the guitar is a huge part of their set and their songs. I thought I could be the violin version of that.
How did you get the nickname Sudan?
I was gonna call myself Tokyo Moon, [a reference to the manga and anime series Sailor Moon,] and my mom was like, "No." I remember her saying, "What about Sudan Moon?" And then it changed to Sudan Archives. She just thought it was a pretty name, and then I realized the meaning in Arabic is "Land of the Blacks."

You haven't done many interviews between the release of Athena and now. What else have you been doing in the meantime besides recording and touring?
Trying to make my house look really cute and building a studio in my basement. I usually [record] in my bedroom, but now I finally have space where I can dedicate the basement to being a music studio.
Do you still have a pet python?
Yeah. Actually, he's lost right now. He broke out his cage two days ago, and I don't know where the fuck he's at. I think I might have to lure him somehow — get a mouse and leave it in the center of the room and see if he'll investigate it. But I'm kind of scared because I've looked everywhere and I just can't find him.
"Home Maker" goes against the modern perception of domesticity as something regressive or anti-feminist. Did you set out to try to challenge that perception, or did it just come naturally?
It came naturally, but that's what's so cool about doing music videos: You can really analyze the song. In [director Jocelyn Anquetil's] treatment I'm a siren, luring men to feel hypnotized like they're at home. And then it flickers to the real freaky siren me, but I look like this Midwestern sweetie shopping for home decor. But really, we're not even in a furniture store; we're in a mirage.
Why did you choose that one to open both the album and its release cycle as the lead single?
Because it was done. It took so long to finish these songs. Every other song, I kept changing ideas, gathering other people's ideas, and that was one of the songs that was just done. I had all these demos, and I knew that was the first song even before the album was even done. It put all of the demos in a playlist, like, "This is how I think the album should go," and it never changed.

I think "NBPQ (Topless)" — the album's second track and third single — also has opener potential. There's a vibe shift from the end of "Home Maker" to the bouzouki at the beginning of "NBPQ."
I really like that bouzouki. Simon On The Moon helped with that. He plays all of these crazy instruments. He was one of my favorite people to work with. I did a blind test: I listened to that song from five other people, and I picked him. I didn't even know what I wanted. I was open to whatever, but I was like, "I don't wanna know who these people are, what they do, or anything. I just wanna listen." The plan was to take from what I liked and mix and arrange it all myself. Simon stood out because all the instruments he was playing were so bizarre sounding. And it had a live feel: I could tell he was playing real instruments.
So you just sent out the stems of the demos to a bunch of musicians, like an open call?
My manager [and Natural Brown Prom Queen's co-producer, Ben Dickey,] had some ideas of who would be a good fit. On "NBPQ," for example, I liked two people's ideas. The bridge — "I be seeing things," this anime-sounding moment — that's a whole different producer. The song slowly gets faster and faster, so I took a guitar from someone else's idea. I pieced a lot of stuff together, [which] I'd never done before: "I like both of these takes, so I'll just split it up." It was a weird, mixed-media approach, but I thought it was cool.
Ben always linked me with producers in the past, and I had some type of anxiety. I didn't wanna to work with people in real life. I just wanted to be here and do what I do. I work best [that way]. I don't need to make a demo at someone else's studio because I don't wanna be influenced by what they think I should do. Or I might be too nervous to even do what I do in front of them. So Ben was like, "Well, since it's COVID, let's work remotely with people, and you don't even need to know who they are." It worked out way easier [with COVID] for me to stay here and never leave and make music. It's the best way I've ever worked with people because I'm a homemaker, and my vibe is so viby. I've got my weed here, my stuffed animals, my instruments — everything I need. If I go [to someone's studio], I've gotta bring all that there. I'd rather stay here and let everybody do what they do best [in their own space]. I don't like it any other way, to be honest.
Ben helped weave that process together, and then he was so excited about the project that he had some ideas too. We'd never worked [together] in that way before, but I was open to it because I'm an open book and I want people to have opportunities. When you're closed off and wanna do everything on your own, that's cool, but for me, it's more beautiful to see what a team can do. I got to invite my friends over to play [on the songs]: My friend Hellastrings played bass on "Ciara" and "Homesick." Dexter Story played bass on "Selfish Soul." Egyptian Lover [engineered and added 808s to "Freakalizer," and James [McCall] helped arrange. If I was in someone else's studio and I had to delegate and bring all those people there, I wouldn't know what to say.
Was there anyone else you were especially excited to work with on the album?
I was really excited that MonoNeon played bass on and produced an interlude. I wanna make more music with him; he's so talented. And [other] close friends: Andre [Elias] and KESSWA and Ahya [Simone] played on "Home Maker," and Andre produced "ChevyS10." Those people — the people make me feel at home — are all part of the album, everybody. Even my twin sister [Cat] helped me write "Copycat (Broken Notions)."
"Selfish Soul" is a celebration of your hair but also very honest about the insecurity you've had around it. Would you say the song is about your process of growing comfortable with your hair?
Yeah. When I was very little, I heard "I Am Not My Hair" by India.Arie. "Selfish Soul" is an ode to that song, in a way: I talk about my own experience with hair and how I've always felt the insecurities that come with having a certain type of hair texture. Specifically in America, it's a big mind fuck having hair like this.
I had a natural hippie phase where I was just wearing my Afro, [which] was really affordable, because I had no money, but people would always ask me political questions. You're perceived a certain way when you have a certain hairstyle. When I cut my hair, people were like, "Oh my God, where's the fro?" And I'm like, "The fro is not a person, okay? It's gone. It doesn't matter."
When I get certain hairstyles, people are like, "Oh my God, Sudan's changed." And it's like, "The fuck? You don't even know me." Hair has nothing to do with who I am as a person. I have money now, so I'm gonna have different hairstyles. I'm still a hippie, but I have money to get my hair done now. Be happy for me.