Song You Need: Lucrecia Dalt imagines a world outside of time
"Atemporal" is the second single from ¡Ay!, a surrealist character study/concept album due out via RVNG Intl.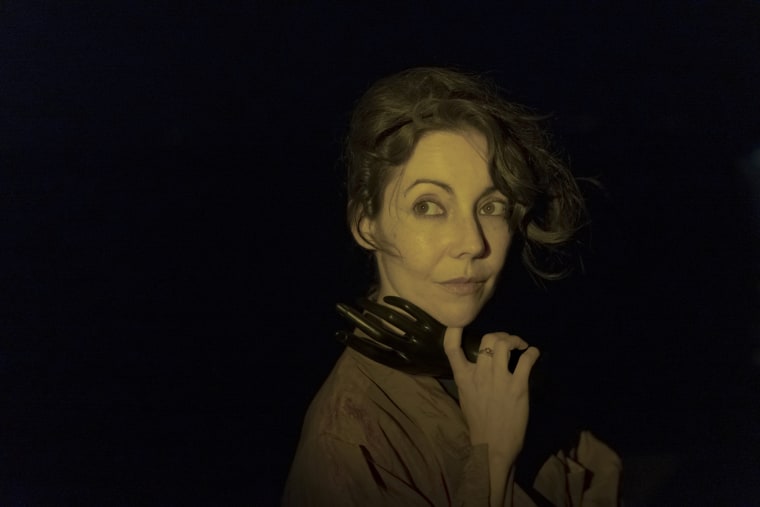 The FADER's "Songs You Need" are the tracks we can't stop playing. Check back every day for new music and follow along on our Spotify playlist.
Over the past two decades, Lucrecia Dalt has become one of contemporary music's most unpredictable auteurs. From her early IDM explorations to the brooding indie rock of her second studio album as Lucrecia, the dreamy soundscapes she's become best known for, and her deliciously unhinged collaborations with harsh noise legend Aaron Dilloway, she rarely retreads old ground.
This morning, the Colombian-born, Berlin-based composer/singer/songwriter shared "Atemporal" ("Timeless"), the second offering from her forthcoming LP ¡Ay!, due out October 14 via RVNG Intl. It follows lead single and opener "No tiempo" ("No Time"), which arrived alongside her announcement of the album. In the short films accompanying the two tracks — both of which were conceptualized by Dalt and directed by Aina Climent — begin with philosophical musings on human interaction with extraterrestrials, and how our concepts of time and consciousness would irrevocably change — or, as she suggests, already have — after such an encounter. (Each of these thoughts is rendered as a short paragraph in colored text against a black background.)
Where "No tiempo" begins in a celestial, sustained organ chord that unwinds into a dulcet orchestral arrangement, "Atemporal" is a ghost ship's tropical sea shanty, lurching forward as if the song itself is experiencing the timelessness indicated in its title and obliquely defined in the video's introductory paragraph.
"Me reconozco en esa roca atemporal / Para hacer que cese el tiempo en su entorno," Dalt sings, her alto vocalizations exuding a quiet power. "Lágrimas de xenocristales de / circones hadeanos / redistribuyendo el mismo / el mismo tiempo." ("I recognize myself in that rock timeless / So that time ceases in its surroundings. // Xenocryst tears of / Hadean zircons / reshifting time itself.")
Through it all, Dalt maintains a subtle sense of the otherworldly. "This song is a coalescence of many things from my palette, like a collection of Dalts coming from different eras: vocoders, synths, heavily processed drums, use of texture and distortion slowly transforming into an energetic slowed down alienated tumba," she explains.
Watch the "Atemporal" video and view Dalt's fall European tour dates — as well as a scheduled December show in her native Colombia — below.

Lucrecia Dalt fall 2022 tour
October 10 - Krakow, PL - Unsound Festival
October 14 - Berlin, DE - Volksbühne
October 26 - Düdingen, CH - Bad Bonn
November 17 - Ghent, BE - De Vooruit / VIERNULVIER
November 24 - Ravenna, IT - Transmissions Festival
December 10 - Medellín, CO - Latineo