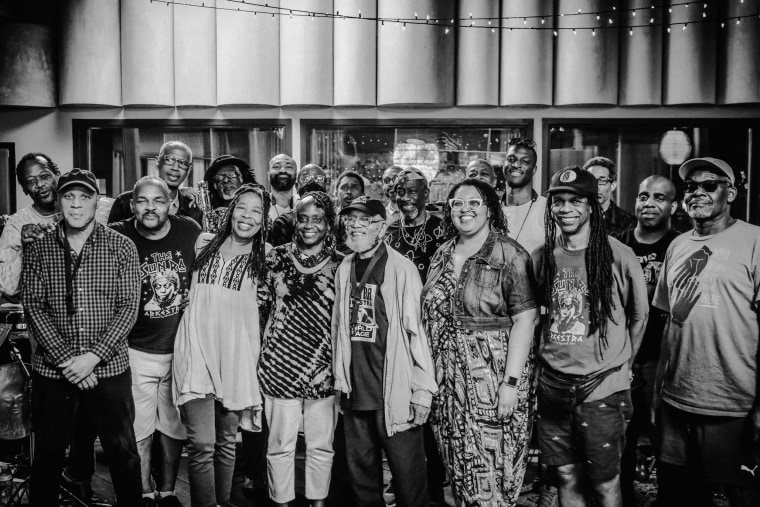 The FADER's "Songs You Need" are the tracks we can't stop playing. Check back every day for new music and follow along on our Spotify playlist.
Last October, the Sun Ra Arkestra dropped Swirling, their first new album since 1999's A Song for the Sun, and only their second non-archival release since Sun Ra's departure from the earthly realm in 1993. Today, with 98-year-old saxophonist Marshall Allen still at the helm, the Arkestra has announced another forthcoming record. Living Sky is due out October 7 — nearly a year to the date after Swirling's release — on Omni Sound.
Along with the announcement, the Arkestra have shared the project's lead single "Somebody Else's Idea," an instrumental rendition of a track Ra recorded in 1955 and reworked in 1970, foregrounding longtime Arkestra singer — and, for many years, the only woman in the group — June Tyson. With her iconic lead vocal out of the mix, the only voice on the track is a deep hum, moving in unison with the song's main, mesmeric progression as smoothly screeching saxophone, calmly caterwauling trumpets, and deliciously dissonant strings swarm in perfect, discordant harmony at the high end.
"'Somebody Else's Idea' is an affirmation that the world I live in is a world that I can change," baritone saxophonist Knoel Scott explains. "The first part of change is not accepting the status, the so called status quo. In rejecting the status quo, I free myself to the possibilities which range amongst the infinite. It is our desire… [T]hose who listen to our music also embrace the possibilities which range beyond the limits of the impossible."
A brief glance at Living Sky's tracklist (also released today) is puzzling: Of its seven singles, only two songs are Ra originals, along with three penned by Allen. In reality, though, it's as much an Arkestral endeavor as any of their past projects. Both its opener, a free jazz take on Frédéric Chopin's "Prelude in A Minor," and closer, an interplanetary rendition of Leigh Harline's "Wish Upon a Star," have been staples of the group's live repertoire since long before Ra's passing.
Listen to "Somebody Else's Idea" below.