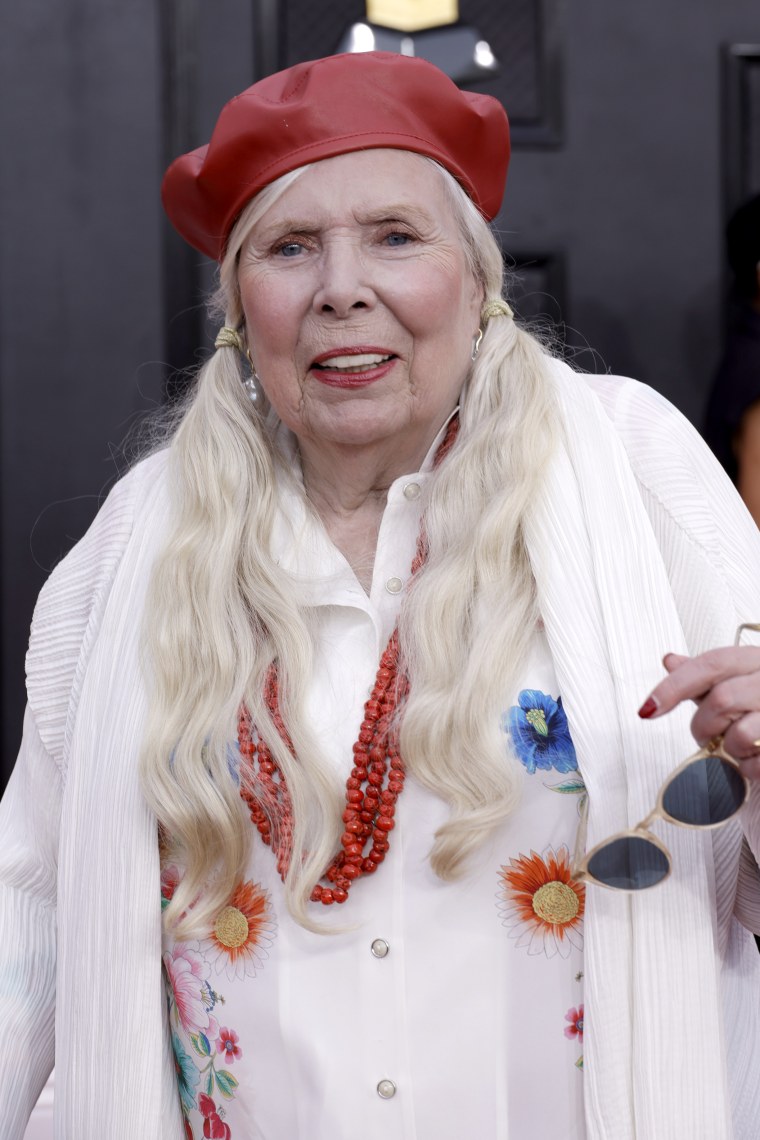 Joni Mitchell took the stage at Rhode Island's Newport Folk Festival on Sunday for a surprise set. It was her first full performance since 2000 and her first appearance at the festival since 1969.
The Laurel Canyon luminary turned avid experimentalist played a career-spanning, 13-song set that included two tracks each from her three seminal early-'70s albums — Ladies of the Canyon, Blue, and Court and Spark — as well as one song from 1976's Hejira (her first significant step toward jazz), one from 1991's Night Ride Home, and one from her most recent record, 2007's Shine. She also covered George Gershwin's "Summertime," Frankie Lymon and the Teenagers' "Why Do Fools Fall in Love," and The Searchers' "Love Potion No. 9," and played a rendition of "Both Sides Now" — a song she wrote for Judy Collins in the late '60s and iconically re-recorded in 2000 as the title track of her 17th studio LP. A highlight of the show came when she rose from her chair to play the guitar solo from Court and Spark cut "Just Like This Train."
Brandi Carlile joined Mitchell on stage for her entire performance — later dubbed "Joni Jam," the show was originally billed as "Brandi Carlile and Friends" — and other prominent artists made surprise appearances throughout the set. Blake Mills, Taylor Goldsmith, Marcus Mumford, and Wynonna Judd all came out to support the 78-year-old legend.
Mitchell performed two songs in April of this year at MusiCares' annual Person of the Year benefit gala after accepting the honor from the Recording Academy. Prior to that event, she'd only played three brief, impromptu sets — one in 2002 and two in 2013 — since retiring from touring in 2000. In 2015, she was rushed to a Los Angeles hospital in critical condition after suffering a brain aneurysm. At the time, she was reported to be in an unresponsive coma, though sources close to her disputed these reports, and she later made a full recovery.
After her historic performance Sunday evening, Mitchell and Carlile joined CBS Mornings' Anthony Mason to discuss the show. In the interview, Mitchell told Mason she'd had to relearn the guitar by watching online clips. "I'm looking at videos that are on the net to see where I put my fingers," she explained.
Watch the CBS segment and footage from Mitchell's Sunday Newport Folk Festival set below.