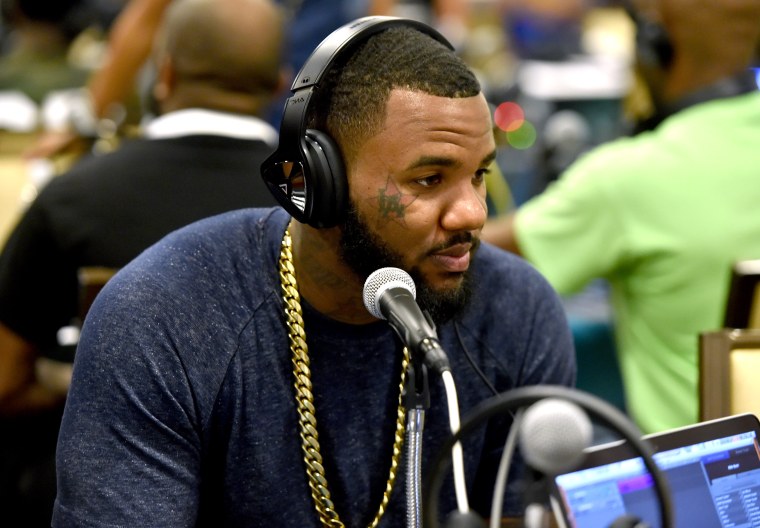 The Game is releasing his long-promised lyrical shots at Eminem today on "The Black Slim Shady," a new 10-minute song featured on Game's just-released album Drillmatic Heart Vs. Mind.
Co-produced by Hit-Boy, "The Black Slim Shady" sees the Game imitating Eminem's flows and sense of humor to take aim at the Detroit rapper's personal life, relationships, and his place in hip-hop history. There's even a skit woven throughout the song where the Game takes an Uber driven by Matthew, the brother of the protagonist of Eminem's song "Stan." Lyrics in the song specifically address Eminem's issues with addiction, cultural appropriation, and the perceived drop in quality of Eminem's more recent music. Hear it below.

For nearly two decades, The Game has been beefing with 50 Cent, Eminem's close friend. On a recent episode of Fresh Pair that he would be dissing Eminem on record as way of getting at 50 Cent. "Because 50 can't rap," Game said in comments flagged by Pitchfork, so I've gotta go a level up and challenge the better rapper."
"If you're a 'rap god,' control me." Game said of Eminem. "Put me down. Put me in my place. Let me know. Because if out-raps me, I'm gonna feel like shit. He got it. I'm talkin' about Hov and Nas, I'm talkin' about 'Takeover' and 'Ether.' Because one of them has to feel like they one. I'm just sayin' let's have our moment, or I'm gonna have it by myself."
Drillmatic Heart Vs Mind is 31 tracks long and features two appearances from Kanye West (on the previously released "Eazy" and the new song "Fortunate"). Lil Wayne, A$AP Rocky, Pusha T, A$AP Rocky, YoungBoy Never Broke Again, Meek Mill, Rick Ross, Big Sean, Fivio Foreign, and more also appear.