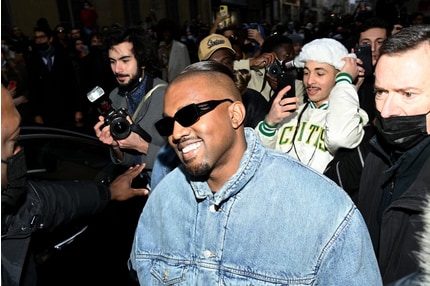 In the past few days you might have seen a viral image doing the rounds that shows a series of large sacks in the Times Square Gap store with the tweeter explaining that they were filled with clothes from Kanye West's Yeezy Gap line. It was, per a salesperson @owen__lang spoke to, Kanye's choice to take the clothes off hangars and into unsorted bags. "They won't help you find ur size too, you just have to just dig through everything," according to the tweet.
This is how they are selling Yeezy GAP. The sales associate said Ye got mad when he saw they had it on hangers and this is how he wanted it. They won't help you find ur size too, you just have to just dig through everything pic.twitter.com/GNd08Zv1zC

— little miss (@owen__lang) August 15, 2022
Nine times out of ten it would be easy to dismiss this as the work of Photoshop and a pursuit for retweets. Throw Kanye's name in the mix, however, and all bets are off. You'd be wise to suspend disbelief as, in an interview broadcast on Fox News' Fox & Friends (where else?) on Thursday morning Kanye confirmed that the picture is real and went on to defend his unorthodox decision.
"I'm an innovator, and I'm not here to sit up and apologize about my ideas," West told Fox News correspondent Eric Shawn. "That's exactly what the media tries to do. Make us apologize for any idea that doesn't fall under exactly the way they want us to think."
"This is not a joke. This is not a game. This is not just some celebrity collaboration," West added. "This is my life … I'm fighting for a position to be able to change clothing and bring the best design to the people." Check out the interview below.
In a new interview of his own this week, Kid Cudi said it would take a "motherfucking miracle" for him to patch up his relationship with Kanye. Ye recently returned to Instagram to take aim at Cudi and Pete Davidson.