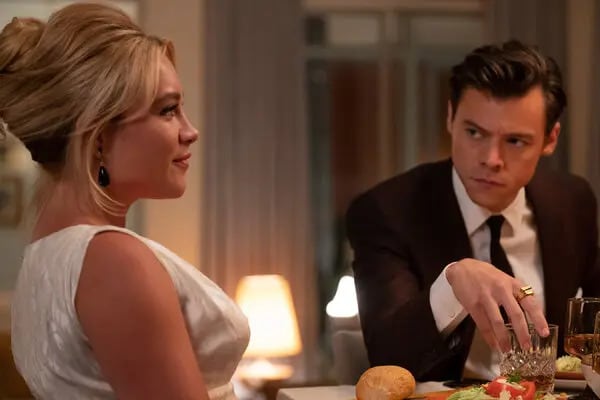 Don't Worry Darling, the movie that spurred a million rumors, finally hits theaters today (September 23). The soundtrack to the movie, in addition to John Powell's score, is also out now and brings with it new music from Harry Styles... sort of. "With You All The Time" is a collaboration between Styles, who plays piano, and his co-star Florence Push, who sings. The song is credited to their Don't Worry Darling characters Alice and Jack. Check it out below.
Hardcore Pugh stans will recognize that this isn't the actress's first foray into music. Last year she appeared on her brother, singer-songwriter Toby Sebastian's, song "Midnight." Styles, meanwhile, is notably venturing beyond music and into acting (he favors movies that feel like movies).
Earlier this month Styles partnered with voter registration non-profit HeadCount to give away tickets to his upcoming tour shows in exchange for fans registering to vote.