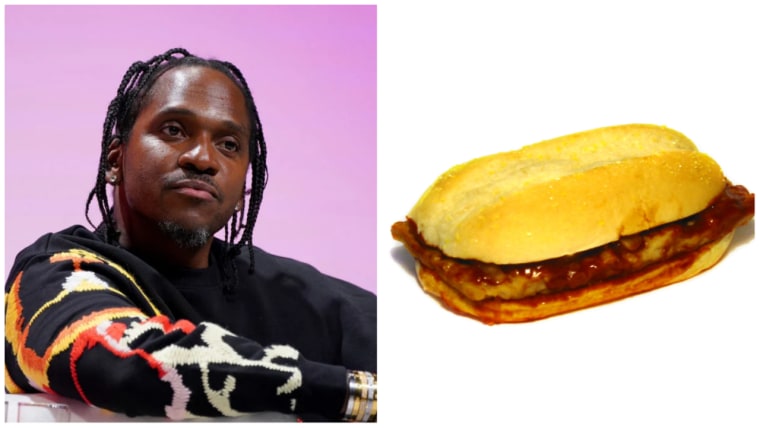 Two McDonald's sandwiches have now joined Drake among the legions of those absolutely ethered by Pusha T diss tracks. "Rib Roast," a takedown of the beloved McRib sandwich that returns to the golden arches each fall, follows March's "Spicy Fish Diss Track," a screed against the Micky D's Filet-O-Fish. Each song has been a collaboration with Arby's to promote a competing sandwich. The earlier cut touted the Arby's Crispy Fish sandwich and today's track is a tribute to the Country Style Arby's Rib Sandwich. Arby's, it seems, has gambled on a spokesperson who "could sell water to a whale" (as Push reports on "Spicy Fish Diss Track") to offset the originality deficit in its new sandwiches' names.
Push has never been one to give up a grudge or go easy on a nemesis, as evidenced by his life-altering 2018 scorcher "The Story of Adidon," which exposed that Drake was "hiding" a six-month-old son from public view (not to mention its cover art, for which the Bronx rapper dug up a 2007 photo of his Canadian rival in blackface). His hatred for McDonald's seems to be fueled by his dissatisfaction with the deal he struck with the company in the early aughts for his "I'm Lovin' It" jingle, which is still in use today. (The Arby's check may have helped as well.) The McD's contract, which he clarified as "like half a million or a million dollars for me and my brother" (No Malice of Clipse) was inked at a time when he "wasn't asking for as much money and ownership." The situation is addressed in "Spicy Fish Diss Track," which begins with the lyric "I'm the reason the whole world love it / Now I gotta crush it."
"Rib Roast" is a direct hit on a McDonald's staple, a sandwich whose storied run includes multiple discontinuations and returns. Only time will tell whether Push prevails in his scorched-earth campaign against the company he once partnered with, and whether the Country Style Arby's Rib Sandwich will have the same sort of staying power as the McRib.
Watch the video for the new Push X Arby's collab, which stars Ezekiel "Blue" Mitchell (currently the 36th-ranked bull rider in the world), and read the track's full lyrics below.
Arby's X Pusha T, "Rib Roast" lyrics
They call me when it's time to do damage
When the quality ain't up to my standards
That McRib falls below average
Replaced by the Country Style Arby's Rib Sandwich (Wooo!)
Straight out the smokehouse
Texas my old route
Eight hours to slow cook
King Push for the rollout
The boss with the smokey Q sauce
The real country style, McRib get lost (Yeeugh!)
This doesn't compare to
That replica rib patty
I'm screamin' "How dare you?"
You know that I'm war ready
Arby's takin' taste to the next level
Arby's is the choice when you won't settle
McDonald's what you sellin', mystery meat?
Hop up and go away
What does history teach?
Micky D's McRib
You ain't it in the streets
The real country-style rib sandwich
Here to compete (Look!)
Straight out the smokehouse
Country Style Arby's Rib Sandwich, what you know 'bout?
We comin' straight out the smokehouse
McRib, you just look like a clown, and that's with no doubt.