Song You Need: Dawn Richard and Spencer Zahn soar on "Saffron"
It's the closing track from the second movement of their collaborative debut LP, Pigments, due out October 21 on Merge Records.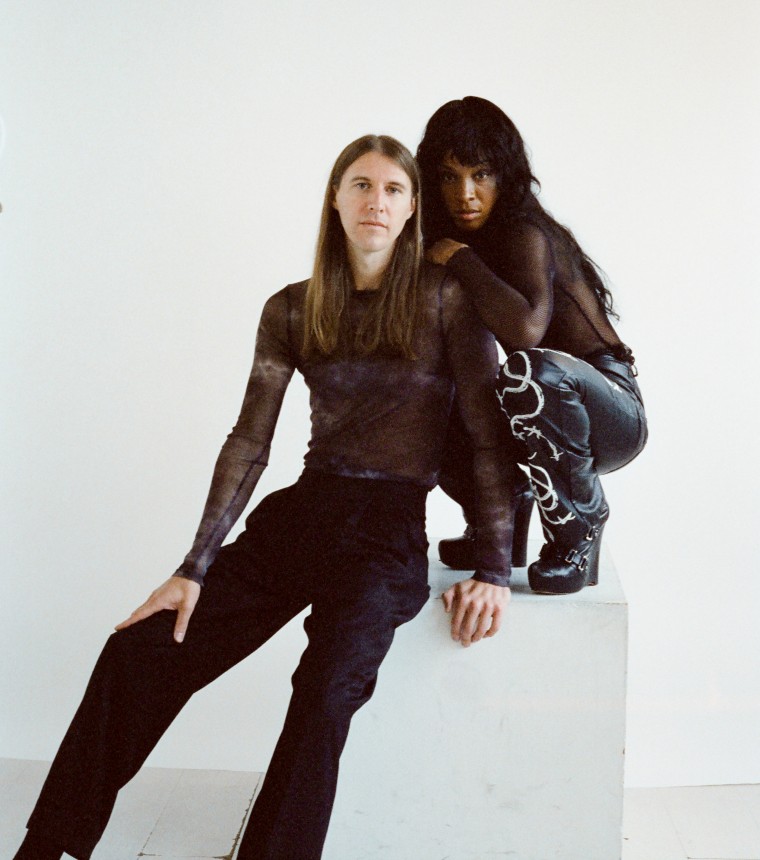 The FADER's "Songs You Need" are the tracks we can't stop playing. Check back every day for new music and follow along on our Spotify playlist.
Dawn Richard and Spencer Zahn have now released two thirds of their debut joint LP, Pigments. The New Orleans-born singer, songwriter, and producer teamed up with the northeastern multi-instrumentalist to announce the project and share its first four-song movement late last month. And today, they've unveiled Movement 2, again as a four-track EP. The new release accompanies details of Richard's upcoming week-long residency with the Clive Davis Institute of Recorded Music at NYU's Tisch School of the Arts — the first of its kind curated by the institution.
The new tape is similar in tone to Movement 1 and paced almost identically: Their opening instrumental tracks ("Coral" and "Sienna," respectively) are soft and tentative; their seconds ("Sandstone" and "Cerulean") grow in confidence and contain impressionistic vocals from Richard; their thirds ("Indigo" and "Opal") drop Richard's vocals again and return to the patient quietude of the EPs' beginnings; and their closers ("Vantablack" and "Saffron") come into their own — fully formed songs, each anchoring its own suite. (The full record is due out October 21 via Merge. Only its final three tracks — "Crimson," "Cobalt," and "Umber" — remain unreleased.)
Pigments is a project that looks and sounds celestial with its color-themed titles, ethereal tracks, and preternatural cover art, but is in fact deeply rooted in Richard's artistic community in New Orleans. On "Saffron," Richard waits nearly two-and-a-half minutes before entering to sing a triumphant, echoing melody over a blur of plucked cello, weeping clarinets, haunted tenor saxophone, and swirling synths. "Can you save your save me a last dance?" she asks, her voice layering over itself as she repeats the line until the track finally fades out just left of the four-minute mark.
"What would your last dance be?," Richard wonders in a statement accompanying the new tape's release. "In all my struggles and pain, beauty, ugliness, and everything in between, all I've ever known is to dance through it all. And if I had one hope in all the chaos of life, I'd ask God if he could save me one more dance before I go."
In the song's visual treatment, directed by Richard herself, dancers from the New Orleans Center for Creative Arts (NOCCA) — an esteemed performing arts high school located in the city's Bywater neighborhood — move fluidly in a field that is somehow both overgrown and desiccated, their gestures growing in size and expression along with the music.
Watch the video, listen to Pigment's first two movements, and read the details of Richard's October New York residency below.
Dawn Richard residency with the Clive Barker Institute
October 17, 7pm – Oswalds Mill Audio Listening Showroom (110 Bridge St., Brooklyn)
● World-premiere immersive listening session of Pigments moderated by Puja Patel, Editor-in-Chief of Pitchfork.
October 19, 7pm – The Garage (370 Jay St., Brooklyn)
● "Dancing to Dawn" block party with DJ Lindsey
October 20, 8pm – The Clive Davis Institute (370 Jay St., Brooklyn)
● "Dawn 3.0," an in-depth conversation hosted by New York Times writer Marcus J. Moore.
October 21, 7pm – The Garage (370 Jay St., Brooklyn)
● "Performing Pigments: A World-Premiere Live Concert Experience" featuring Richard, Zahn, and other musicians.