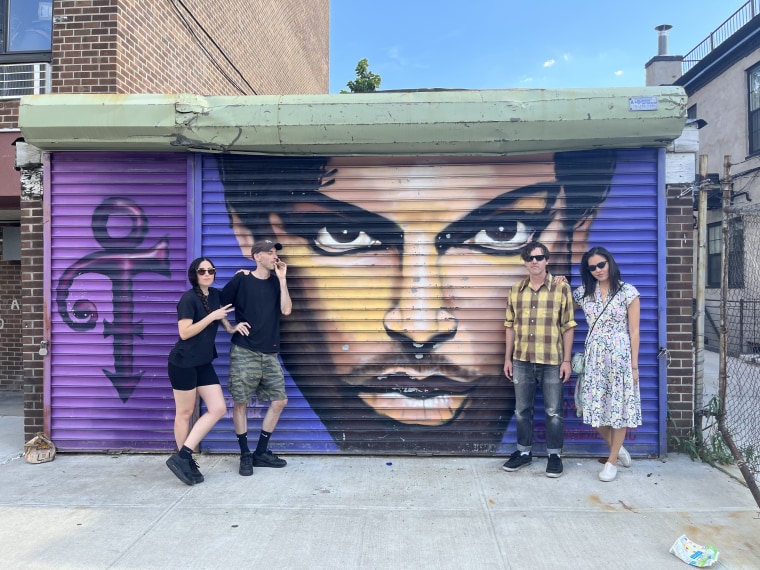 Folk-rock luminary Cass McCombs has teamed up with the scrappy New York City trio Weak Signal to release a new song called "Vacation From Thought." It's the first half of a collaborative seven-inch single the ad hoc group will release next month, backed with an unreleased track titled "Give It Back."
The new song is a wordy, four-on-the-floor garage rock jam. McCombs waxes philosophical as only he knows how over a lively instrumental pushed along by a motorik beat from Weak Signal drummer Tran, reenforced by a sturdy bass line from Sasha Vine (who also provides backing vocals), and led by Mike Bones' crunchy guitar line.
"Where I should I go on my vacation? / I've never taken a vacation / I'm taking a vacation from thought," McCombs begins, throwing it back to an earlier New York era when ironic concept rock was still en vogue. "Not got gonna think about you / And all the confusing things that you do / Not even gonna think about me / I'm just gonna be."
Cass McCombs released his 10th studio album, Heartmind, in August. Check out his interview with our editorial director Alex Robert Ross surrounding that record's release and his 2011 cover interview with Daniel Arnold.
"Vacation From Thought" arrives a day before McCombs kicks off a three-week European tour and hours before Weak Signal opens for Pavement in Philadelphia — their first of two gigs supporting the Stockton slacker rock pioneers. View all of McCombs' and Weak Signal's upcoming dates below.
Cass McCombs fall 2022 European tour
October 6 - St. Gallen, CH - Palace
October 7 - Schorndorf, DE - Club Manufaktur
October 8 - Paris, FR - Cafe de la Danse
October 10 - Bristol, UK - Redgrave Theatre
October 12 - Manchester, UK - The Stoller Hall
October 13 - London, UK - Alexandria Palace Theatre
October 15 - Dublin, IE - Liberty Hall
October 16 - Glasgow, UK - Mackintosh Queen's Cross
October 18 - Brussels, BE - Botanique Rotonde
October 19 - Cologne, DE - Artheatre
October 20 - Utrecht, CH - Cloud 9
October 22 - Berlin, DK - Frannz Club
October 24 - Hamburg, DE - NOCHTSPEICHER
October 25 - Copenhagen, DK - DR Studie 2
October 26 - Stockholm, SE - Slaktkyrkan
October 28 - Oslo, NO - Oslo Parkteatret
Weak Signal opening for Pavement
October 5 - Philadelphia, PA - The Met Philadelphia
October 6 - Washington, DC - Warner Theatre