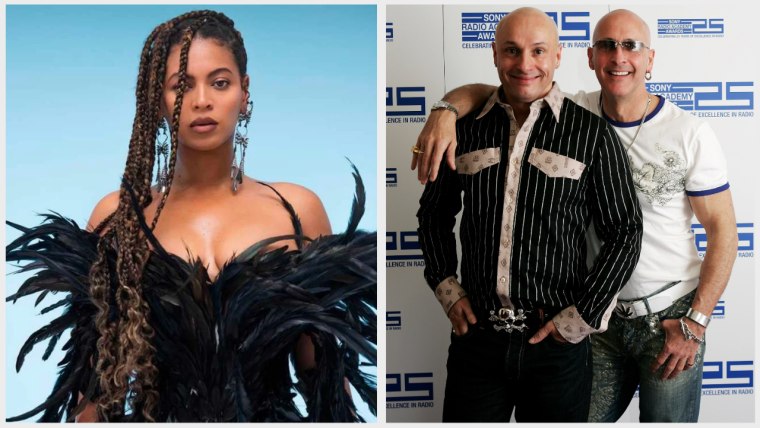 Beyoncé has forcefully denied Right Said Fred's claim that she interpolated their 1992 smash hit "I'm Too Sexy" on her Renaissance track "Alien Superstar" without their permission, Pitchfork reports. The English dance-pop duo of Fred and Richard Fairbass, as well as ex-Right Said Fred member Rob Manzoli, are credited as writers on the newer song. But the Fairbass brothers recently aired their grievances with Beyoncé's use of their original cut to The Sun in an interview published this past Tuesday (October 4).
"Normally the artist approaches us but Beyoncé didn't because she is such an arrogant person she just had probably thought 'come and get me' so we heard about it after the fact when you did," they told the British tabloid. "But everyone else, Drake and Taylor Swift, they came to us." ("I'm Too Sexy" has been a fertile source of top-40 hits in recent years, including Drake's 2021 track "Way 2 Sexy" feat. Future and Young Thug, and Swift's 2017 song "Look What You Made Me Do."
Beyoncé shared the following statement with Pitchfork in response to the allegation:
"The comments made by Right Said Fred stating that Beyonce used "I'm Too Sexy" in "Alien Superstar" without permission are erroneous and incredibly disparaging.
Permission was not only granted for its use, but they publicly spoke of their gratitude for being on the album.
For their song, there was no sound recording use, only the composition was utilized.
Permission was asked of their publisher on May 11, 2022 and the publisher approved the use on June 15, 2022. They were paid for the usage in August, 2022.
Furthermore, the copyright percentage of the Right Said Fred writers with respect to the use of "I'm Too Sexy" is a substantial portion of the composition.
Collectively the Right Said Fred writers own more than any other singular writer and have co-writer credit.
This accusation is false."
Indeed, the Fairbass brothers were outwardly pleased when Renaissance first arrived in July. "It's nice to get a writing credit on the new 'Beyonce' album," they tweeted on July 22, linking a Stereogum article on Renaissance's credits. Six days later, they celebrated on Instagram with a screengrab of a photo of Beyoncé above the text "Beyonce has collaborated with Right Said Fred." "Writing credits with Taylor Swift, Drake and now Beyoncé, not bad for 2 blokes that haven't been play-listed in the UK for over 25 years 😂," their caption reads.
Beyoncé has amended Renaissance twice since its release: In early August, she removed an interpolation of Kelis' "Milkshake" from the album's fifth track, "Energy," after Kelis — similarly to Right Said Fred — complained that she hadn't been notified of her 2003 hit's use on the record, though she was credited as a writer on the newer song. Around the same time, she replaced a lyric on the record's 11th cut, "Heated," in response to criticism that it contained an ableist slur.
The FADER has reached out to representatives of Beyoncé and Right Said Fred for further comment.