Ben LaMar Gay honors the legendary Eddie Harris with Balogun, a tribute in textures and colors
Released in conjunction with his new album Certain Reveries and premiering with The FADER, the audiovisual piece is Gay's reimagining of a Nigerian market from the confines of his Chicago apartment.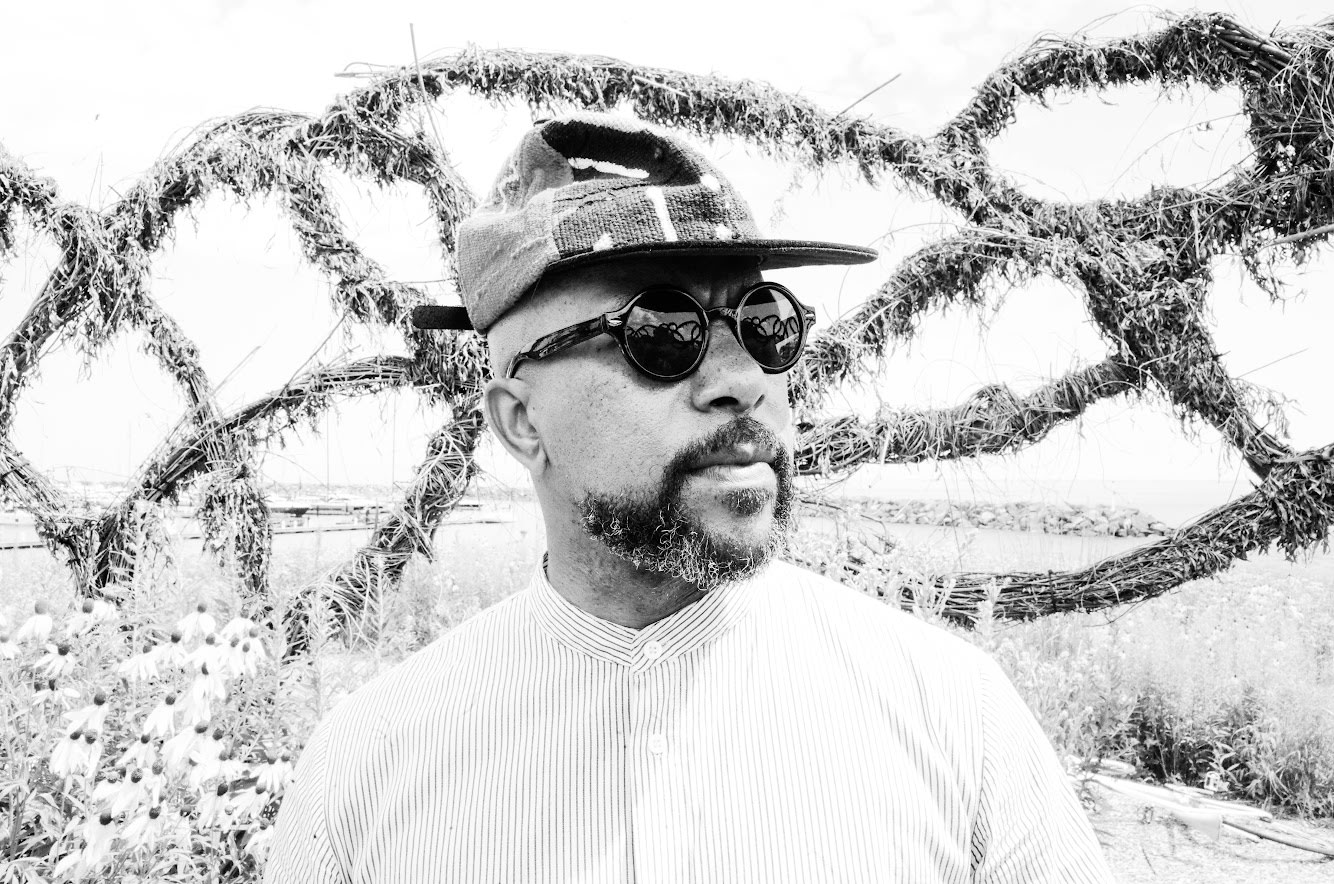 When most people are asked to pay tribute to a music legend, they cover a song — or, if they're feeling creative, write a song about said legend. But when the Jazz Institute of Chicago asked composer and cornet player Ben LaMar Gay to contribute to their celebration of Eddie Harris — the late artist who pioneered the electrified tenor sax, invented several other hybrid instruments (the reed trumpet, the saxobone, the guitorgan) and released a full LP of comedy songs titled The Reason Why I'm Talking S–t, as well as dozens more solo records comprising original music and standards — he tried something different.
Sadly, Gay's scheduled March 8, 2020 performance at the event was cancelled due to the COVID-19 pandemic, and he was forced perform his creation from home two months later. Balogun (originally titled In the Balogun with Eddie) is a 16-minute audiovisual experiment in soundscapes, colors, and textures. Based not directly on Harris' life but on Gay's over-stimulating experience at a Nigerian market, the project pays homage to the man's vibe rather than his accomplishments.
Balogun premieres today with The FADER and arrives in conjunction with Gay's new album, Certain Reveries. Though they were conceived separately and sound totally different, the record and the standalone piece both deal in daydreams, coloring severe sonic backdrops with blooms of abstract nostalgia.
In honor of the new projects' tandem release, Gay took time out of his European tour to respond to our burning questions about Balogun's blurry themes. Take in Balogun and read our Q&A below.
The FADER: Congrats on Balogun and Certain Reveries. The standalone piece we're premiering today operates in several different musical vocabularies, all of them distinct from those on the album. Were the projects conceived separately? And, if so, why did you decide to release them in tandem?
Ben LaMar Gay: Thank you.Balogun and Certain Reveries were conceived separately during the same period of reflection, dampness, and exploration. The thing that has them acting in conjunction with one another is the singular voice involved in the center of the two works. The works are natural extensions of each other simply because I'm present.
"Balogun," in my understanding, is Yoruba for "captain," and also a common Nigerian surname. The piece also contains a recording of you learning to say "my names is Ben" in Yoruba ("oruko mi ni Ben"). Is there a connection between Eddie Harris and Nigeria? And how did your connection to the country make its way into this project?
My experience with the word "Balogun" comes from an afternoon I had inside the thickness of the Balogun Ajeniya Market, a sprawling market on Lagos Island in Lagos, Nigeria. I'm not sure if there's a direct connection between Eddie Harris and Nigeria. I know Nigeria has influenced millions beyond blood ties, even if they don't know it, even if they don't want it, and even if they can't handle it. Nigeria is somewhere in your apartment right now, staring at you while you're online reading this very interview. My connection with Nigeria comes from an invitation from great artist and performer homies Onye Ozuzu and Qudus Onikeku. The Balogun video is me dancing inside of specific memories of my being deep inside of the Balogun with handheld, loving guidance.
Eddie Harris was an innovative composer, an inventor of instruments, and a musical satirist of sorts. What do you think are Harris' most important contributions to music, and what inspired you to dedicate this piece to him?
Eddie Harris gives listeners open invitations to all of his curiosities: the sound, the inventions, the humor, the shit-talking, and the innovation. This type of contribution to life is always a blast. The video came about after being asked to participate in the Jazz Institute of Chicago's "Celebration of Eddie Harris." Instead of doing a video of me playing Eddie's music, I took a step deeper and placed his vibe inside of my Lagosian dream.
The visual element of Balogun is stunning, and it's shot in a minimalist style that complements the music nicely. I especially love the clip of you playing bass behind that cluster of colorful crystals. By nature of its filming conditions, it's also somewhat claustrophobic, which contrasts with the audio's global expansiveness. What made you decide to film it at home as a collage of colors and textures?
The collage concept of the video comes from a childhood fiction of mine about a young black girl who could capture sound on pieces of fabric. The main elements of Balogun are a combination of the world of this particular character, my personal experience of being guided through the fabric spots of the Balogun, and Eddie Harris' soulful approach to electricity and kaleidoscopic patterns, which for me has a connection to the designs of the fabrics that I used in the video. At the time of doing the work, my home was the only location available to me due to the global lockdown. I used all the simple things I owned to get the story out. My goal in the performance was to extract and reanimate the sound captured on the fabric with light and shadow dancing. These patterns eventually became graphic scores for some of the music of Certain Reveries.
There's an interesting spoken word passage near the end of the piece that concerns music's relationship to journalism, and how musicians can be pigeonholed into pre-conceived categories. What about music critique would you most like to see changed?
I would like there to be more listening involved in music critique and more conversations involved in music interviews.