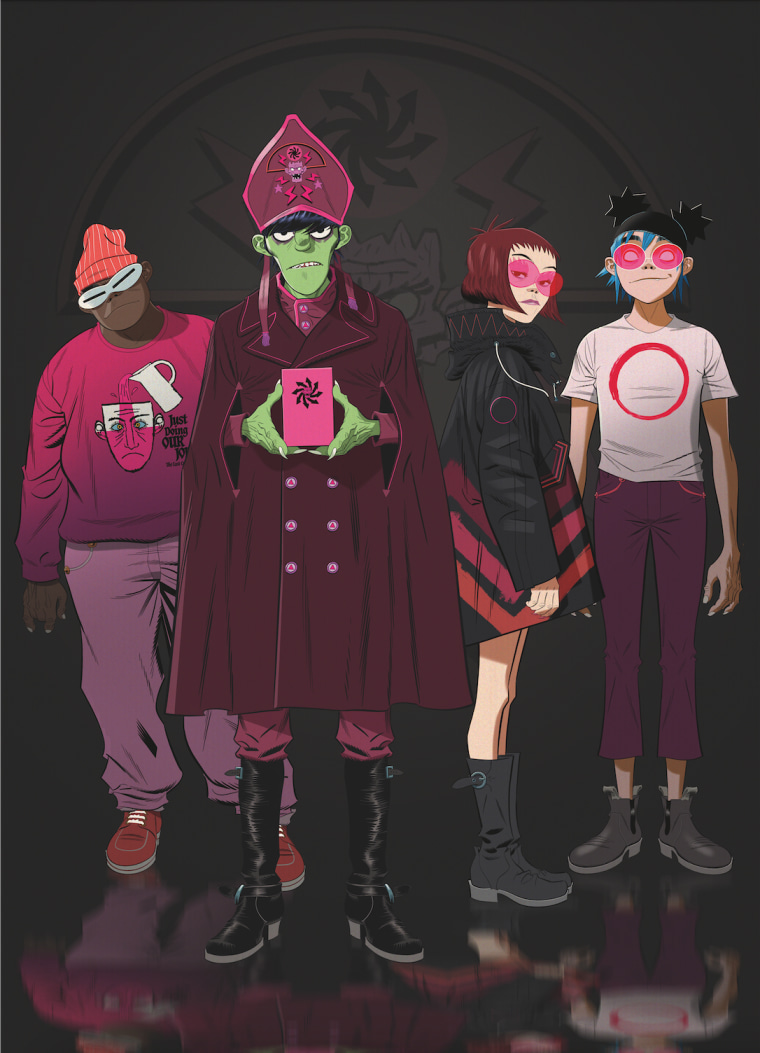 For about a year and some change, just prior to the release of Gorillaz's second album Demon Days, I was a frequent lurker on unofficial Gorillaz fansites and forums. The band's self-titled 2001 debut had got its hooks in me years prior, and after buying just about every comic by Gorillaz co-creator Jamie Hewlett, I needed more. My anticipation for a new album was matched by a desire for a full-length animated movie — the Gorillaz skits "G Bites," contained on the DVD Phase One: Celebrity Take Down, expanded on the absurdist humor and the neo-occult, '70s horror-indebted style of the band — confirmed for me that a movie simply had to happen.
I checked daily for new updates. I devoured interview excerpts from Damon Albarn and Hewlett, sometimes expressing optimism for a film, and at other times, a resignation that their vision was too out of step with the animation industry. The back and forth continued endlessly; as my interest in the band waned, so too did my interest in a feature film. Decades passed, and Gorillaz continued churning out well-received albums, seemingly content to have the same major motion picture prospects as any other pop group.
Then, in 2021, it happened: A Gorillaz film was in production at Netflix, Albarn confirmed. It had only taken about two decades, but perhaps the band's established staying power had convinced the decision-makers that their ideas were bankable. I wasn't as excited about the news as my 2004 self would have been, but a small candle of affirmation was lit upon hearing the news. This, I thought, will go straight into my "to watch when hungover and depressed over lost youth" library.
Looks like I'm going to have to stick with watching Blade after my benders. In a recent interview with HUMO, Albarn said that the Gorillaz film's production has been canceled at Netflix, and he's not sure what's going to happen with it in the future.
The film, Albarn explained, was the main project that he and Hewlett worked on as the band wrote and recorded Cracker Island. "The new record came about because Jamie and I were often in Los Angeles. We were working on a Gorillaz feature film, which will never happen." When pressed, Albarn tied the decision to Netflix's recent downsizing, which has hit its animation department quite hard.
That is to say, and without naming names because the whole matter has not yet been settled: the streaming platform for which we were making the film has withdrawn. They started to panic because they were making too much content and decided to cut back on their movie offerings. And, as has been classic Hollywood practice for decades, the guy we were working with has moved on to another company. From then on you have lost your guardian angel, and there seems to be a bad smell hanging on you. Hollywood is quite territorial: if a new guy comes along, he must and will have a different opinion, even if he secretly agrees with his predecessor.
It's disappointing, if not surprising, that reactionary business decisions and territorial pissings led to the cancellation of a hugely anticipated original animated film starring a band that fills stadiums when it tours. But on the bright side, Netflix is soon going to charge you an extra $7.50 a month to share your Netflix account with your relatives who don't understand the internet. Seems sustainable!