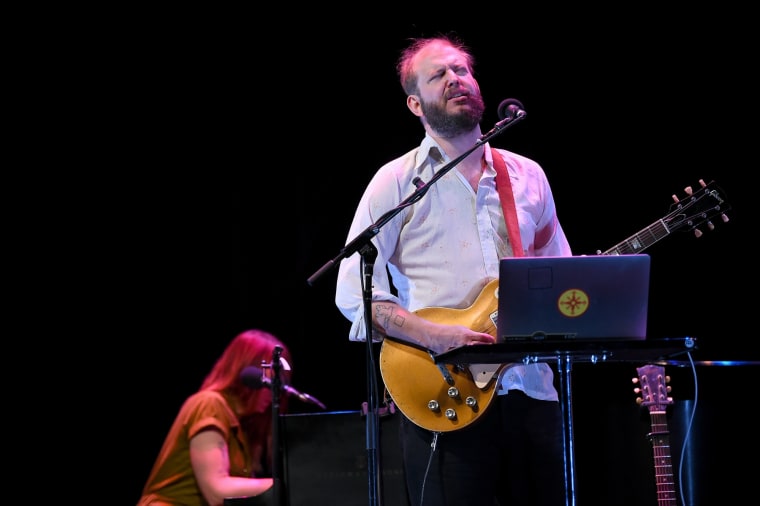 Bon Iver have announced a 2023 summer tour of the United States. The 10-date August run will follow four Australian shows in March and eight European performances in June. They'll kick their U.S. leg off on August 2 at Bayfront Festival Park in Duluth, Minnesota and remain in the nation's northwest quadrant for all but one of their remaining gigs, taking a two-week break before finishing at Beach Road Weekend in Martha's Vineyard, Massachusetts.
Since releasing i,i in 2019, Bon Iver bandleader Justin Vernon has shared How Long Do You Think It's Gonna Last?, his second collaborative album with The National's Aaron Dessner. He's continued to collaborate intensively in the year-and-a-half since, working with such disparate artists as Nicholas Britell, Beverly Glenn-Copeland, Ethan Gruska, and Taylor Swift.
View all of Bon Iver's upcoming tour dates below.
Bon Iver 2023 tour dates
March 2 - Brisbane, AU - Riverstage
March 4 - Melbourne, AU - Sidney Myer Music Bowl
March 5 - Melbourne, AU - Sidney Myer Music Bowl
March 10 - Adelaide, AU - WOMADelaide
June 2 - Berlin, DE - Tempelhof Sounds
June 4 - Paris, FR - We Love Green
June 8 - Copenhagen, DK - Syd for Solen
June 10 - Rättvik, SE - Dalhalla
June 14 - Vienna, AS - Open Air Arena Wien
June 15 - Zürich, CH - The Hall
June 17 - Lido di Camaiore, IT - La Prima Estate Festival
June 19 - Bonn, DE - Kunst!rasen
August 2 - Duluth, MN - Bayfront Festival Park
August 4 - St. Charles, IA - Hinterland Music Festival
August 5 - Madison, WI - Breese Stevens Field
August 8 - Bonner, MT - Kettlehouse Amphitheater
August 9 - Ogden, UT - Ogden Amphitheater
August 11 - Boise, ID - Outlaw Field at the Idaho Botanic Garden
August 12 - Seattle, WA - Day in Day Out
August 12 - Bend, OR - Hayden Homes Amphitheater
August 13 - Seattle, WA - Day in Day Out
August 25–27 - Martha's Vineyard, MA - Beach Road Weekend